Adaptive IP can help accelerate bank branch transformation
With a modern, packet-based network that includes segment routing, network operators can deliver agile, on-demand connectivity services that enable bank branches to provide high-quality experiences customers demand.
Evolving role of the branch
In an increasingly digital and mobile world, many finance industry experts predict that traditional retail bank branches will no longer exist. The rapid adoption of virtual and self-service banking combined with strong competition from FinTechs has prompted speculation that "brick and mortar" branches would become redundant. Although some financial institutions have closed branches – especially in unprofitable areas - others are taking a different approach. They are leveraging new technology to transform how their branches deliver service. And this evolution is highly dependent upon network connectivity.
Banks are beginning to understand that despite the rapid adoption of online services, many customer segments still want a physical, "face-to-face" experience. This is especially true for more complex transactions. According to recent survey from McKinsey&Company respondents from multiple countries show that customers favor branches for many transactions, verses solely online or digital banking services.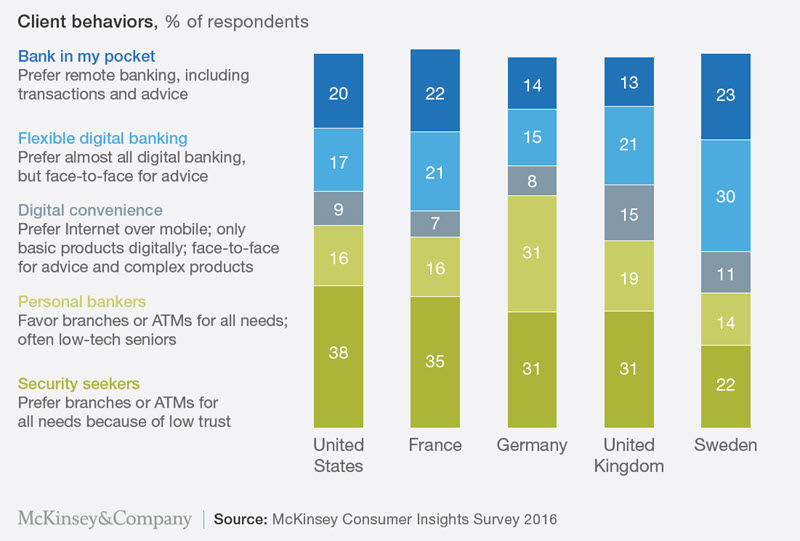 To provide that personal touch while controlling expense, financial institutions are experimenting with branch footprints and integrating them with digital channels. Branch sizes range from "roaming bank-vehicles" to "pop-ups" in shopping malls all the way to massive "café + branch" concepts with numerous staff specialists.
The rise of the "smart branch"
Irrespective of size, branches are increasingly relying on technology to deliver the high quality, interactive banking experience that attracts and retains customers. Innovative digital technology like video-enabled automated teller machines (ATM), interactive touch screens, video walls, augmented-reality and chat bots are helping transform branches into experience centers.
Banks are also making increasing use of artificial intelligence (AI), machine learning (ML), data analytics, blockchain and robotic process automation. These technologies enable branches to deliver more personalized and targeted customer experience, bundle services from FinTech partners, and streamline back office operations.
Banks are also experimenting with a more platform-based model, partnering with FinTechs to bundle in their offering through open API's. With the right technology platforms "smart" branch operations, increase sales and improve customer interactions.
"Banks that have deployed smart branches have achieved up to 70 percent improvements in branch effectiveness"
Benefits of this approach include reduced real-estate requirements and staffing, and more targeted, relevant customer sales and service-to-sales programs
"Smart branches" need flexible connectivity
As banking systems, applications and processes become more automated and digital, they become more dependent upon network connectivity. Just as the optimal branch design strikes a balance between size, staff and cost, the optimal network design must balance capacity requirements, traffic management and operational cost.
Regardless of size and location, all branches need network connectivity services to access the applications, platforms and customer data that enable them to provide a consistent quality of customer experience. Some technologies like artificial intelligence must be accessed in real-time with minimum latency to provide personalized, predictive banking services. Other applications like video, blockchain and robotic process automation have very high bandwidth requirements during peak periods of the work day. But bandwidth needs can vary, for example during nights, weekends and holidays, network requirements may be minimal.
Just as the optimal branch design strikes a balance between size, staff and cost, the optimal network design must balance capacity requirements, traffic management and operational cost.
Financial institutions traditionally connected their branches via IP-based connectivity services from service providers. But legacy IP networks were built around speeds and feeds providing the same type of service and capacity for long periods of time. These overly complex, proprietary, and monolithic service provider infrastructures are not flexible enough for agile, on-demand network services that smart branches require. Network operator legacy IP networks also inhibit branch transformation in other ways:
Connectivity services are often difficult to implement and integrate across branch networks;
Involve complicated routing techniques and fixed bandwidth allocations that prevent dynamic scaling; and
Entail high operational cost and complexity.
According to a recent Digital Banking Report survey, outdated technologies like these are becoming major obstacles to digital transformation.
Most critically, legacy IP networks struggle to support the low-latency capabilities that AI and ML solutions need to deliver insights about customers or prevent security breaches in real time.
Adaptive IP can help
To address the new IP network requirements, Ciena has introduced Adaptive IPTM, an innovative approach for network operators that offers the essential IP capabilities required to support their bank customers' new bank branch applications. Adaptive IP is a modern, packet-based infrastructure that uses a Layer 3, IP-based approach service providers need to support the very demanding service quality and responsiveness bank customers need for their branch locations. Adaptive IP also unites the capacity of an SDN intelligent automation layer, open protocols, and analytics with the flexibility of open Virtual Network Functions to readily adapt to new and changing application requirements by adjusting capacity and network functions as required over time.
Service providers that deploy an adaptable IP-based infrastructure can help banks achieve their branch transformation objectives. Regardless of size, with agile, dynamic connectivity each branch can provide innovative digital applications that deliver the high-quality experiences customers demand while tightly controlling operational banking costs.