How Financial Enterprises Light Up the Darkness
For some financial institutions, a private dark fiber network provides the control and security they require for data center connectivity. Ciena's Wayne Hickey details the benefits that a dark fiber network can bring.
Financial institutions, are always looking to improve and make Business Continuity (BC) and Disaster Recovery (DR) as reliable and painless as possible. In today's cloud-based world, this translates to multiple off-site Data Centers (DCs), each with multiple data rate interfaces (1GbE, 10GbE, 40GbE, and 100GbE), and high-speed links to communicate between regional and remote offices. For some enterprises, it makes sense to have complete control of their network infrastructure, with near-zero response times, and never having to deal with service delays or interruptions. Usually, this means using dark fiber.
That's why when a financial institution decided to improve their DC network connectivity, they selected Ciena's award-winning, massive 6.8Tb/s 8700 Packetwave® platform to address cost, flexibility, and scalability – now and for many years to come.
What is dark fiber?
Dark fiber or "unlit fiber" is an unused strand of fiber optical cable. Originally 'dark fiber' referred to potential network capacity, but more recently has evolved to mean leasing a private fiber from a network provider, or fiber installations not owned or controlled by the lessee.
How is dark fiber priced?
Pricing can vary greatly, by route, location, and in some cases quite arbitrarily. Commercial pricing is generally based on current market competition, demand, and local infrastructure building cost. For example, in a recovery-based model, the price is based on specific fiber pricing of the construction and operations, over a period-of-time – typically 20 years.
What are the benefits of dark fiber?
Dark fiber enjoys several advantages that are difficult to match with traditional "lit services." For example:
Cost: elimination of monthly recurring costs (MRC)
Flexibility: any protocol, any service, or any size or number of optical channels
Scalability: virtually unlimited bandwidth
Control: no external maintenance schedule impacts, allowing absolute control of data exposure
Security: only your traffic is carried over the fiber
Businesses and other organizations can have freedom to build their networks and deliver services with virtually unlimited capacity.
The rising popularity of 10GbE and 100GbE connections make those advantages even more compelling. Thankfully, Ciena's energy efficient 8700 Packetwave platform was designed specifically for 10GbE and 100Gbe packet switching and aggregation that leverages coherent Dense Wavelength Division Multiplexing (DWDM) optical technology.
Building on the advantages of this dark fiber infrastructure, financial institutions can use multi-chassis Link Aggregation Group (MC-LAG) technology to further increase network resiliency. For example, to avoid network loops, most providers use either a single chassis or Spanning Tree Protocol (STP). Unfortunately, within a single chassis, the LAG is bound to the chassis, and STP only provides one path, meaning only a portion of the system capacity is available and network topology changes are unavoidable respectively.
What is MC-LAG?
MC-LAG is an enhanced LAG implementation that allows LAG ports to reside on a different physical chassis. Over the years, LAG (IEEE 802.3ad) was used to solve the bandwidth problem, but unfortunately restricted link level redundancy to a single chassis. MC-LAG removes that restriction – adding node level redundancy, while addressing performance deficiencies using LAG in a single chassis.

How does MC-LAG work?
Using MC-LAG, customers can enable more than one link, having multiple ports on the primary Redundancy Group (RG) member and multiple ports on the backup RG member. On the other side of the MC-LAG, there are two MC-LAG peers, each with one or more physical links connect to the single device. MC-LAG peers use the Inter-Chassis Control Protocol (ICCP), to exchange control information and coordinate with each other to ensure traffic is forwarded adequately. Inter-Chassis Link (ICL) is used to forward traffic across MC-LAG peers. In the event of a link failure across one of the active links (MC-LAG trunk failure), the ICL provides redundancy. MC-LAG supports access protection for 802.1Q, 802.1ad, and MPLS networks, with revertive and non-revertive modes in both triangle and square topologies, as shown below.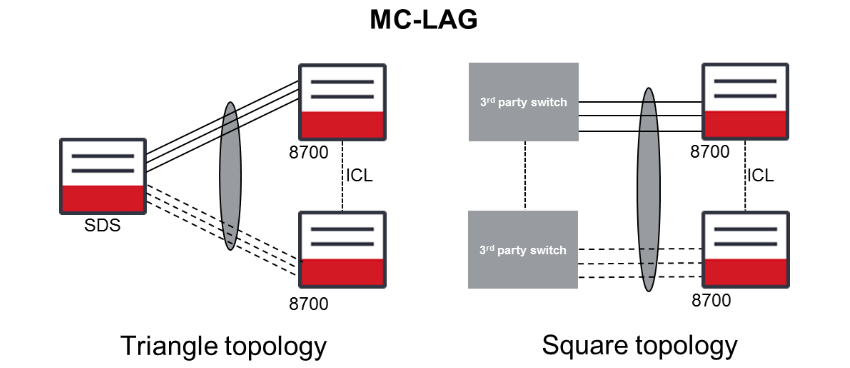 MC-LAG also supports inter-working with G.8032 rings and Virtual Private LAN Service (VPLS), as shown below.

While high-scale DC interconnect must include BC, DR, and meet aggressive bandwidth and latency requirements, not all DC services are alike. For example, some services must scale up or down seamlessly. While some services must be always available with zero downtime and no maintenance window, are static. By using Quality of Service (QoS) for differentiated services on the 8700 Packetwave, these services can coexist with the correct priority and bandwidth needs. Finally, mission critical networks require visibility through all protocol layers (DWDM, OTN, packet services). Ciena's Blue Planet MCP comprehensive unified management system allows complete network visibility and asset management.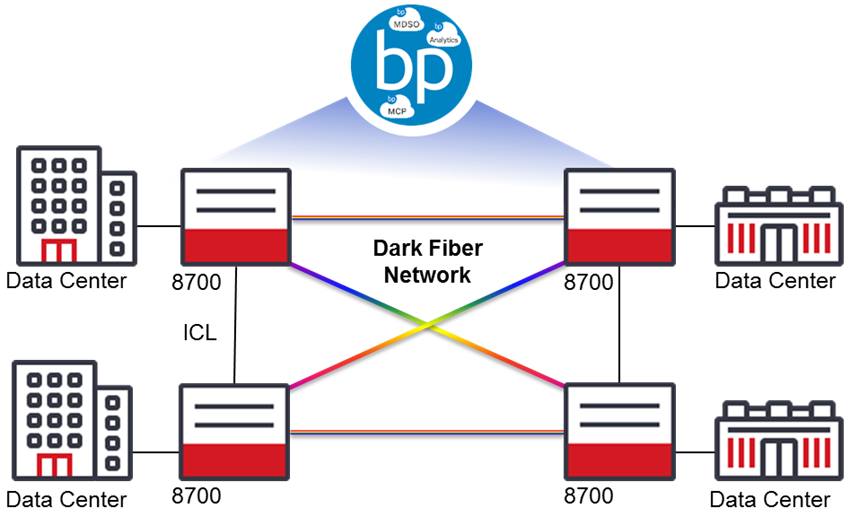 Ciena's modular packet-optical architecture, along with its multiple award-winning WaveLogic coherent optical processor technology, are just a few advanced optical technologies that transform static or dark fiber optical networks into dynamic, agile, and flexible assets.
So, is your data center business continuity and disaster recovery plan holistic enough?
Ciena can help you make the most of your network assets and shine brightly for many years to come.