2022: A year of innovation, giving back and celebrating our people at Ciena
When I joined Ciena, people would often tell me we are the best kept secret – a wonderful place to work with exceptional people. I have to say, they weren't wrong. I am always heartened by the kindness of my teammates, and how they work together to innovate, solve problems, collaborate, and have a passion for helping others in their community.
It's with these thoughts in mind that I am excited for what our people have achieved this year. After many months, they were able to reconnect in new and meaningful ways – through product innovation, community involvement, and creating a culture where we can all belong. Here's a recount of some of our activities that truly stood out for me over the last year.
---
Building sustainable networks
As we move closer to our goal to be carbon neutral by 2024, we continue to make investments in the sustainable innovation of our products.
We introduced our Coherent Routing Solution which can help our customers reduce their energy use by evolving the network with our routing and switching platforms, photonic line systems and our coherent optics. For example, evolving the network from a 100G optimized configuration to a 400G optimized coherent routing architecture results in a 70 percent reduction in power consumption.
Additionally, we revealed our Residential Broadband Solution which can reduce our customers' emissions by combining our routing, optical and PON innovations. As an example, evolving from a traditional pure PON chassis-based, multi-boxed solution to Ciena's converged access with XGS-PON and routing in a single platform results in a 63 percent reduction in power consumption.
Along with our solutions, we updated our sustainability models to show how our product innovation can lead to sustainable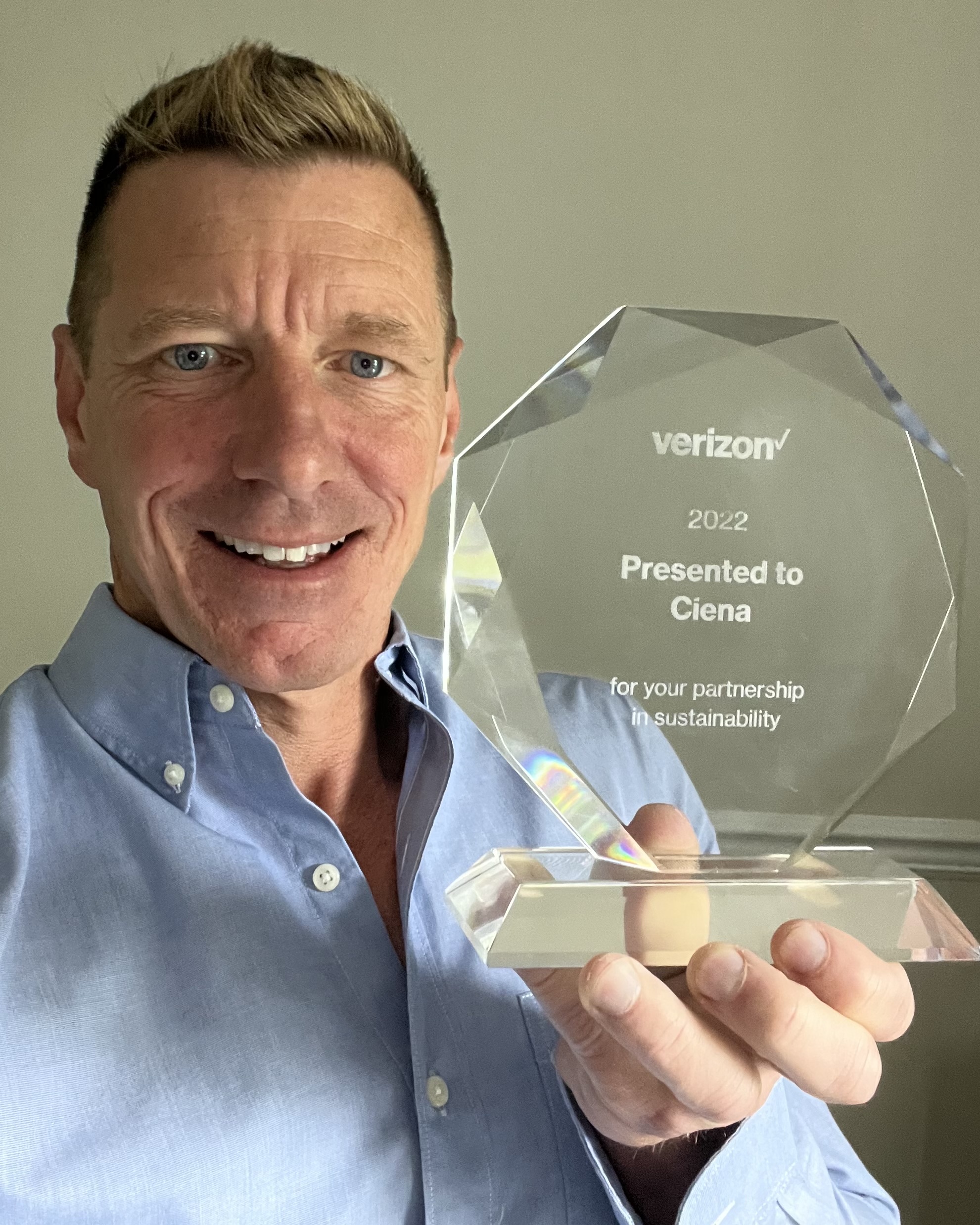 outcomes. For instance, our models show that our routing and switching platforms have helped our customers avoid more than 550,000 metric tons of CO2e over an eight year period. Ciena's WaveLogic™ coherent optical technology also continues to yield significant energy savings while still meeting our customers' capacity demands, helping our customers avoid more than 4.5 million metric tons of CO2e from 2012-2021.
And with our acquisition of Benu Networks, we will use the new technology to expand our broadband access solutions in order to better support our customers and the planet.
These accomplishments and our commitment to the environment was honored by Verizon this year with their Supplier Environmental Excellence Award. This award recognizes our continued dedication toward generating and purchasing renewable energy as well as supporting Verizon with their sustainability efforts.
---
Doing good in our communities
In addition to the positive impact that our products make on the environment and network performance, our people also make a meaningful impact in their local communities.
Through Ciena Cares, our employee volunteer and charitable giving program, our people spent 36,000 hours volunteering in their communities and raised more than $3.2 million through employee donations, matched giving, and volunteer rewards in 2022.
Our Sales and Marketing teams and our Products and Services teams led two significant global volunteer days where our people were able to disconnect from work and reconnect with each other to make a difference. It is because of the passion of our people that we have been able to make a positive impact in our communities around the globe.
---
Expanding opportunities for the underserved
In 2022, we expanded our $10 million commitment to Digital Inclusion by adding 10 new community partners across the globe. This included iSisters Technology Mentoring in Ontario, Canada, helping to provide Indigenous women and girls with technology and career-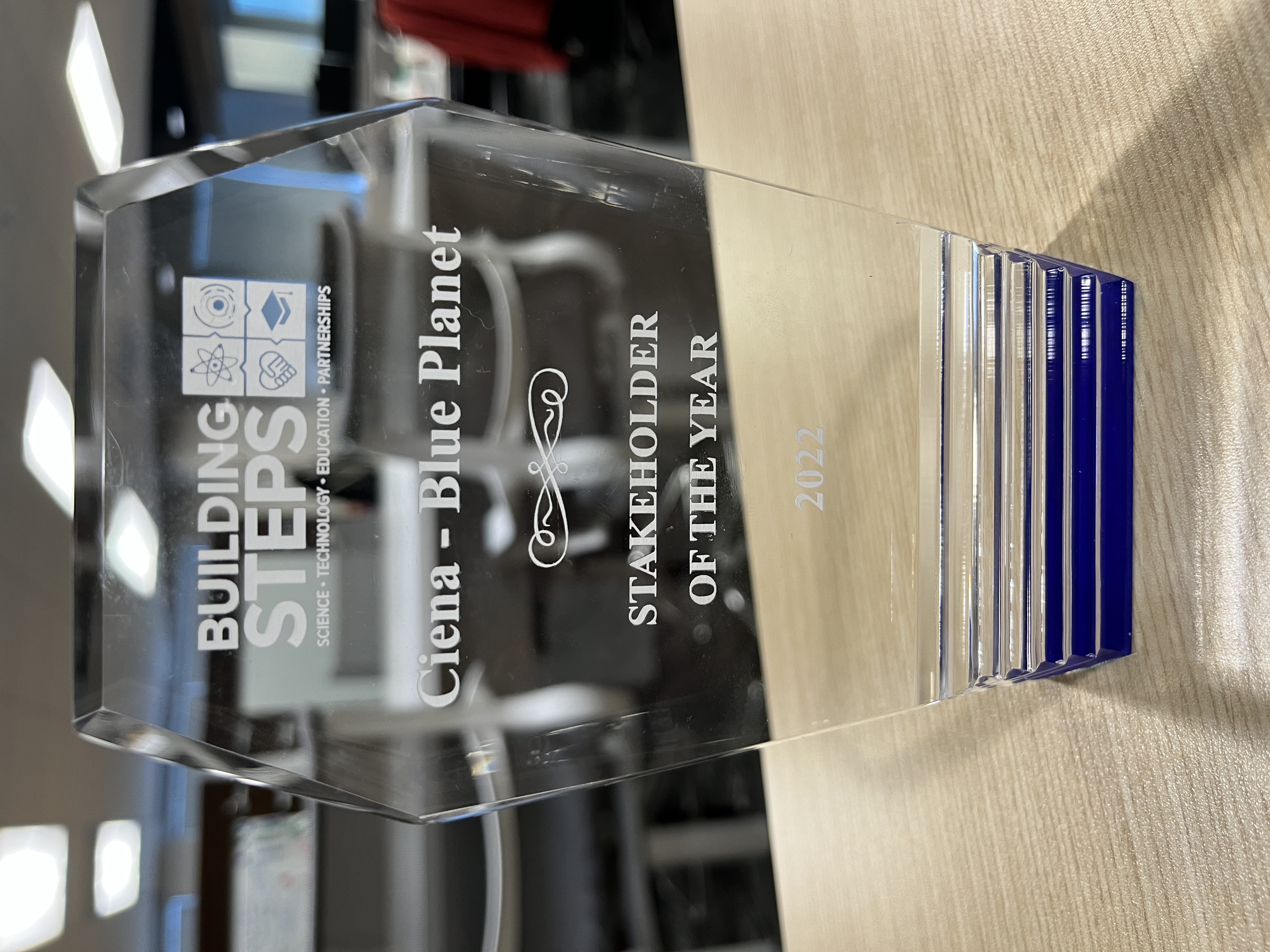 ready skills, Barefoot, an organization empowering primary school teachers across the United Kingdom to teach curriculum on computing, and Asociación Conciencia, to help bridge the digital divide among youth in Argentina.
In addition to these new partnerships, we continue to support our established partners like Building STEPS, an organization that helps students in Maryland, United States earn a college degree and pursue careers in STEM. Always eager to make an impact, our people attended the Building STEPS summer program to help teach the students about working in technology and provided each student with equipment and supplies to help them towards success as they pursue post-secondary education. To recognize our continued support from the last three years, Building STEPS honored us with their Outstanding Stakeholder Award.
We also completed our first Ciena Solutions Challenge, engaging students around the world in critical thinking to find solutions to global challenges identified in the 17 Sustainable Development Goals. We awarded 17 winning schools funds to help with the purchase of equipment and supplies to bring the students' ideas to life and are happy to announce that we will continue the challenge in 2023, adding three new schools from Georgia, United States .
---
There's a new ERG in town
Our Employee Resource Groups (ERGs) continued to show their dedication and energy by coming together to create a sense of diversity, inclusion and belonging.
This year we added another ERG - Vets at Ciena - to recognize and connect our people who have served their countries in the military. To officially kick off the new group, we held a special virtual event with a panel discussion featuring employees who have served, discussing their experiences in the military, their transition to civilian life and the value that veterans can bring to the workplace.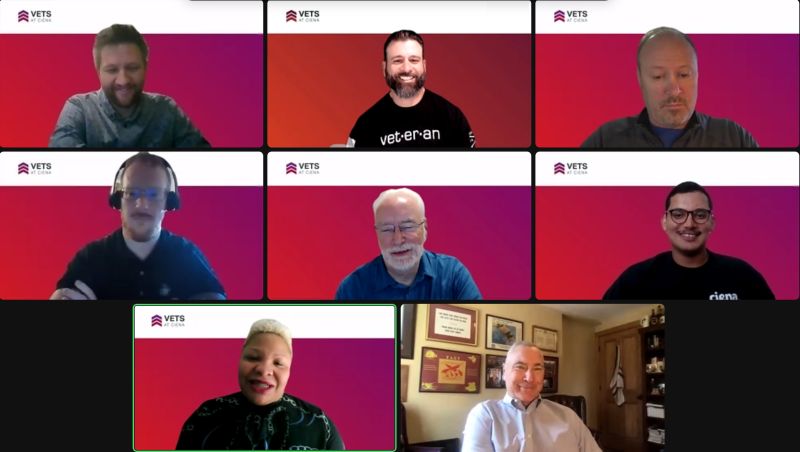 Along with the Vets at Ciena kickoff event, our ERGs, featuring Black and African Heritage at Ciena, Women at Ciena, Pride at Ciena, Latinx at Ciena and Next at Ciena, for our early in career colleagues, hosted global events to connect and share experiences with other colleagues. Notably, Women at Ciena held an all-day virtual event for International Women's Day featuring special guest speakers and development workshops on how we can continue to cultivate a more equitable and inclusive culture.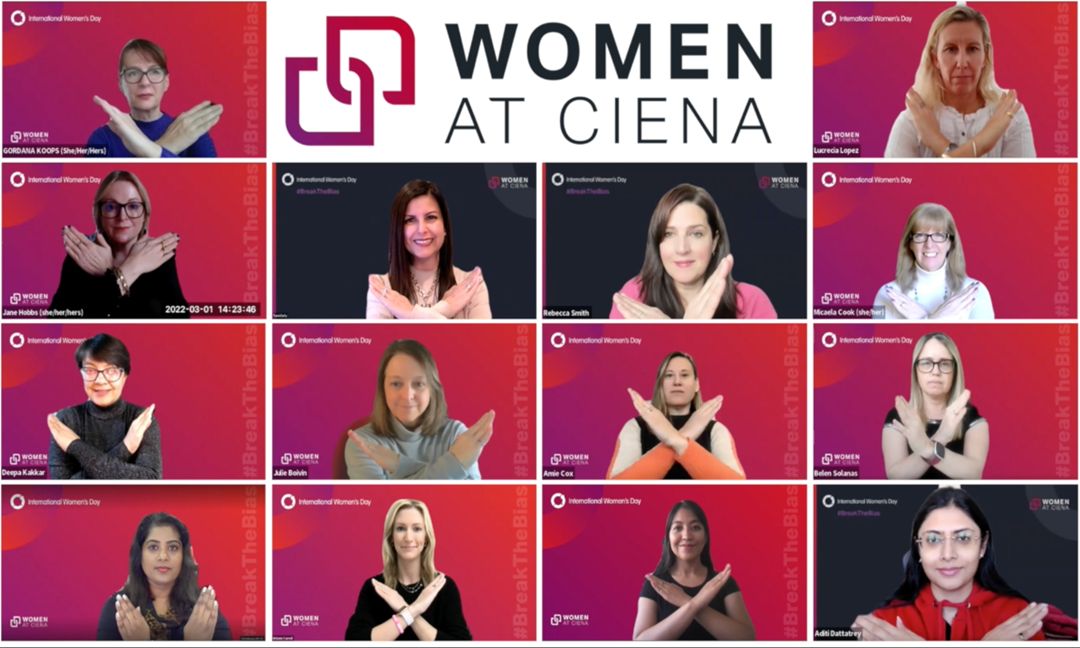 We also celebrated Hispanic Heritage Month and the one-year mark of our Latinx group with a virtual panel discussion featuring some of our Latinx leaders, exploring the impact of Hispanic culture on their lives and careers.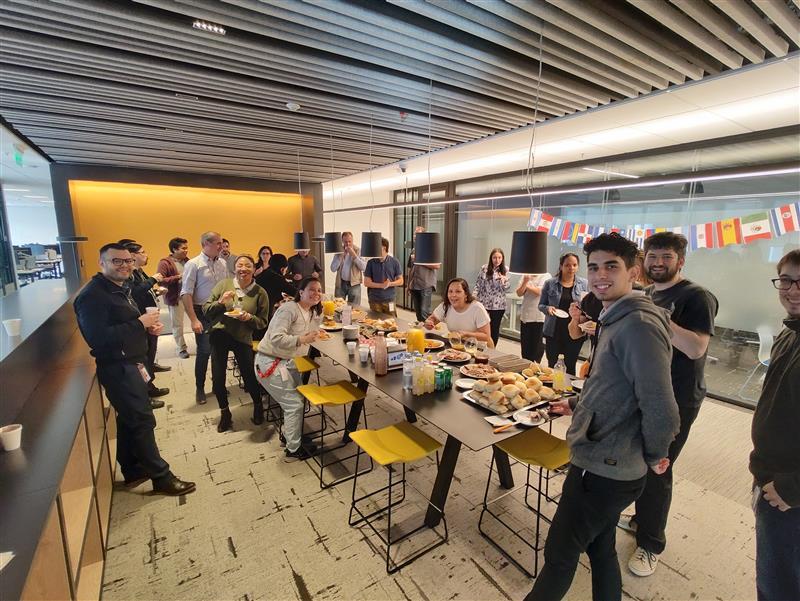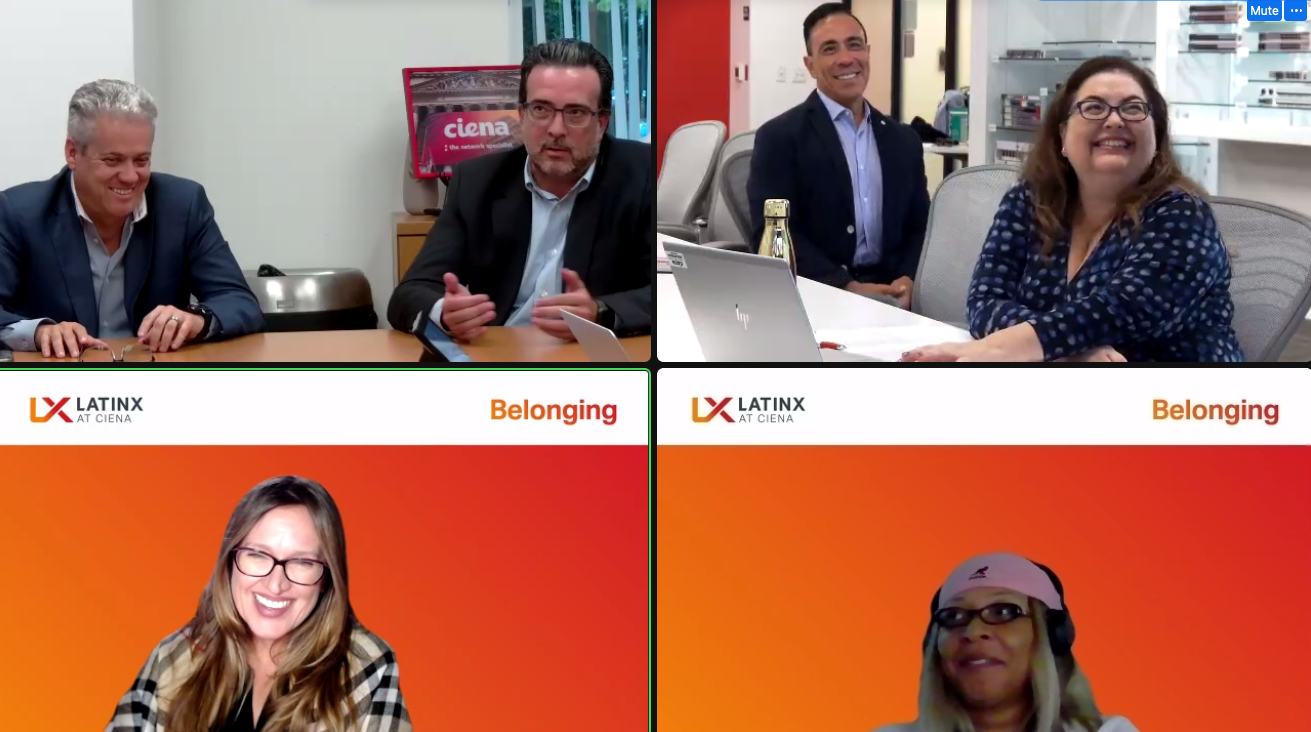 ---
Wrapping it up
There's no doubt 2022 was an impactful year for Ciena. From our environmental achievements to innovative firsts and our community impact – our people were limitless. They pushed through boundaries to provide the best products and solutions for not only our customers, but also for the planet. They came together numerous times throughout the year to make a difference in their communities around the globe. And they leaned on each other, for supporting the development and empowerment of the identities of all people through allyship. Now, we look to next year for continued success, growth and happiness. You won't want to miss it.