Celebrating Hispanic Heritage Month and one year of our Latinx employee resource group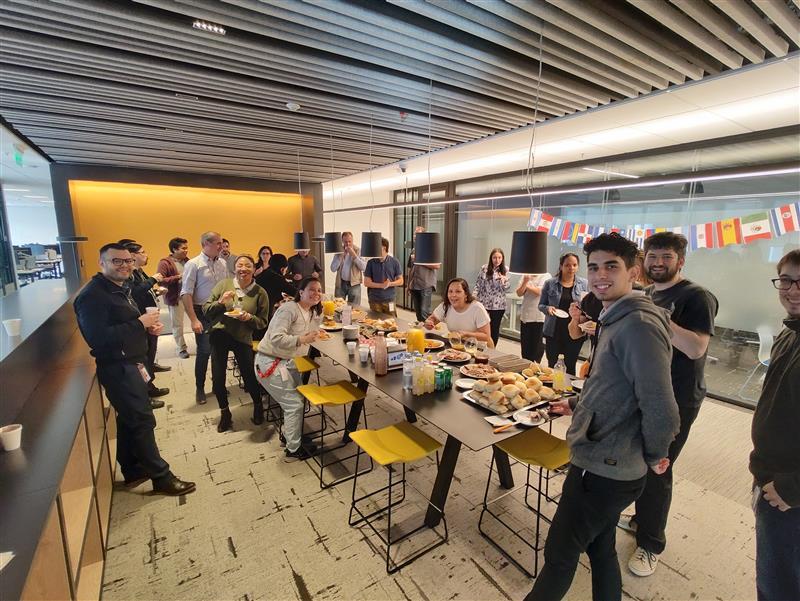 Our people in Buenos Aires celebrating Hispanic Heritage Month
Hispanic Heritage Month honors the cultures and contributions of American people with heritage from Mexico, Spain, and Spanish speaking countries of the Caribbean and Central and South America. From September 15 to October 15 in the United States, and globally as we extend this celebration across our offices, we recognize the accomplishments and achievements of American people with Hispanic heritage that have made a positive impact on our society.
This year, we are celebrating the occasion by marking the one-year anniversary of our Latinx employee resource group at Ciena. In the past year, our Latinx employee resource group has developed a support network for those within the Latinx community and their allies, promoting professional development and growth, cultural awareness and education, as well as giving back to our local Latinx communities around the world through volunteerism and donations.
To reflect on the past year, we invited our Latinx employee resource group leadership team to discuss the importance of celebrating their heritage, the work of our Latinx group, and recognizing Hispanic Heritage Month.
Nefertiti Harrison, Senior Associate of Project Management and a Community Outreach Leader for the Latinx employee resource group, emphasized how she can make a positive impact on future generations.
"Hispanic Heritage month is important to recognize Hispanic and Latin people that have contributed to American society. Celebrating advancement and accomplishments that have brought positive influences throughout the world," said Nefertiti. "Being a part of the Latinx employee resource group gives me a chance to mentor the next generation of Latinos and Hispanics that have a passion to succeed in the world and not feel stereotyped. I have an opportunity to be a positive factor in communities that are not valued as much as other groups."
For Audra Bauer, Senior Consultant, Services Project Management and a Community Outreach Leader for the Latinx employee resource group, it is important to empower students in Latinx communities with the resources they need to succeed.
"Hispanic Heritage month is important to me because it gives Latinx students the opportunity to learn more about how education can help them be successful. My family immigrated to the United States from Nicaragua during the 1940s in an effort to provide their children an education that was better than what they could ever get there," said Audra. "As we celebrate Hispanic Heritage Month, I want to spread the need to expand educational resources to students in all communities in Latinx countries. Please join me in spreading information around STEM education to these students and let them know that they can become whatever they want to be."
For Luis Gomez, Senior Sales Leader and Global Co-Lead for the Latinx employee resource group, the past year has brought our people together through the sharing of cultures.
"Being part of the Latinx team here at Ciena is very important to me. As we bring awareness of our culture to everybody within Ciena, we're helping each other grow. Whether you're a member of the Latinx community or an ally, we're all together," said Luis.
To commemorate the month, we hosted a global internal event for our people to explore the impact of Hispanic culture in our daily lives and careers. The event featured a panel discussion between Guillermo Díaz Jr., Chairman of the Hispanic Technology Executive Council (HITEC), Fabio Medina, Vice President and General Manager of Sales for the Americas and Antonio Junco, Vice President of Customer Operations. In this insightful panel, the leaders discussed their Hispanic backgrounds and how their cultures have influenced their work and personal lives. Our people held numerous watch parties for the special event in cities across the Americas including, Buenos Aires, Argentina, San Jose, US and Miramar, US.
At Ciena, we strive to create a culture where everyone is included and feels like they belong. As we look forward with our Latinx employee resource group, we will continue to recognize and amplify the voices of the Latinx community, not only during this month, but in every month of the year.