Creating an inclusive workplace for all
According to The World Bank Group, about one billion people or 15 percent of the global population live with a disability. Pragya Gupta, an Embedded Software Engineer, shares her story of joining Ciena and the tools we created to support her in her role and career.
The experience of joining a new company can be very rewarding, as it allows you to meet new people and work on new projects to grow your skill set. Feeling welcome and included in a new workplace is crucial to your engagement and success, especially if you have a disability or are neurodiverse and require accommodations.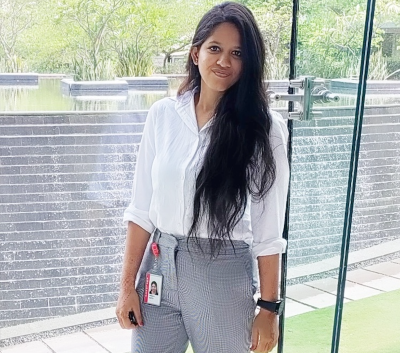 Pragya Gupta, an Embedded Software Engineer, was born deaf but, with the help of her family and speech therapists, learned to speak and master lip reading in English. As technology has evolved, she has learned new ways to communicate with others using tools like speech-to-text functionalities.
In August 2020, Pragya joined Ciena and felt accepted right away as our teams designed an onboarding experience that was made specifically for her. They also discovered a speech-to-text software that integrated with our virtual meeting platform so she could easily communicate and collaborate with others.
Since Pragya was new to the company and was working remotely in India, she wanted to find ways to connect with others. She joined two of our employee resource groups, Women at Ciena and Next at Ciena, and participated in a virtual Book Club where she was able to connect with others using the speech-to-text software in virtual meetings. Now, as offices have begun to reopen, Pragya has been able to meet her coworkers in person and engage with them using lip reading and spoken English.
"Without these groups, I wouldn't be able to explore Ciena's real culture while sitting entirely online, nor would I be able to learn more about other roles or our technology. It also enabled me to embrace opportunities to improve my personal and professional talents by learning, improvising, and innovating every day." - Pragya Gupta, Embedded Software Engineer
At Ciena, we foster an inclusive culture where everyone belongs, just as Pragya's experience made her feel welcome. As we move forward in our journey of inclusivity, we formed a team of individuals who are passionate about making Ciena an inclusive workplace for those with disabilities and neurodiversity. We are committed to removing all barriers and attitudes that prevent individuals from succeeding and strive to ensure accessibility and equality for everyone. Having a disability or being neurodiverse is not a barrier to your career, and we will make sure you are in an environment that supports your success at Ciena.