The Yin and Yang of 5G and Edge Cloud
As I was sitting with my college-aged daughter at the dinner table last week, I asked "what two things are better together than individually?" My daughter, being a lover of comfort food, came up with her favorites: peanut butter and jelly as well as mac and cheese. I followed with my favorite; peanut butter & chocolate, as I slowly devoured some leftover Reese's Peanut Butter Cups after Halloween.
But moving off comfort food, I think the Ancient Chinese philosophy of yin and yang is better suited for a technology blog. It's defined as "a concept of dualism, describing how seemingly opposite or contrary forces may actually be complementary, interconnected, and interdependent in the natural world, and how they may give rise to each other as they interrelate to one another."
So that brings us to the topic at hand – 5G and Edge Cloud. These very much represent the concept of yin and yang. On one side, let's call this the yin, many of the leading applications for 5G require higher bandwidth, lower latency, and an increased densification of cell sites. While 5G enables last mile mobile access for these service attributes, delivering the application performance to meet these service attributes requires moving cloud resources closer to end-users, humans and machines, at the edge of the network.
This is where the Edge Cloud, the yang, plays a key role. 5G-enabled applications leveraging Ultra-Reliable Low-Latency Communications (URLLC) require Edge Cloud, meaning interconnected storage and compute resources physically situated much closer to end-users. So, the two technologies can be independent yet are dependent on each other for success, particularly for URLLC use-cases and applications.
The journey towards a 5G and Edge Cloud ecosystem is emerging and will continue to evolve in the coming years as 5G deployments are rapidly rolled out around the world, albeit in phases.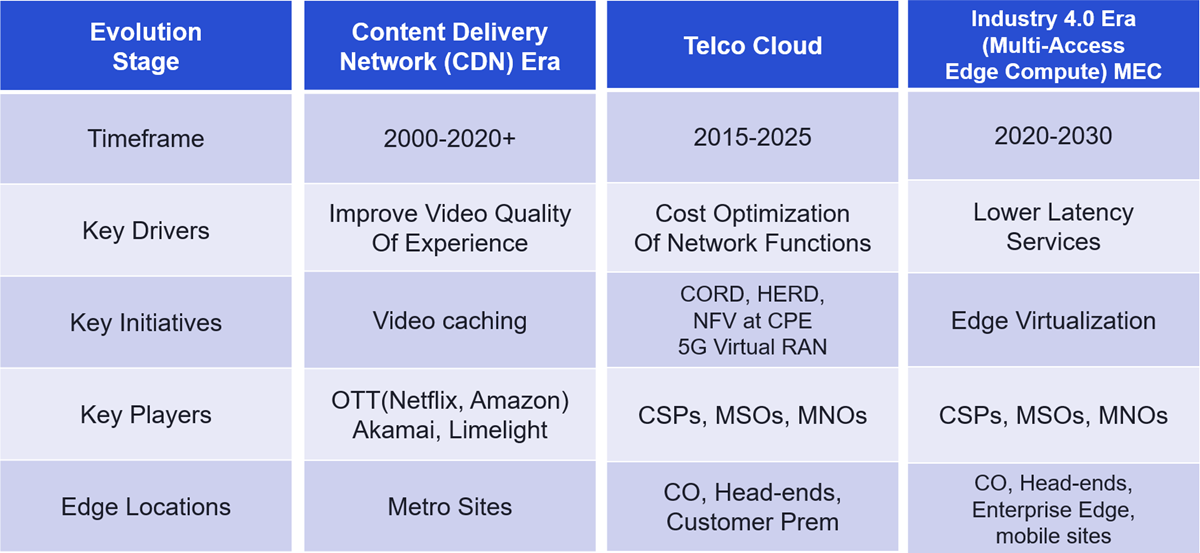 Figure 1: Evolution phases of Edge Cloud (Source: Mobile Experts)
Figure 1 above shows a three-phase evolution of Edge Cloud, which includes 5G. The first phase of Edge Cloud has been rolling out over the past five years, as consumers have shifted their consumption of video towards streaming services such as Netflix, which has accelerated during the pandemic. To improve the Quality of Experience (QoE) of these Over-the-Top (OTT) video-streaming services, the "Netflixes" of the world have deployed storage caches of their highest requested content in Communications Service Provider (CSP) edge central offices or Multi-Service Operator (MSO) head-ends. An example of this is Netflix's Top 10 List, which improves streaming performance and reduces long-haul backhaul transport costs.
The second phase of the Edge Cloud is referred to as the Telco Cloud where CSP, MSO, and Mobile Network Operators (MNOs) have started virtualizing their network functions to lower CAPEX and OPEX costs. One of the top use cases is the virtualized Radio Access Network (vRAN) for both 4G and 5G. This is especially key for 5G, as there will be a densification of cell sites requiring lower space, power, and CAPEX at the mobile site, alongside increased agility and flexibility.
The final and third phase of Edge Cloud is Industry 4.0 or Multi-access Edge Compute (MEC) use cases. These include many of the end-user-oriented use cases covered in previous blogs. While many of these MEC use cases get all the media attention, the reality is that the Phase Two Telco Cloud virtualization use cases will see the largest early deployments of Edge Cloud.

Figure 2: Edge Cloud/5G network architecture
As shown in Figure 2, the first use case for Edge Cloud is to support the virtualization of the RAN for 5G, which would occur in the far or near edge DCs. In the 5G world, these would provide infrastructure for the Distributed Unit (DU) and Centralized Unit (CU). This is where the yang (Edge Cloud) enables the yin (5G) that we'll see in the near term.
Once these near and far edge data centers are built to support 5G, it becomes a natural extension to leverage this infrastructure to support new and emerging revenue-generating use case and applications that would run over a 5G mobile network and require low-latency service performance. In this phase, the yin (5G) is now enabling the yang (Edge Cloud). Leveraging Edge Cloud also enables low-latency applications for enterprises and consumers alike over traditional wireline networks.
Requirements to deliver an Edge Cloud for both 5G and MEC services
The multi-phase evolution of the Edge Cloud requires traditional CSPs to think differently about their networks. To be successful with Edge Cloud, CSPs, MSOs, and MNOs must understand the service requirements their networks must provide. Key Edge Cloud network requirements are outlined as follows: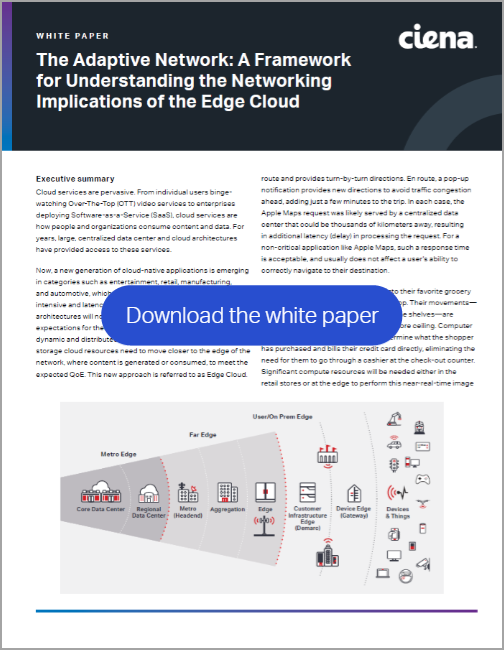 Scalable capacity for inter/intra-edge data center networks: The adoption of Edge Cloud creates new expectations for low-latency, always-on, high-performance applications within and between the Edge Cloud data centers and the central cloud. It's expected that the ratio of traffic in the metro part of the network will grow at a faster rate than the core, and the adoption of computing for high-bandwidth computation at the edge will only accelerate this trend. This core-to-metro capacity inversion will demand a scalable packet optical infrastructure at 400Gbps and above for within and between these edge data centers, with continued connectivity to the central cloud.
Network slicing for Edge Cloud to 5G services: One of the opportunities for network providers from the Edge Cloud is to dynamically allocate different cloud and network resources to meet specific SLAs for each service within and across their edge data centers and to access networks such as 5G. This is an extension of 5G Network Slicing, delivering end-to-end SLAs from the 5G mobile device to the Edge Cloud based on the customer's specific application and SLA requirements.
End-to-end Synchronization: With the densification of cell sites and the order of magnitude increase in mobile devices enabled by 5G, synchronization will be key to delivering a consistent application performance across all mobile devices. The convergence of 5G and Edge Cloud means timing and synchronization must be extended from the Edge Cloud down right to 5G cell sites. Network providers need to consider an end-to-end solution that can deliver end to end timing protocols, such as IEEE 1588v2 from the core, edge cloud, and 5G mobile access.
Integration of Edge Cloud with 5G xHaul: Back to our yin and yang analogy, both Edge Cloud and 5G xHaul architectures cannot be considered in isolation. To deliver on the vision of 5G-enabled low-latency services, the packet-optical fabric being built for Edge data centers must be considered alongside the architecture for 5G fronthaul, midhaul, and backhaul. In a sense, 5G xHaul should be considered as an extension of the Edge DC packet-optical fabric.
In summary, our analogy of using yin for 5G and yang for Edge Cloud makes a lot of sense. Our first use-case for Edge Cloud delivers the core packet-optical fabric in Edge Cloud data centers for the virtualization of 5G RAN (vRAN) which is expected to provide cost savings alongside increased flexibility and agility. Ultimately, the real revenue-generating 5G MEC-enabled applications will leverage the Edge Cloud to place cloud resources as close to the 5G end-user, as required. Both 5G and Edge Cloud have been considered independently, but 5G is ultimately dependent upon Edge Cloud to deliver on the hype associated with this latest generation of mobile network technology.