How being at the beach helps the Cloud be more edge-y
A new generation of cloud-native 5G applications are arriving that are more compute-intensive and latency-sensitive. Ciena's Mitch Simcoe details where in the network this shift will occur and how some players will capitalize on their "beachfront" property.
5G is driving a new generation of cloud-native applications that are increasingly compute-intensive and latency-sensitive. In the first post of this Edge Cloud blog series, we described how the move to an Edge Cloud architecture can address a variety of new revenue-generating use cases for service providers.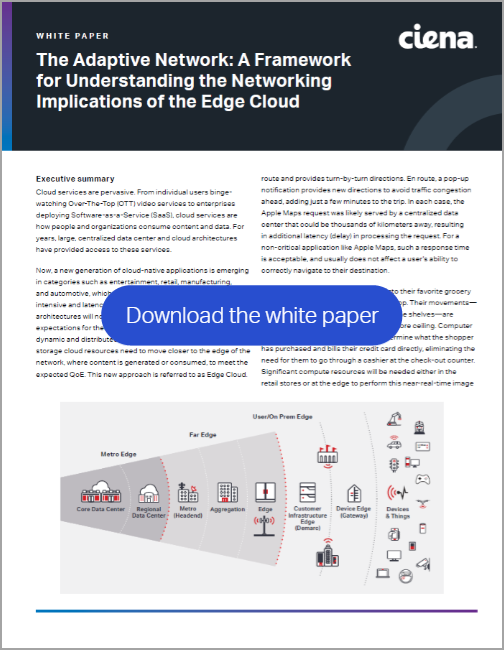 The next question typically raised by cloud ecosystem players is, where in the network will the shift to edge cloud occur?
While many in the industry are attempting to pigeonhole definitions of where the "edge" is, the reality is that the edge will reside at numerous locations, depending on the QoE expectations and resource requirements/availability for a given application. The location of the Edge Cloud will vary depending on the perspective of the end-user (human or machine), network operator, or application provider. Who the owner of the edge cloud infrastructure is does not factor into where it is located in the network.
One needs to look beyond the blurring of where the edge is located. It is the nature of applications at the edge of the network that could be static or dynamic. One way to look at it, as shown in Figure 1, is each square represents a computing resource where an application, microservice, or network function could reside to support an end-user (enterprise or consumer, human or machine). A user application could tap into compute resources in multiple interconnected Edge Cloud locations during the lifecycle of using that application.
Different users could be tapping into cloud resources at any of the Far Edge, Metro Edge, and/or Global Core locations, depending on the nature of the application and availability of cloud resources needed to meet the QoE requirements for the duration of the application session. It is the dynamic nature of how applications will move across different Edge Cloud locations that necessitates new networking requirements to support the Edge Cloud.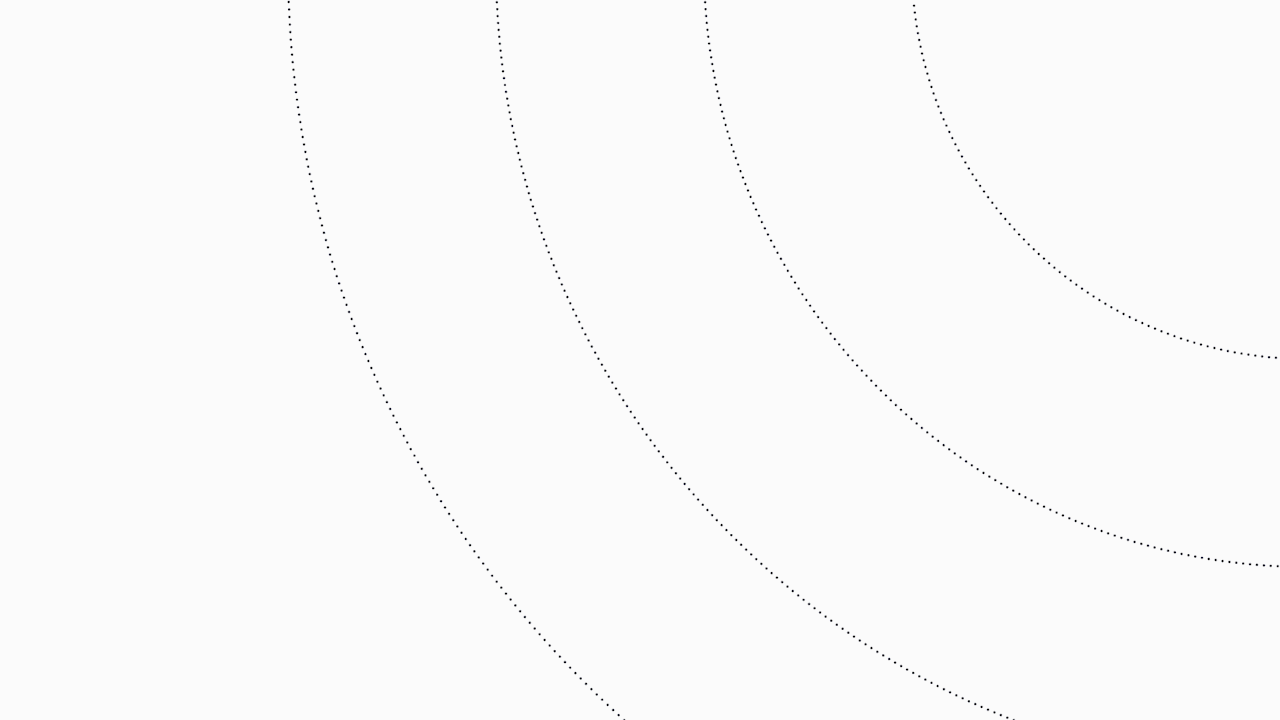 Figure 1: Dynamic nature of applications enabled by Edge Cloud
While the definition of the edge is blurring, the industry is coalescing around following groupings of locations where an application can physically reside, as shown in Figure 2:
1.) Metro Edge: A mix of large, multi-tenant data centers (Internet Content Providers [ICPs] and Data Center Operators [DCOs]) and Communications Service Provider (CSP) hub central offices retrofitted as data centers and situated in regional/metros to service nearby markets. These locations would typically service many users and focus on common services that do not serve ultra-low latency or high bandwidth content and applications. For example, a content provider like Netflix could cache their most requested content from these locations.
2.) Far Edge: A mix of CSP central offices, Cable Multi-Service Operator (MSO) head-end or Mobile 5G Distributed Unit (DU) locations, situated closer to end-users. It is at these sites where cloud resources would be located to run ultra-low latency and high content applications, such as cloud gaming, cashierless retail, or IoT manufacturing. This would be the high value "beachfront" property that the CSP/MSOs can and should capitalize upon.
3.) User/On-Premises Edge: A mix of large and small enterprise locations, including enterprise data centers and branch offices; could extend to transportation hubs, mining sites, and manufacturing plants. These locations are where uCPE or Virtualized Edge infrastructure can be located.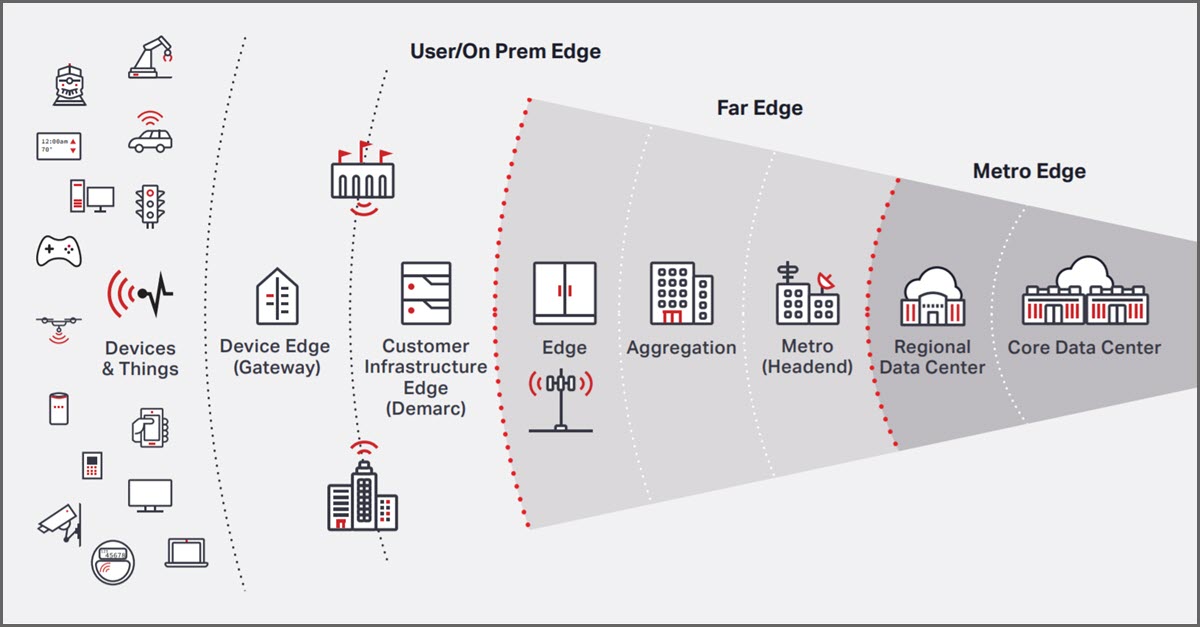 Figure 2. Locations of the edge
The emergence of the Edge Cloud is blurring the lines between these locations, as partnerships form among a wide variety of Edge Cloud players with the ability to deliver in-cloud resources that span multiple clouds, service providers, or solutions developed by ICPs or end-customer themselves.
Today, there are approximately 10,000 data centers globally. With the expanding shift toward Edge Cloud, forecasts (as shown in Figure 3) show that there will be up to five times as many new edge data center locations at the Metro/Far Edge and User/On-premises Edge groupings within the next five years.1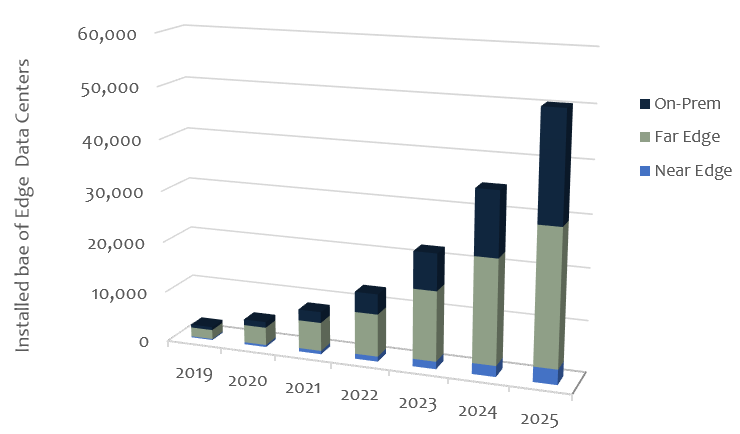 Figure 3. Installed base of edge data centers, global (2019-2025)
CSP/MSOs currently dominate in providing connectivity and infrastructure to the end-user—whether enterprise or consumer—and have built out thousands of central offices and head-ends over the years to do this. One could say that this is the most valuable "beachfront" property of the edge cloud and the fastest growing Far Edge category shown above. CSP/MSOs are starting their journey to the edge cloud by virtualizing their internal networks for applications such as 5G virtual RAN (vRAN) to deliver on low latency applications to 5G end-users.
1 Source: Mobile Experts, "Edge Computing 2020", Oct 2020