Ciena's technology innovation once again lands the company in top spot of IHS Vendor Scorecard
According to IHS Markit, Ciena continues to fire on all cylinders to remain the top company in the industry for technology innovation. Based on analyst criteria, Ciena once again secured the highest overall score in the 2019 IHS Markit annual Optical Network Hardware Vendor Scorecard report. Learn about all the driving factors that make up this one-of-a-kind report.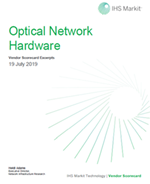 IHS Markit Technology recently released its 2019 Optical Network Hardware Vendor Scorecard report. Ciena continues its industry success and momentum by increasing its leadership position in the survey with a combined score increase of almost 10% from last year. For the second year in a row, Ciena secured the highest score overall, with a #1 ranking in market share momentum and as the #2 vendor in market presence categories.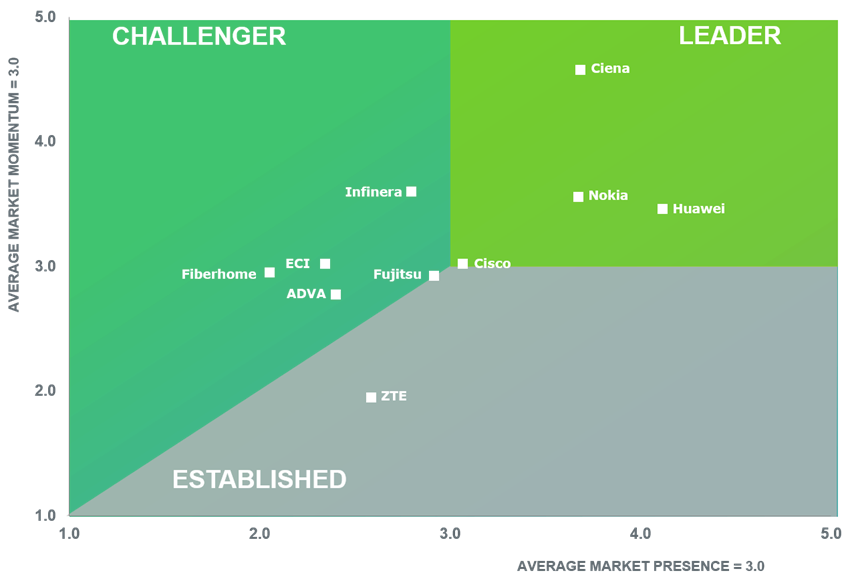 Figure 1: Service provider optical leadership landscape graph 2019, source: IHS Markit
In addition to strength from continued investment in core technology including the WaveLogic DSPs, IHS Markit indicated that Ciena's momentum this year also comes from orchestration and automation software and ongoing product enhancements and additions.
In an industry that is constantly evolving, IHS Markit noted Ciena's recent market introductions such as
WaveLogic 5
, as drivers of the momentum Ciena has seen in the industry. In addition, the reporting analyst notes Ciena's continued evolution of the
6500 packet-optical portfolio
and
Waveserver
family of data center–optimized disaggregated transponders as contributors to the company's strong performance. Finally, the
8180 Coherent Networking Platform
(CNP) that combines 400G coherent transport with a 6.4 Tbps packet switch, and the
6500 Reconfigurable Line System (RLS)
, a programmable, open and modular line system were also called out as adding to its leadership status.
Additionally, IHS Markit highlighted Ciena's ongoing commitment to IT and software with the creation of an independent Blue Planet business unit focused on software and software-related solutions.
"As a result of the investments Ciena is making, customers continue to perceive Ciena as the top company in the industry for technology innovation."- IHS Markit, Optical Network Hardware Vendor Scorecard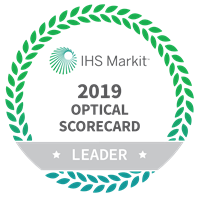 The only report of its kind, this Scorecard evaluates the top optical network equipment vendors on criteria using concrete data and metrics, including vendor market share, market share momentum, financials, brand recognition, reputation for innovation, direct feedback from buyers and other benchmarks. This approach eliminates subjectivity and ensures vendors are assessed accurately and fairly.
Want to see more of the survey results? We've worked with IHS Markit to offer a free excerpt of the report, which includes a detailed scorecard analysis and explains the scoring methodology.