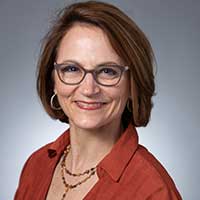 Christine Keck
Director, Analyst Relations
Christine Keck
Director, Analyst Relations
Christine Keck leads global industry analyst relations for Ciena. She sets strategy and direction for the company's communications with industry analysts from all regions.
Christine has worked in the telecom and tech industries for more than 25 years, enjoying the fast pace and spirit of unending innovation the industry inspires. During her career, Christine has worked for international companies in key communications leadership roles, as well as marketing and communications agencies, developing and executing client comms strategy and vision. She's also worked for industry trade associations, doing international trade policy and development work on behalf of US telecom and technology companies.
Christine holds a bachelor's degree with honors in mathematics and German from Tufts University in Medford, Mass., and an MBA in international business from Johns Hopkins University in Baltimore, Md. She is fluent in both German and French and is based in the greater Washington, DC region.
Insights from Christine Keck