Is your metro network architecture ready to scale? It can with Ciena's new 8114 Coherent Aggregation Router.
Ciena's 8114 Coherent Aggregation Router, the newest member of the 8100 family, brings providers more capacity for dedicated and shared fiber (PON) services via the flexibility and scalability of our WaveLogic 5 Nano coherent optics. Ciena's Gina Nienaber explains.
The growth of 5G, higher-speed broadband adoption, and enterprise requirements for cloud services are pushing network operators and content providers to build and scale their network closer to their customers. With the network edge rapidly evolving, having an efficient metro network architecture to meet connectivity demands—while maintaining scalable operations—is critical.
New coherent routing platforms are rapidly filling this need, with improvements in power, cooling, and transport operational efficiency. These platforms enter the scene at a time when there is growing funding for broadband initiatives that will drive aggressive PON deployments and increase demand for universal aggregation at the edge and coherent aggregation in the metro.
If you are looking for an advanced routing platform capable of supporting next-generation metro use cases while containing costs – keep reading – we would like to introduce you to the newest sibling in Ciena's coherent aggregation routing family.
Coherent for the edge
As network operators get closer to their customers, the mix of connections and services (1/10/25/100GbE and PON) are driving the need for 100/200/400Gb/s coherent aggregation. With Ciena's 8100 family of coherent aggregation routers and switches, our customers can now choose the right mix of connections and services to meet their needs now and in the future.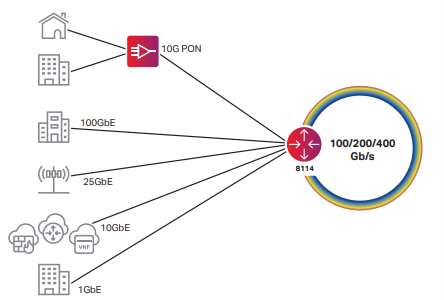 Ciena's 8114 multi-edge service coherent aggregation router
Meet the newest member of our 8100 family: the 8114 Coherent Aggregation Router
The 8114 is purposely built for 25/100GbE services and aggregation. With dense 1/10/25GbE, 10G PON, and six ports of 100GbE to 100/200/400Gb/s aggregation leveraging WaveLogicTM 5 Nano (WL5n) coherent pluggables, the 8114 addresses the increasing need for medium-capacity routing and switching applications at the metro edge.

The 8114 joins Ciena's existing coherent aggregation routers, the 8112 and 8110, sharing the same features and benefits – all provided with a modern network operating system and Adaptive IPTM approach for IP routing, SR-MPLS, Carrier Ethernet, and SRv6 support. With built-in RFC 2544 and ITU-T Y.1564 SAT with 100Gb/s traffic generation and analysis, the 8114 and its siblings make life simple for operators, reducing more costs, and eliminating truck rolls.
The 8114 and its siblings make life simple for operators, reducing more costs, and eliminating truck rolls.
If you are uncertain about future network demands, supporting both Ethernet or coherent options from the same slot could come in handy. The 8110 and 8114 coherent aggregation routers allow increased flexibility with two 800Gb/s slots that share the same Field Replaceable Units (FRUs) for 100G, 200G, and 400G. Edge and metro networks are prime candidates to evaluate IP/Optical converged architecture. These routers can be used to add packet collector rings and high-traffic routes between two routers where it makes sense.

For customers with temperature challenged or space constrained locations, Ciena's 8100 family addresses these needs. These routers can be deployed in outside plant environments and provide medium-capacity routing and switching for these applications.
Seeing is believing
For many, seeing the products at work is key to believing, so at OFC 2022, the 8114 and 5166 were in a live demonstration showcasing SR-MPLS with an IS-IS overlay along with Ciena's WL5n 400ZR pluggables over our Coherent ELS. This demo exhibited how you can bring coherent DWDM closer to the edge while at the same time providing high-capacity coherent aggregation routing via an optimized 400G open line system.

Demo at OFC 22
What about interoperability? As the desire for more open networks grows, the value and importance of multi-vendor interoperability testing increases, and seeking out a trusted advisor who understands the ins and outs of architecture evolution and is willing to jump into the multi-vendor interoperability arena is key.
At OFC 2022, Ciena participated in multi-vendor demonstrations with the OIF, which you can learn about here. Then at MPLS SD&AI Net World Congress in Paris, Ciena was included in the EANTC multi-vendor interoperability testing, with our 8112 Coherent Aggregation Router and 400ZR coherent pluggables and the 5164 universal aggregation router. We were thrilled to continue these efforts and joined the live demonstrations by participants and EANTC representatives at the EANTC booth in Paris.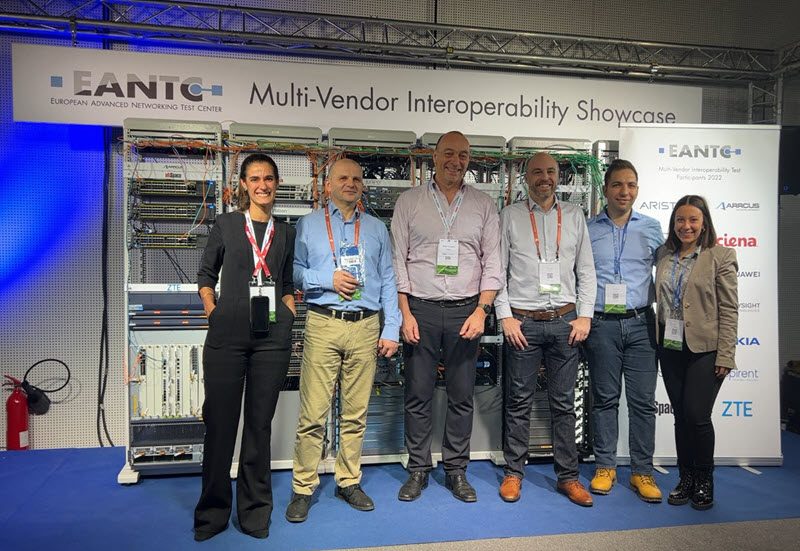 If you are in the process of selecting a coherent aggregation routing platform to support next-generation metro and edge use cases – let's talk! Contact your Ciena's account representative for more information!