100G everywhere in the access
With Ciena's new 5132 Router we will bring 100Gb/s service, demarcation, and coherent access to the business and wholesale environments. Get a free Omdia white paper and learn more about the latest addition to our Routing and Switching portfolio.
"In the next 36 months what is the most significant driver for 100G in the access?"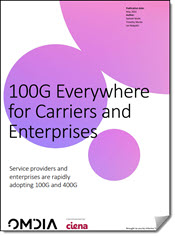 In a recent Ciena commissioned report "100G Everywhere for Carriers and Enterprises", industry analyst firm Omdia sampled both global service providers and private enterprise business network owners, with revenues weighted from $50M to $5B, on this very topic and more.
Surprisingly, or maybe not so for you, when service providers were asked this their overwhelming response was growth from Enterprise with 68% (44% + 24%), closely followed by 5G at 53% (29% + 24%).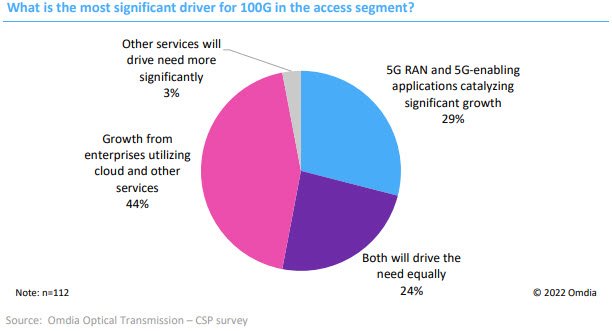 When large private enterprise network owners were asked "When will you transition the access-aggregation layer to 100GbE-based solutions?", most or 80% see the need with the next 3 years (2022-2024), and 19% having already deployed 100GbE in the access.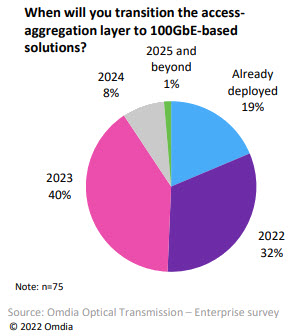 For some large private enterprises and service providers, 100GbE is becoming the new 10GbE in their networks. As network operators really take advantage of existing or planned extensions to their fiber networks this is true for carrier-neutral hotels and Points of Presences (PoPs) as well.
Enterprise IT shift to cloud-based services continues to grow unabated, not just for lower costs, but also for increased multi-cloud flexibility. This comes at the right time, as many companies' digital transformation efforts look for easy access to 100G, enterprise-grade, carrier-class interconnection with very low latency. So they can optimally host sensitive applications and workloads on-premises while leveraging cloud-based resources to process the bulk of data.
With more business and mobile applications moving to edge cloud hosting 100GbE emerges as the next necessary upgrade between access locations and data centers – also preparing enterprises for private, high-capacity connections to cloud service providers. In the Omdia study, large enterprise network owners were asked how about the importance of latency, high-bandwidth, and network resiliency as a packet network requirement for their mission-critical workloads. Overwhelmingly, they saw the need for high bandwidth, but also indicated that their mission-critical applications require ultra-low latency.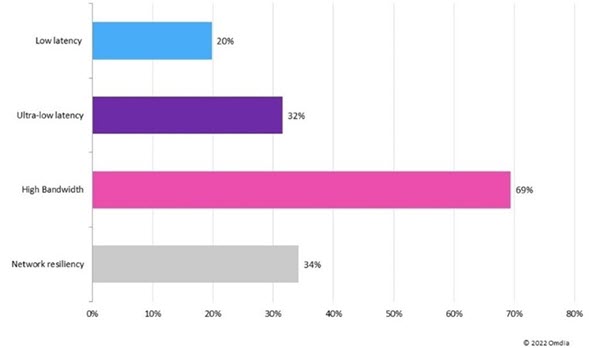 It should also come to no one's surprise, large private enterprises are no different than service providers, having lived the digression of Multiprotocol Label Switching (MPLS), seeing SRv6 as an end goal, but they also see SRv6 and MPLS will need to coexist for some time.
Business and mobile apps are moving to edge cloud hosting
Coherent Access

Ciena 5132 Router
Ciena is adding powerful new hardware and software capabilities to our Routing and Switching portfolio to allow network providers, cable operators, and mobile operators to put more capacity even closer to where the demand for bandwidth lives. The 5132 provides advanced synchronization, with Synchronous Ethernet (SyncE) and IEEE 1588v2 on all ports, OAM (Operations, Administration, and Maintenance) scaled to deliver guaranteed Service Level Agreement (SLA) differentiation, service isolation using FlexEthernet (FlexE), and WaveLogic 5 Nano (WL5n) coherent optics.
The 5132 offers efficient transport for IP routing, SR-MPLS, Carrier Ethernet, and is SRv6 ready using Ciena's Adaptive IPTM approach, and the small low-footprint 1RU offers 2 x 100GbE QSFP28 ports and 2 x 100GbE QSFP-DD ports. The fully non-blocking 360Gb/s packet fabric enables the high-speed connectivity network operators need to ensure superior end-customer experiences and to improve their competitiveness.
5132 Applications
The cost-effective 5132 supports applications such as 100GbE Network Interface Device (NID) or Network Termination Equipment (NTE) Ethernet demarcation, as well as User-to-Network Interface (UNI) or Network-to-Network Interface (NNI) deployments and is perhaps the first NNI 100G coherent capable NID compatible for the metro and forward-looking cloud networking services.

Going even further, both soft (SR-MPLS) and hard (FlexE) are supported.
Open Internetworking Forum (OIF) FlexE can be used to mitigate latency and jitter impacts on ultra-low latency traffic when combined with other traffic. Ciena's 5132 future-proofs the 100GbE edge – opening the wholesale market and providing deterministic low-latency transport wave service with FlexE. This use case is equally applicable to wholesalers selling multi-tenant open transport.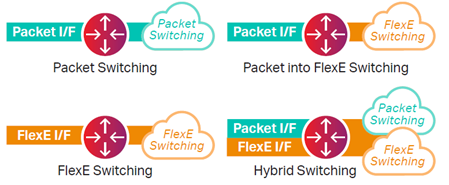 Packet and FlexE switching examples
Network operators can choose the most flexible networking model when and where required. As shown above, the starting as a native packet switch, and being able to offer SLA FlexE-switched services targeting new revenue streams over 100GbE transit path.
The figure below shows examples of demarcation and higher capacity closer to the edge. With 2 x 100GbE QSFP28 and 2 x 100GbE QSFP-DD coherent ports the 5132 enables concurrent business and, with the 5130, wholesale mobile services.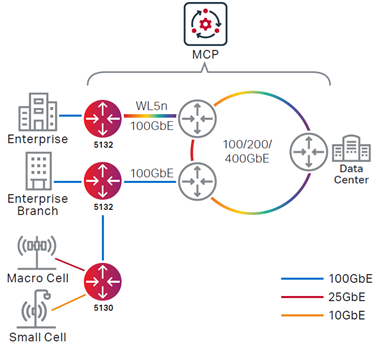 Metro Network with Ciena's 5132
Ciena's 5132 offers greater flexibility and increased capacity over existing fiber plants in a compact form factor that meets industry standards and reaches up to 80 km or greater with a line system.
Instead of stacking multiple 10GbE Ethernet Access Devices (EADs), which will incur additional colocation costs and use extra (valuable) fibers, the 5132 offers simple compact service delivery, FlexE, and WL5n pluggable coherent optics. The 5132 can be mounted in a rack, wall, or on a desktop. The 5132 also provides a cost-effective solution to interconnect to a service provider at 100GbE but starts with a low Committed Information Rate (i.e. 20 or 30 Gbps). With the hardware in place, the enterprise could scale bandwidth up as needs grow without having to change any hardware.
By removing constraints on edge scalability and increasing flexibility, the 5132 will enable new revenue opportunities, helping service providers and large private enterprises respond to increasing traffic demands as 100GbE enters as the next access location.
Contact us to find out to we can help you to customize and Own the Edge.