Segment Routing on the rise, survey says
There is no question that Segment Routing MPLS (SR-MPLS) has surged in recent years. But what percentage of operators are deploying it? Why? What about the newest Segment Routing technology: SRv6? ACG Research recently surveyed service provider executives about that and more. Ciena's Ivana Lemos details the findings.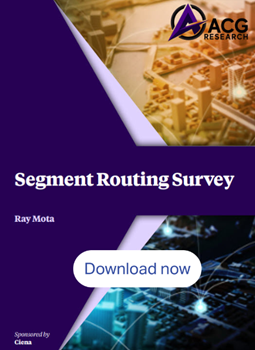 Did you know there is a lot going on in Segment Routing space? In fact, this year, our industry is proud to celebrate 10 years since the introduction of Segment Routing (SR), a flexible and scalable way of implementing modern IP networks.
For the past 10 years, since SR-MPLS became available, most operators have been perfectly happy adopting it. But since 2019, SR IPv6 (SRv6) has become increasingly popular, with some early SR-MPLS adopters switching to the v6 flavor.
Since SRv6 came into the picture three years ago, there's been no engagement without questions like "why SRv6" and "why not SR-MPLS?" and vice-versa.
This dichotomy indicated to us it was a great time to gauge a greater understanding of the SR marketplace through a global study with ACG Research. Our intuition paid off. The insights gained were well worth the time invested in the project! Let's dig into some of the results.
SR-MPLS vs. SRv6 adoption
To validate where service providers are regarding their technology decision-making roadmap, Ciena partnered with ACG Research to conduct a global survey. The responses came in from around the world. Over 63 service provider executives responded, and the results spoke loud and clear.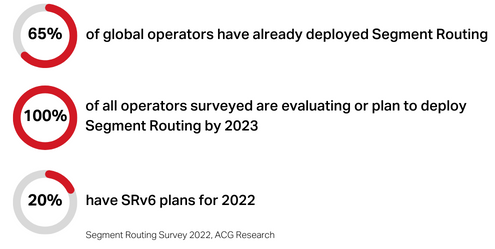 It is clear SR adoption won't be short-lived. There is a steady disruption happening. This insight also matches what we are seeing in our day-to-day Routing and Switching portfolio engagements with customers. You can see the full ACG Research white paper here.
Next, we asked respondents their thoughts on SRv6 design options.
"The power of SRv6 and SRv6 header compression allows us to change the game. Before, we used to have an MPLS network that only combined P and PEs. But with SRv6, we can stretch the network, include cell sites, and compute, keeping the transport very simple while easily managing the blast radius when there is an outage." - Dan Voyer, Technical Fellow, Bell Canada