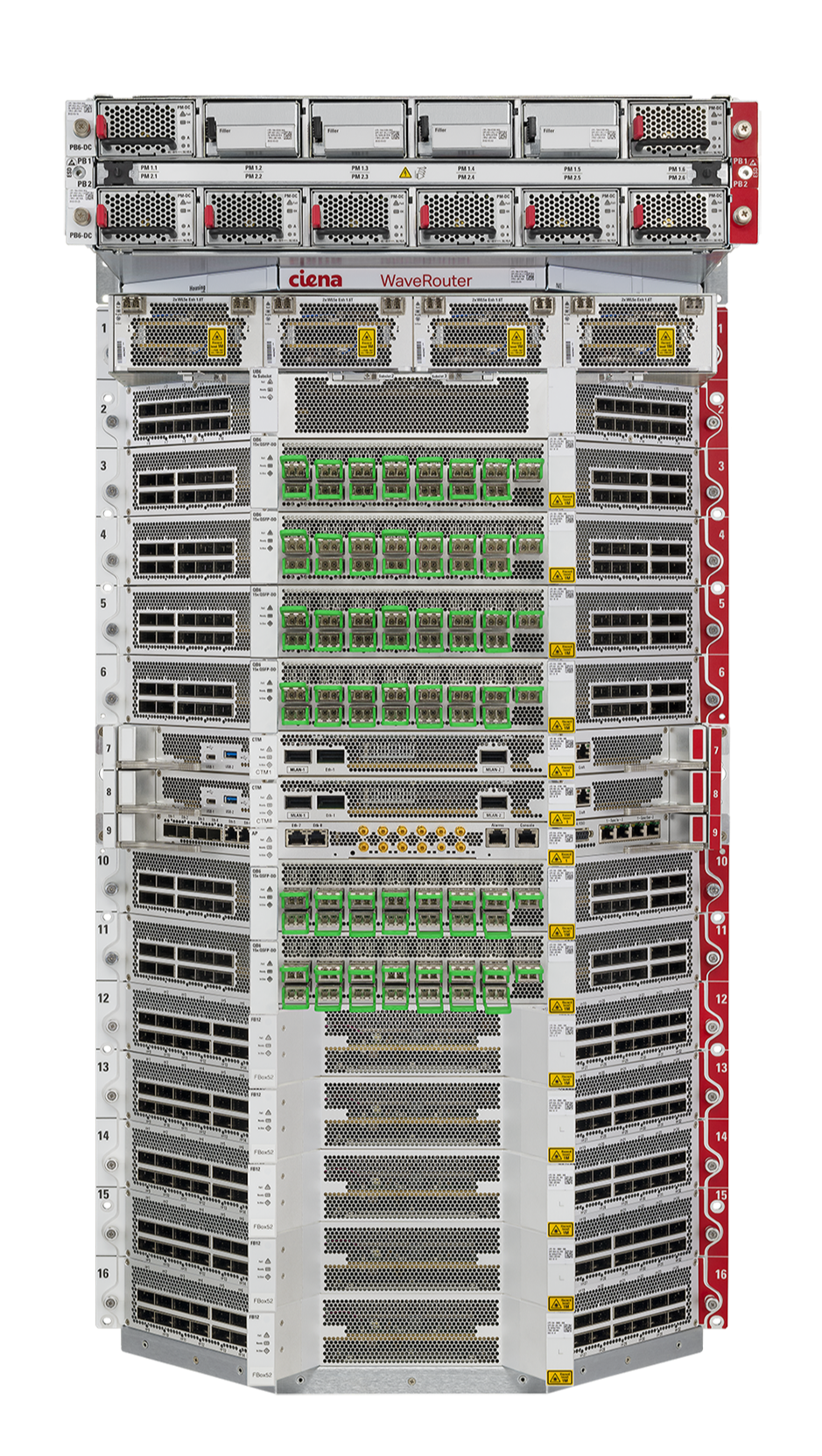 WaveRouter
Ciena's WaveRouter™ is a purpose-built coherent metro router designed to unify IP and Optical in the metro—with ultimate flexibility, future-proof extensibility, and improved network sustainability.
WaveRouter can easily and flexibly scale Wide Area Network (WAN) traffic—with the ability to scale up and out, delivering capacity when and where it's needed. With optional WaveLogic™ capabilities, WaveRouter can support dense, any-to-any, high-capacity coherent routing and switching metro applications.
Features and benefits
Ultra-high metro capacity and multi-layer (IP/Optical) awareness and coordination

Commercial temperature (0°C to +40°C) for space-constrained locations

Separate modular redundant controller and fabric, providing scale from 6-192 Tb/s

IP routing, BGP-LU, SR-MPLS, Carrier Ethernet, and SRv6 ready

SDN next-generation management, including support for protocols such as NETCONF/YANG, gNMI/gRPC with dial-in/dial-out streaming telemetry
What is metro routing done differently?
WaveRouter represents a true break from legacy constraints—a reimagined routing platform architecture for the converged metro. WaveRouter's 600mm depth is a footprint-efficient design that fits anywhere. WaveRouter can support a wide range of plugs and submodules without stranding chipset or fabric capacity—whether pluggables (including WaveLogicTM) or ultra-long-haul submodules.
Flexible commons, fabric, and interface modules
WaveRouter offers metro operators a way to easily scale out with extensible switch fabric and flexible cabling options for non-adjacent rows. WaveRouter can reduce blast radius, spread thermal load over multiple racks, and take advantage of fragmented racks.

Control Timing Module (CTM)
1+1 Redundant
Route Processor (RP)
Control Plane & Fabric Management

Fabric Box (FB)
32 x QSFP-DD or mix of DAC/AEC/AOC ports
Full duplex between all Interface Boxes
N+1 Fabric redundancy
Any housing slot
Networking Ports

15 x 100/200/400GbE or 100/200/400 WL5n 400GZR/ZR+

20 x 400G QSFP-DD Fabric ports
Related resources
Customer Story
MLGC powers digital experiences in rural North Dakota with Ciena's Coherent Routing
MLGC is deploying Ciena's 5164 Router, 8110 Coherent Aggregation Router, 8114 Coheren...
Read
Blog
Want to take your IP network to new heights? Look no further than Ciena.
It is no longer a question of if people want a new way to build their IP networks, bu...
Read