MCP Applications
MCP Applications Services
Realize the benefits of intelligent network control faster
Level up with Ciena's professional services
Ciena's Manage, Control and Plan (MCP) domain controller and applications are reinventing how networks are managed. The software automates the full lifecycle of network operations to help our customers deliver connectivity services that offer a high quality experience and profitable outcomes. All of this is delivered on an open and extensible micro-services architecture. This results in fast, efficient, data-driven operations for increased service agility—which is why customers want to realize the potential now.
MCP Applications Services can help you realize your goals. MCP Applications Services deliver a single point of management to enable you to rapidly incorporate MCP Applications, bridge gaps, and reduce risk—while maintaining focus on your core competencies.
The approach
MCP Applications Services provide full lifecycle services to help you get the most out of your MCP domain controller and applications investment.
These key essential services are recommended to ensure you quickly get the most out of your MCP Applications.
Consulting—Ciena can advise and/or execute best practices for integrating MCP Applications with operational and business support systems to automate network operations and reduce OPEX
Implementation—Ciena specialists plan, design, and install MCP Applications to speed time to value, quickly realize automation in your network operations, and minimize risk and downtime
Maintenance—Ciena technical support resolves issues quickly and provides access to the latest software releases
Learning – Ciena training options build operational skills to get the most out of your MCP Applications software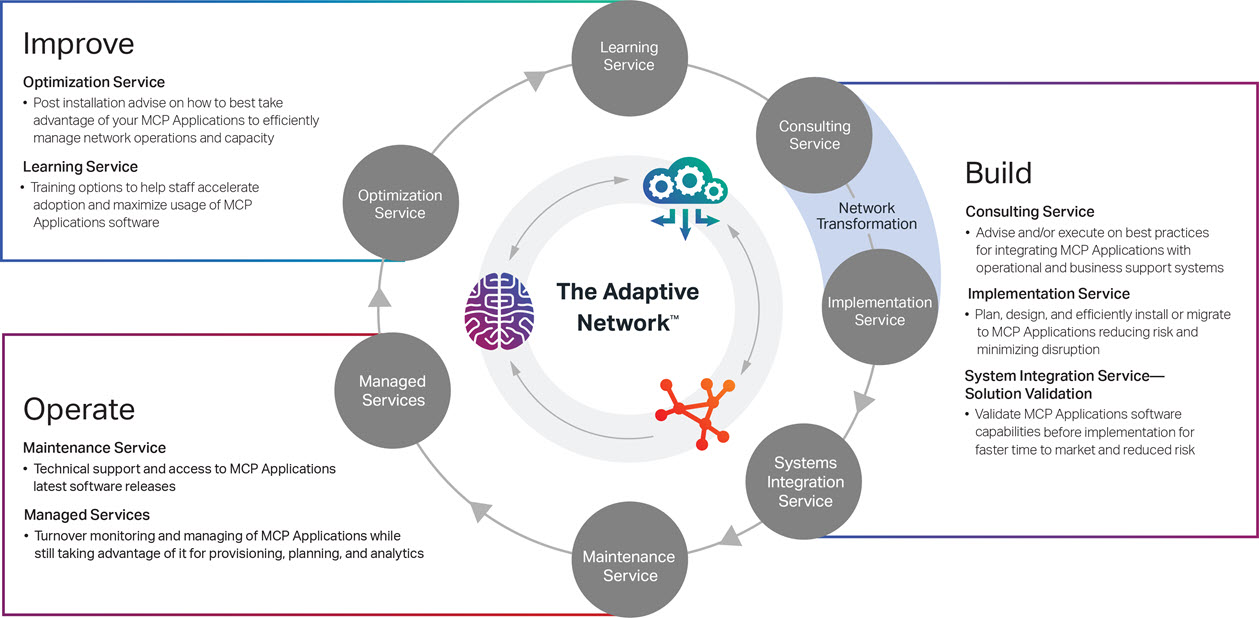 Business Outcomes
Shortens time to financial benefits: efficient deployment for a quicker return on investment and a faster path to achieving your business objectives with Ciena's proven expertise, processes, and best practices.

Accelerate automation by linking network information into operational and business systems via API integrations.

Continuous improvement ensuring staff are trained and kept up to date to maximize the value of the features and functions in MCP Applications.
Hosted MCP Applications Services
Hosted MCP Applications Services offers customers optional white-glove service with MCP Applications—deployed in the cloud and securely managed, maintained, and operated by Ciena.

Insights
Infobrief
MCP Applications Services
As a network operator, you face many challenges to keep up as you adopt new technolog...
Download
Data sheet
Manage, Control and Plan (MCP)
Manage, Control and Plan (MCP) is Ciena's domain controller, automating lifecycle ope...
Download
Press release
Angola Cables Selects Ciena for MONET Subsea Cable System
Angola Cables has selected Ciena's GeoMesh and Blue Planet solutions to support its n...
Read