Webinar
Data Center Interconnect Hubs: Where to Next
Reliable submarine connectivity is crucial to serving a growing number of connected end-users—both human and machine. Thus, submarine cable routes are challenged to cost-effectively scale to meet surging traffic demands.
Where older cables tend to connect major cities, most submarine cable traffic now flows between large data centers that are often located outside city limits to keep costs down. This means new cable routes are key to connecting these newer data centers where accessed content and cloud-based applications are typically hosted.
Over the last year, we've seen movement into new locations among global interconnection leaders. As leading submarine cable and data center operators push into new frontiers, what potential can we see in nascent markets where they're breaking ground?
Join TeleGeography's Jonathan Hjembo and Ciena's Brian Lavallée for a 30-minute webinar, Wednesday, March 25, as they discuss:
Key dynamics that drive the interconnection hub landscape
The major players in the global interconnection market
Where new movement in the interconnection market is right now
Technologies that change how submarine networks are designed, deployed, and managed
Featured speakers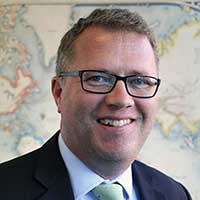 Jon Hjembo
Senior Manager and Head of Data Center Research, TeleGeography