Surging demand for bandwidth and better Quality of Experience (QoE) for end users, both humans and machines, continues unabated. This is putting intense pressure on ICPs and network operators alike—to both maximize submarine network spectral efficiency and returns on limited submerged assets.
Join experts from Ciena and TeleGeography for the webinar. This special Star Wars day—May the Fourth—webinar will take a look at the emerging interest in transoceanic 400Gb/s Ethernet services and its implications in submarine networking.
Key takeaways
What's driving soaring transoceanic bandwidth demand?
What sort of prices can customers expect for 400GbE compared to 100GbE?
What applications are driving the need for 400GbE transoceanic services?
Featured speakers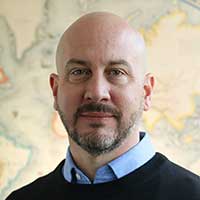 Alan Mauldin
Research Director at TeleGeography