The winning hand in your network operations transformation: MCP Applications
How is Ciena's Manage, Control and Plan offering taking network operations to a new level of intelligent software control and automation? Ciena's Marie Fiala explains.
This is the first blog in a 4-part MCP Applications series. Click here to read the whole series.
Everyone wants a winning hand to ensure business success and profitability, especially in today's high-stakes competitive networking market. But we all know, you can't just leave it up to luck and hope the right cards are dealt to you.
Here at Ciena, we have expanded our Manage, Control and Plan (MCP) offering with next-generation applications to take network operations to a new level of intelligent software control and automation, setting the right strategy for a winning hand. MCP Applications enhance MCP's already powerful SDN domain controller capabilities by delivering unprecedented real-time insights into the state of the end-to-end network, driving informed, optimized operational decisions across all layers of the network. With MCP Applications, network operations teams can adapt more quickly and effectively to the explosive demand for high-speed high-reliability connectivity.
Already, hundreds of service providers are using MCP to simplify, accelerate, and automate network operational tasks. MCP domain control, together with Advanced Apps, such as Liquid SpectrumTM and Adaptive IPTM Apps, PlannerPlus, Emulation Cloud, and MCP Services provide intelligent network control that will supercharge your network operations. Now you're able to manage and optimize performance across all technology layers in your network faster and easier than ever before, while also lowering operational costs.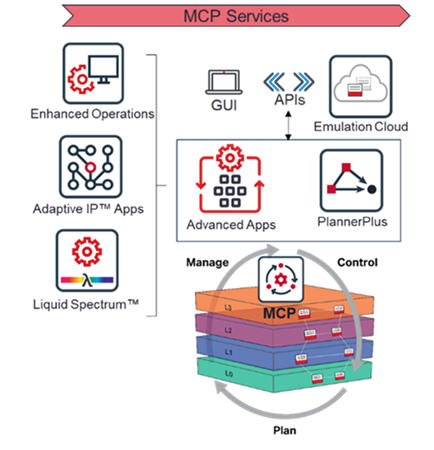 Figure 1: MCP Applications, founded on the MCP domain controller, provide intelligent network control, driving utmost operational efficiencies
MCP domain controller: The foundation
Let's focus on the foundation of effective network operations – Ciena's MCP domain controller. MCP's capabilities go far beyond the traditional network management system (NMS) functions of Fault, Configuration, Accounting, Performance, and Security (FCAPS) of devices. MCP unifies network and service management in a single interface, for all technology layers in the network: L0 optical, L1 optical transport network (OTN), L2 Ethernet, and L3 IP/MPLS. This drives consistency of operational workflows across layers, and cross-correlation, enabling more effective utilization of network assets. Now that's multi-layer software control like you've never seen before!
Furthermore, MCP seamlessly integrates the full lifecycle of network operations tasks so no time nor effort nor accuracy is lost swivel-chairing between different operational systems. Network and service planning, device commissioning, service provisioning, service assurance, network utilization monitoring and capacity planning can all be executed easily through the intuitive user interface, or can be automated, leveraging MCP's open APIs. MCP's comprehensive software control extends to multi-vendor visualization and troubleshooting, including foreign line systems and third-party IP infrastructure. MCP – it's everything you need to make operating your complex network simple.

MCP – it's everything you need to make operating your complex network simple.
An open, modern platform
The adoption of SaaS and cloud technologies by enterprises has also provided impetus within service providers to modernize their Network Operations Center (NOC) and embrace IT best practices. MCP promotes this new paradigm of open, non-proprietary software systems. The platform uses open APIs to interface with third-party Operational Support Systems (OSS) and simplify OSS integration for business process workflow automation. MCP's open APIs have been proven in industry interoperability tests based on ONF's T-API standard and as part of AT&T's ONAP framework using APIs specified by the Open ROADM Multi-Source Agreement, giving our customers the confidence they need to move forward with their NOC transformation.
MCP is also designed as a cloud-native platform which is suitable for deployment on-premise, or in the public cloud for ease of scalability. Ciena also offers a Hosted MCP Service, an approach that is well-suited for smaller service providers that may not have dedicated teams to keep their operational software up and running.
Realizing time-to-value quickly
To help integrate MCP within a service provider's operational environment and get the most of MCP's capabilities, most quickly, and for maximum impact, Ciena offers tailored MCP Services. This suite of six services help accelerate deployment and day-to-day use: learn, deploy, migrate, customize, adopt, and operate. They can be used in full or as selected services, depending on your needs. Our customers are able to choose one or more of these services, depending on their business needs.
Next up: Advanced Apps
I've now introduced you to Ciena's MCP Applications and the key benefits of the MCP domain controller. Check out my next article, which focuses on Advanced Apps – a differentiating card that increases your odds of winning in the competitive networking market.