Doubling down on domain control with real-time intelligence
Would you like the ability to complete your operational tasks quicker and more accurately, across multi-layer, multi-vendor networks? Marie Fiala explains how that is possible – with Ciena's Advanced Apps.
This is the second blog in a 4-part MCP Applications series. Click here to read the whole series.
In my earlier blog, I outlined how our five high-value MCP Applications give you a winning hand by modernizing network operations to the highest level of intelligent network control: Ciena's MCP domain controller, Advanced Apps, PlannerPlus, Emulation Cloud, and MCP Services. Now let's dive into the Ace in your hand – Advanced Apps.
Network infrastructure is becoming more powerful and smarter, generating a wealth of real-time data about the state of the devices themselves, as well as the traffic flowing through them. However, all this telemetry is only as useful as it is usable. MCP's Advanced Apps are a collection of apps that visualize multi-layer network data and key performance metrics in a very clear, intuitive manner so that network operations teams can glean critical insights to best inform operational actions. Even data from third-party IP routers or foreign line systems is accessible through MCP's unified interface. This simplified user experience means that tasks can be completed more rapidly and accurately, throughout all stages of the operational lifecycle. There are three categories of Advanced Apps: Adaptive IP™ Apps, Liquid Spectrum™, and Enhanced Operations.
Adaptive IP Apps: Optimize IP network performance
IP networks are ubiquitous, yet notoriously complex and complicated to manage. With the introduction of next-gen technologies, such as 5G and Edge Cloud, to support today's explosive demand for internet connectivity, the scale and dynamic nature of IP networks are ever growing, as is the need for greater performance and reliability. Ciena's Adaptive IP approach was developed to help network operators evolve their IP network and overcome these challenges. At the core of the Adaptive IP approach is Adaptive IP Apps. Used in conjunction with MCP, Adaptive IP Apps simplify, automate, and optimize IP network operations.
Adaptive IP Apps provide comprehensive visibility of all devices in an IP network, in a multi-vendor environment. Multi-vendor visibility is especially important because it enables service providers to have a choice of best-of-breed IP infrastructure and optimize performance end-to-end across the network. Through the lens of the MCP GUI, you can always see the real-time state of the network and all the details of performance metrics correlated with routing behavior. To speed up root cause analysis, there is a very useful and unique playback feature which shows how routing and performance have changed over time. Now that's 20-20 hindsight!
Adaptive IP Apps offer three vital analytics and planning capabilities:
Real-time network monitoring, so you can troubleshoot IP network issues faster with historic path-aware performance analytics over past time intervals, and can also avoid future issues by using what-if modeling of configuration options to plan network changes;
Real-time service monitoring, so you can monitor service performance, diagnosing and resolving issues more quickly, aided by service-aware analytics which correlate key performance indicators with overlay services, over time. In addition, what-if modeling of IP services enables proactively planning for high adherence to SLAs in the future;
Automated traffic engineering is accomplished with a sophisticated path computation engine (PCE) that enables you to optimally engineer active and backup paths based on network policies, constraints, and network state, so you can turn up services more quickly, with reduced risk of SLA violations.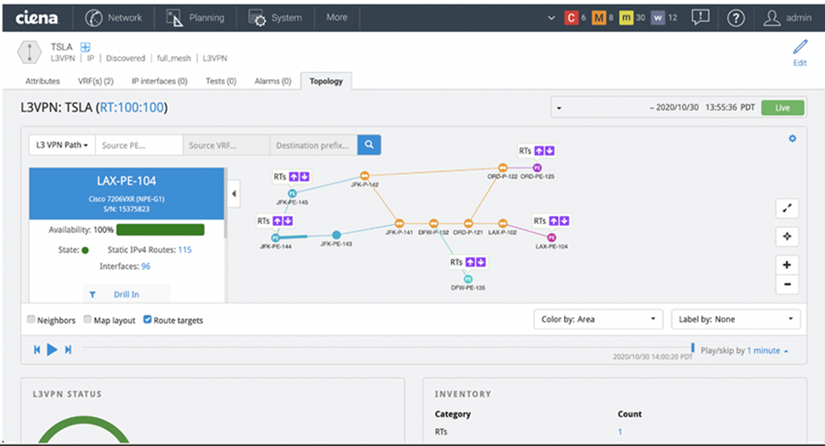 Figure 1: IP network topology view in Adaptive IP Apps
And that's not all – we all know that IP networks are dependent on the performance of underlying optical transport. That's why Ciena has engineered Adaptive IP Apps to work in conjunction with Liquid Spectrum to facilitate superior, coordinated, multi-layer performance optimization of IP and optical networks. This coordination helps avoid over-engineering of capacity at IP and optical layers, thus reducing CapEx spend. It also helps service providers optimize buildouts as they add more capacity at the edge of their networks and converge IP and optical technologies in the metro and access.
Liquid Spectrum: Get the most value from existing optical network resources
Liquid Spectrum apps enable you to optimize performance and maximize network efficiencies throughout the entire photonic lifecycle, from planning through delivery, operations and optimization. These powerful apps are being used today to gather real-time telemetry from Ciena's programmable optical infrastructure, apply advanced analytics to interpret network conditions and present the data intuitively within MCP. Armed with these accurate insights, such as available channel margin, line system performance or precise location of fiber trouble spots, you can enact changes immediately through MCP's interfaces to achieve the optimal balance of network performance, efficiency, and availability.
Enhanced Operations: Data and trends that strengthen decision-making
Enhanced Operations apps present a broad set of data in very intuitive ways to help you manage multi-layer networks much more efficiently, mitigate network issues, and get to problem resolution faster. These apps simplify the repetitive, time-consuming tasks that take up a large part of the network operator's day. One of these apps, Network Utilization, presents real-time statistics of provisioned and consumed capacity for links, fibers, equipment, and network elements in easy-to-use tabular and heat-map formats, and can also generate automatic threshold notifications if conditions require intervention. Another key app, Network Trends, provides scheduled and on-demand reports of operational and performance measurements so you can find predictive patterns and plan for network growth accordingly. If you want to identify network elements that are misconfigured, the Configuration Audit app makes it easy.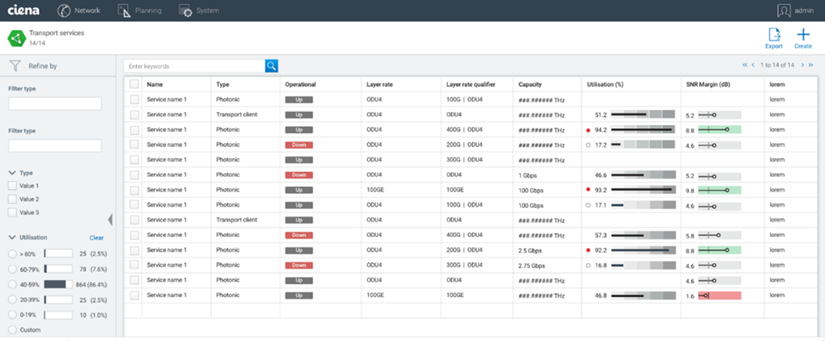 Figure 2: At-a-glance visualization of Transport Services' link capacity, utilization, and SNR margin
Next up: PlannerPlus
We've now seen how Advanced Apps enhance network operations with real-time intelligence across the breadth and depth of service providers' multi-layer IP, Ethernet, and optical networks. Check out my next article where I introduce another card – PlannerPlus, Ciena's integrated online network design and planning tool – that stacks your hand for network operations transformation success.