The 3 P's of PON
Do you know about the three P's of Passive Optical Networks (PONs)? Ciena's Wayne Hickey discusses how the three key variables: passive, pluggable, and pay-as-you-grow can provide the highest return for your efforts.
Why are the 3 Ps of PON so important?
Service is based on a last-mile shared capacity. So, when connecting dozens of smart devices, multiple streams of IPTV, working and schooling from home, or adding small, medium, and mid-size business and enterprises to the network – high-speed access is a must and uploads as fast as downloads a preference. Picking or choosing which, where and when service gets fiber goes beyond connectivity – this is why the three Ps of PON are so important.
What are the 3 Ps?
It should be of no surprise, the first P is for Passive. Passive Optical Networks (PON) have become extremely popular over the past 15 years due to surges in IP television (IPTV) and high-speed internet access. Bandwidth demands and competition are now driving operators to 10G PON, as 15-year-old Ethernet PON (EPON) and Gigabit PON (GPON) technologies are running out of steam. With network operators looking to keep up with network growth, commonly assumed as at least 10x in the next decade, symmetrical 10G PON technology is becoming more mainstream and affordable.
How does PON work?

In Passive Optical Networking, an Optical Line Terminal (OLT) is used the by network operator to convert Ethernet signals to frame and transmit signals in the network. Passive optical splitters are then used to split fiber and the signal from the OLT into multiple beams of light to Optical Network Units (ONUs). An ONU is the last-mile leg of the PON network, located at the consumer/customer, and used to convert optical signals from the Optical Distribution Link (ODL) into Ethernet transmit (upstream) and receive (downstream) signals.
Benefits of Passive networking:
No power for transmission
Single fiber, multiple users (point-to-multipoint)
High capacity
The second P is for Pluggable. As a last mile technology, PON applications between the subscriber and network operator, have traditionally been supported by large purpose-built OLT chassis deployments. This all changed, when Ciena introduced its pluggable micro-OLT last year. The versatile 10G PON pluggable, conveniently fits in a 10G SFP+ optical transceiver routing and switching port – surprisingly making life much simpler and cost-effective for network operators.
How does a micro OLT work?

There are two components to a micro OLT:
Ethernet-to-PON Media Access Control (MAC) bridge
ITU-T G.9804.1 (XGS-PON) compliant transceiver
By embedding an Ethernet-to-PON MAC Integrated Component (IC) and XGS-PON transceiver on an industry standard SFP+ housing, the micro OLT can plug into a compatible SFP+ routing and switching port. Each extended temperature range micro OLT can support up to 128 ONUs. The pluggable OLT can also support different over-subscription ratios or Service Level Agreements (SLAs) at different locations, based on the number of services and service types required.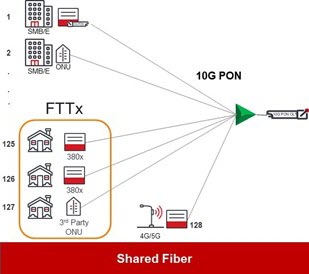 Benefits of Pluggables:
Cost-effective
Service velocity
Reduced footprint
Finally, the third P is for Pay-as-you-grow. It's no secret, fiber is one of the most cost-effective solutions towards addressing growing bandwidth needs and increasing critical operational efficiency. And so, for many years, network providers have pushed fiber to build out last mile access for new builds or greenfield areas. For existing or brown field deployments, wholesale deployment of fiber is neither possible nor judiciary feasible given the many legal and cost implications. With last mile access, it is a bit like being stuck in thick brown mud, network operators can now loosen that mud by targeting specific brown field areas they wish to invest.
How does Pay-as-you-grow work?
Simply pick one of Ciena's 10+ (and growing) routing and switching platforms supporting our 10G PON solution. Add a single 10G PON OLT, into the router or switch, connect to 128 of our, or even 3rd party compliant, XGS-PON compliant ONUs.
But wait, there's more. With our embedded PON OAM software – adding, enabling, and managing your network just got a lot simpler, fast, and easy! And as you grow, so can your management with scale using Ciena's Manage, Control, and Plan (MCP).
Most brownfields won't be migrated overnight, if you don't know where to start, or need help, that's where Ciena Services can help plan, design, or even build your network.
Benefits of Pay-as-you-grow:
Cost-effective
Flexible
Scalable
Find out how to remove the constraints and bring more value to your network edge and last mile today, ask us how Ciena helps Evolutionize Your Routing and Switching.
What's in your PON network?