Improving universal edge access with flexible and pluggable 10G PON
The network edge is where content lives, and to operators, where successful business outcomes are determined. With Ciena's new 10G PON solution, we're bringing more value to the network edge – via both access and aggregation. Ciena's Wayne Hickey details the latest addition to our packet networking transceiver family.
For most network operators, their environment is a very challenging one, as they are experiencing surging traffic growth in both their wireless and wireline networks. Complicating this enormous growth is that most of the traffic is IP-based, an area where the industry for many years has seen flat to declining revenues and associated margins.
This trend is expected to continue well into the future, with many key access and metro trends driving the growth at the network edge today:

The Internet of Things (IoT) will drive in orders of magnitude more endpoints or physical computing devices, each performing application-specific functions as part of an associated product or service. This will drive more endpoints and increased traffic diversity. Just think of the complexity associated with the interconnecting of tens of billions of machines!

In the next few years, the promise of 5G is expected to make the number of connected devices and bandwidth swell, but 5G is more than just a wireless upgrade. It means IoT enablement, up to 100 times higher user data rates, up to 10 times lower latency, and up to 1000 times more data volumes. Having the right capabilities at the network edge is key to delivering much faster download speeds and guaranteed lower latency.

When it comes to computer-generated simulations of virtual and augment reality (VR/AR), less latency is key to a quality user-experience. Both AR and VR will require more bandwidth and near real-time performance. And yet another new video format is just around the corner – 8K, which quadruples the number of pixels, just like 4K did with 1080p.
The network edge is where content lives, and to operators, this is where successful business outcomes are determined. For network operators, improving the ability to offer new service revenue opportunities, as well as improving margins, is essential to maintaining existing customers, as well as attracting new ones.
Evolving Passive Optical Networks
Passive Optical Networks (PONs) have become extremely popular over the past 15 years due to surges in IP television (IPTV) and high-speed internet access. Bandwidth demands and competition are now driving network operators to 10G PON, as 15-year-old Ethernet Passive Optical Network (EPON) and Gigabit Passive Optical Network (GPON) technologies are running out of steam. With network operators looking to keep up with network growth, at least 10x in the next decade, symmetrical 10G PON technology is becoming more mainstream and affordable.
The network edge is where data lives.
Introducing Ciena's pluggable 10G PON solution
To help network operators address these needs at the network edge, Ciena is introducing a new pluggable 10G PON solution, purpose-built to address next generation Cable MSO access, 4G/5G RAN, and low-cost metro access to allow for maximizing ROI.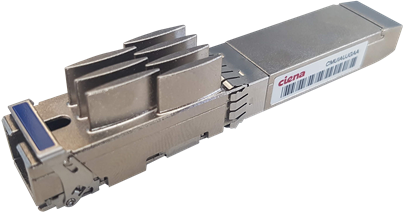 Ciena's pluggable 10G PON solution allows flexible, open deployment within Ciena's feature-rich extensive packet portfolio (the 3000 and 5000 families) to address key 10G PON market opportunities.
As the network edge emerges as a critical location for connect, compute, and store, communications providers are evolving from building separate, siloed networks.
Ciena's Universal Edge 10G PON access and aggregation infrastructure helps eliminate operational complexity by minimizing the number of platforms to own and operate while reducing power and space requirements. The result is faster deployments, improved service velocity, and a reduced total cost of ownership, all working together to increase the customer experience and improve retention.
A new simplicity for the network edge
Ciena's simple pluggable 10G PON solution reduces edge transport and packet costs, footprint, and power consumption by being able to right-size the Optical Line Terminal (OLT) or high-density packet platforms for controlled and uncontrolled environments.
Instead of needing large purpose-built OLT chassis, network operators can now bring more value to their networks, by supporting concurrent PON, IP, and Ethernet services on the same Ciena aggregation platform, taking advantage of tightly integrated Class of Service (CoS) per-service, and per Optical Network Unit (ONU) traffic management and statistics.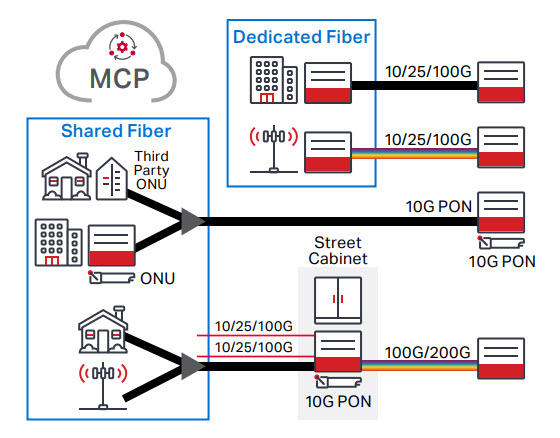 Ciena's Universal Edge 10G PON Access
Embedded with an Ethernet-to-PON MAC bridge, Ciena's ITU-T G.9807.1 (XGS-PON) compliant 10G PON OLT SFP+ transceiver can support up to 128 customers. This enables operators to support different over-subscription ratios at different locations, based on the number of services and service types required.
Ciena's 10G PON OLT solution also supports multi-vendor interop or 3rd party ONU integration and avoids vendor lock-in by supporting both ONU Management Control Interface (OMCI) and Ethernet OAM in-band management. With rich carrier-class OAM&P software, operators can persistently store configurations, provide PM data collection, do fault monitoring, and manage firmware image.
Northbound (NB) IP Application Program Interface (API) support for NETCONF and YANG and streaming telemetry over Secure Shell (SSH) or Ciena's Manage, Control and Plan (MCP) can be used for configuration and monitoring.
Extending the optical edge with 10G PON
Network operators are increasingly looking to extend optical technology into the access network in order support a growing range of high-bandwidth applications. As a last mile technology, used between the subscriber and network operator, PON applications are typically symmetrically limited to 1Gb/s for up to 32 customers. Ciena's pluggable 10G PON OLT support XGS-PON (X= 10, G=Gigabit, S=Symmetrical), meaning 10Gb/s both downstream and upstream, delivering 10x more bandwidth and enabling many higher-bandwidth applications.

10G PON Applications
Adding 10G PON capable IP and Ethernet platforms increases operator competitiveness by doing more with less, and network operators are able to turn up services quicker. For example, a diverse set of services can be offered for Multi-Dwelling Units, Fiber-To-The-Cabinet, and Fiber-To-The-x – by simply adding Ciena's 10G PON pluggable in one of our feature-rich switching and routing platforms.
To find out how to remove the constraints and bring more value to your network edge today, and ask us how Ciena helps evolutionize your packet network.