Realizing the benefits of transformed optical infrastructure
With recent advances in optical technology, CSPs can reap greater efficiencies out of their existing fiber and better automate traffic flows. But achieving this robust infrastructure without the necessary services can prevent "hoped for" results from becoming actual results, says TBR analyst Chris Antlitz.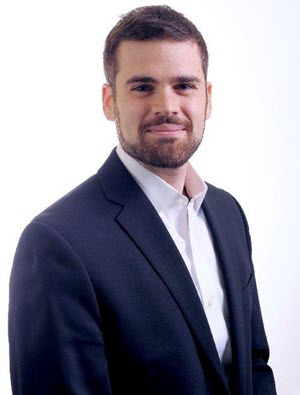 Chris Antlitz is a principal analyst in TBR's Telecom Practice. Chris oversees and contributes to the Telecom Practice's syndicated research portfolio and custom project work. He leverages over 14 years of analytical experience to lead the Telecom Practice's research agenda as well as provide critical insight and analysis to syndicated and project work.
Chris covers the global telecom vendor and operator ecosystem and all major trends in the space including, but not limited to, developments in NFV, SDN, edge computing, digital transformation, IoT, private cellular networks and 5G. He also covers the hyperscaler market, particularly the pursuits of the Big Nine hyperscaler companies (i.e., Alphabet, Amazon, Apple, Meta, Microsoft, Rakuten, Alibaba, Baidu and Tencent) in the digital space.
This is the first post in a blog series. See Chris's other posts on crossing the chasm from legacy to modern networks, time-division multiplexing (TDM) migration, navigating vendor equipment swaps, and the 6 attributes to look for when selecting a transformation partner.
Global network traffic is expected to increase to more than five times the current levels (to over 15 zettabytes annually) by the middle of this decade, according to TBR estimates. This exponential boom in data traffic will be driven by 5G, IoT, edge computing, enhanced video (e.g., AR/VR, 4K/8K), AI and machine learning, all of which will be pervasive, foundational technologies of the global, digitalized economy. As critical members of the connectivity value chain, communication service providers (CSPs) need to ensure their networks are ready and able to support these bandwidth needs in an economically advantageous way.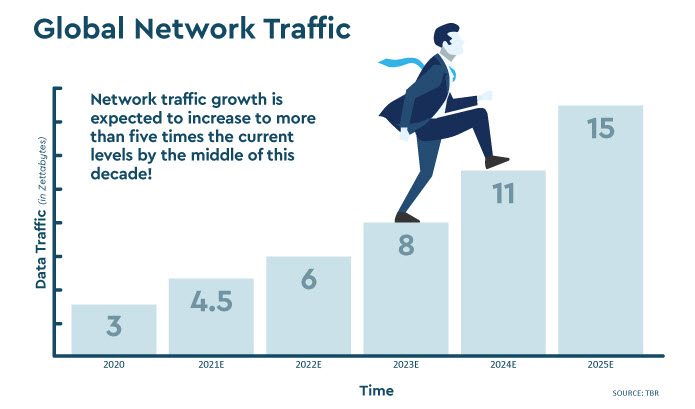 Older optical systems are not optimized to flexibly and economically support this exponential increase in data traffic growth, and the cost to deploy new fiber can be prohibitively expensive (tens of thousands of dollars per mile installed, all-in). This reality means CSPs will have to transform their optical transport infrastructure to meet market demands in an accelerated time-to-market and cost-optimal manner.
Fortunately, advances in optical technology have enabled operators to more seamlessly and cost-effectively transform their optical transport infrastructure. Modern, automated optical infrastructure is adaptable to traffic flows (thanks to SDN) and is based on next-generation coherent optics, which makes the best use of spectrum and can flex to deliver scalable, high-capacity bandwidth with minimal downtime. This means that CSPs can reap greater efficiencies out of their existing fiber rather than invest large sums in deploying net-new fiber lines at scale.
Ensuring increased capacity creates new service revenues
However, achieving this robust infrastructure without the necessary services can prevent "hoped for" results from becoming actual results. Strategy and consulting are therefore critically important because these functions determine the optimal way to approach the transformation project to meet the business objectives. The outline formulated by the consultants will include the designing, planning, implementation and integration, support, and management services required to achieve the best outcome. Since most operators lack the appropriate level of skilled resources internally to tackle these transformations themselves, they will need to rely on trusted services partners for most, if not all, of these tasks.
To date, many leading CSPs globally have begun the journey of optical transport modernization, which entails leveraging existing infrastructure assets via upgrades as well as greenfield deployment of next-generation technology, while many more operators are in the assessment phase, considering what their paths will look like.
The leading CSPs that have begun their optical transformation journeys have opted to rely heavily on trusted partners to carry out these initiatives, which have been very successful.
Trusted optical solution providers can bring a range of significant benefits to CSPs:
Strategic: Consider the business objectives and business case, and create a plan for optimized ROI
Project management: Handle end-to-end workflow and address project complexities, enabling the CSP to focus on its core business operations
Finance: Help manage working capital management for the duration of the project, enabling the operator to better manage its cash flow and meet its expense objectives
Time to market: Scale to meet a CSP's time-to-market objectives, enabling the operator to be prepared to capitalize on new market opportunities in a timely manner
Solutions: Leverage product solutions in conjunction with services capabilities to provide integrated, bundled solutions
In a recent real-world example, a leading operator with a global presence decided to tackle its own network transformation and implement a networkwide upgrade to more effectively and cost-efficiently support data traffic growth on its infrastructure. Rather than handle this major undertaking on its own and tie up its limited resources, the operator decided to have its trusted optical services provider take full control of the project so that the company could remain focused on its core business operations.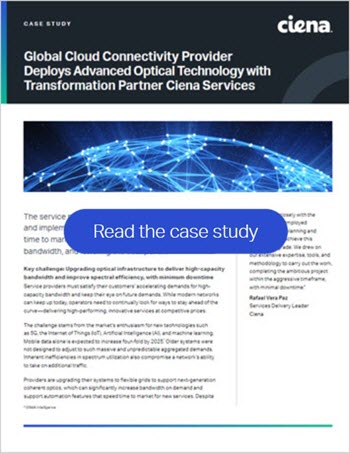 After collaborating on a comprehensive, multistep plan, the provider interfaced with the operator's key management on milestone completion for the duration of the project. Fast-forward several months and the pan-network upgrade was completed, under budget and with no downtime or major issues.
In summary, if they have not already done so, CSPs will need to transform their optical transport infrastructure to support the exponential rise in network traffic during the digital era. With older systems unable to meet CSPs' current and future needs, they must stay at the forefront of new optical technology that is best able to provide the benefits and features needed to support the exponential increase in bandwidth demand. Next-generation coherent optics and SDN are two key technologies that will enable operators to build adaptive networks that can be dynamically scaled to meet market demands in a flexible and economically feasible manner, while services delivers the required "lubrication" to make implementation successful. Services partners play a critical role in helping operators meet their transformation objectives in a timely and cost-efficient manner while ensuring that the "hoped for" results are the realized results.
Network transformation can be overwhelming, but it doesn't need to be.