Navigating vendor equipment swaps: Minimizing risk while maximizing outcomes leveraging data-informed tools and automation
Vendor equipment swaps are typically complex from a technical as well as an operational standpoint due to the need to ensure network service continuity and stability during the transition process. Chris Antlitz details a real-world use case that involved multiple vendors and an aggressive timetable.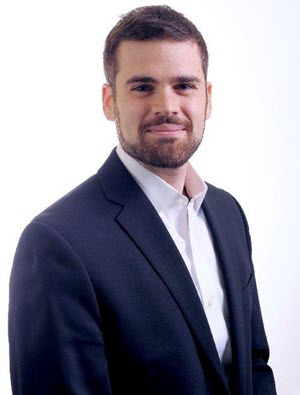 Chris Antlitz is a principal analyst in TBR's Telecom Practice. Chris oversees and contributes to the Telecom Practice's syndicated research portfolio and custom project work. He leverages over 14 years of analytical experience to lead the Telecom Practice's research agenda as well as provide critical insight and analysis to syndicated and project work.
Chris covers the global telecom vendor and operator ecosystem and all major trends in the space including, but not limited to, developments in NFV, SDN, edge computing, digital transformation, IoT, private cellular networks and 5G. He also covers the hyperscaler market, particularly the pursuits of the Big Nine hyperscaler companies (i.e., Alphabet, Amazon, Apple, Meta, Microsoft, Rakuten, Alibaba, Baidu and Tencent) in the digital space.
This is the fourth post in a blog series. See Chris's other posts on transformed optical infrastructure, crossing the chasm from legacy to modern networks, time-division multiplexing (TDM) migration, and the 6 attributes to look for when selecting a transformation partner.
The increased focus on protecting critical infrastructure has prompted situations where communication service providers (CSPs) have had to adjust their networks, specifically to replace equipment provided by certain vendors that are deemed by governments in some countries to pose network security and/or customer privacy risks. These network adjustments typically involve swapping out gear from an unapproved vendor with gear from an approved vendor. Also referred to as vendor swaps, these situations are typically complex from a technical as well as an operational standpoint because the CSP needs to ensure network service continuity and performance is stable during the transition process.
Fortunately, there are approved vendors that have a proven track record of providing the replacement equipment and/or the services required to perform equipment swaps. There are also situations where multiple vendors participate in the swap, in some cases with one or more vendors providing equipment and one or more vendors providing the services as third parties.
In one such case, a large CSP with global operations had a DWDM network that required the replacement of thousands of circuits from one untrusted vendor with circuits from an approved vendor. To align with government mandates, the swap had an aggressive timetable of two years. The scope of the project also implicated network management systems (NMS), IP multimedia subsystems (IMS) and operational support systems (OSS) that were tied to the untrusted vendor's equipment.
Though the CSP's internal staff possessed the skills to tackle the project, the company's manual-intensive approach would not have been able to meet the aggressive timetables the project stipulated. Also, the CSP was concerned about the project steering too much attention away from operating and investing in the business. These factors led the CSP to issue an RFP to solicit assistance from the vendor community.
After considering multiple RFP responses from incumbent vendors, and considering its options, the CSP decided to go with a with a neutral (third-party) vendor, Ciena, to carry out the swap. The CSP chose Ciena despite not having any of the company's equipment involved in the project.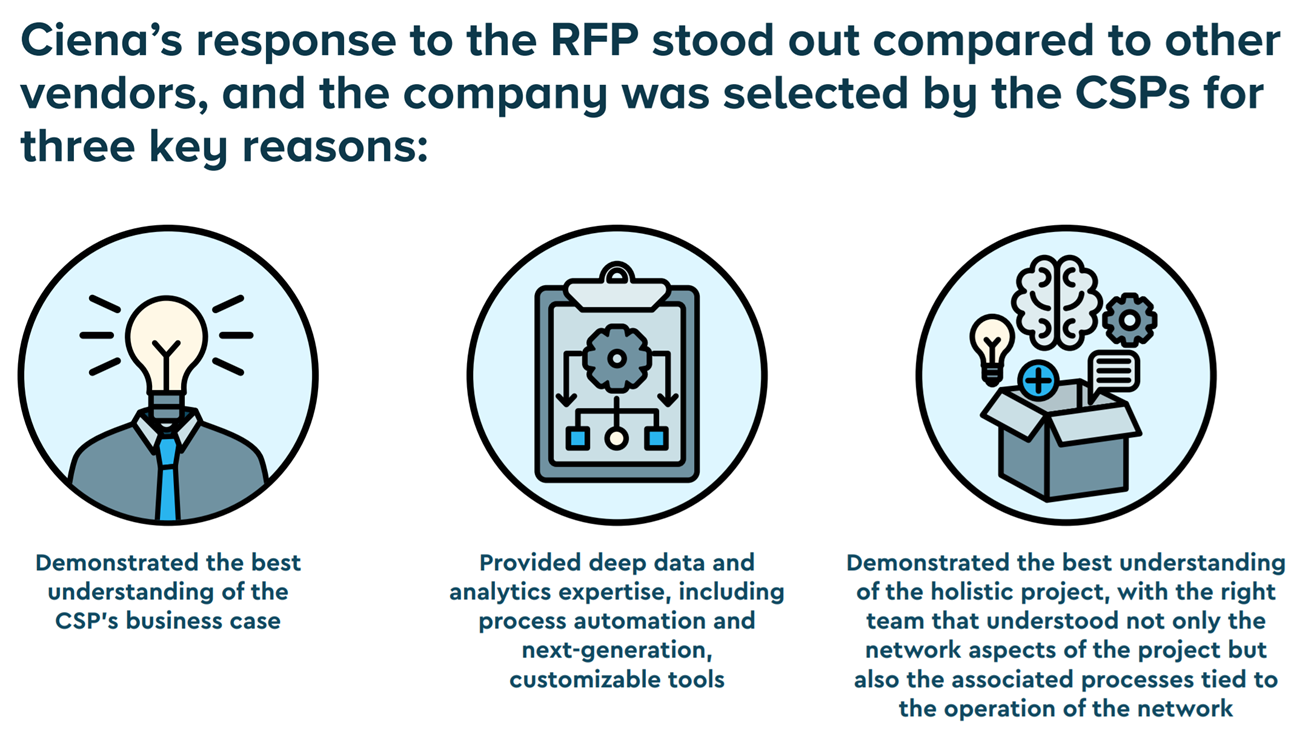 The engagement began with the compilation of all relevant data pertaining to the project into a centralized master database to obtain a single view of the network. Ciena then applied its analytics and automation tools, in conjunction with its proven workflow process methodology, to formulate a comprehensive migration plan.
This data-influenced and validated plan outlined a step-by-step approach that was utilized for the full scope of the migration as well as to automate legacy workflows to ensure an optimally efficient process. The plan included a map of all aspects and interdependencies of the network and the operations associated with the network, including NMS, IMS and OSS, and formulated steps in a logical order to isolate and undergo the migration with minimal impact on the business.
The holistic use of data, analytics, and automation throughout the project ensured efficient migration and that teams were aligned on what to do when. This optimized process flow was driven by Ciena's customizable autonomics engine, which helped automate workflows and minimize inefficiencies. This approach can help labor resources better coordinate and orchestrate workloads to optimally achieve their tasks.

Ciena's creation of a master database and use of customizable analytics tools and processes enabled the CSP to complete the migration within budget and much faster than it could have on its own. Additionally, the improvement in process efficiency via automation will be applied for subsequent stages of the project and for all future migrations, helping the CSP optimize operational costs and maximize ROI on an ongoing basis.
Swapping out vendor infrastructure does not have to get in the way of business operations ― provided you invest in the right expertise.
Learn more about how CSPs can realize the vision of network transformation.