New decade, new challenges – your success will depend on having the right services partner
Technologies like 5G, IoT and streaming everywhere are bringing monumental change to your network. You need a trusted partner with a consultative approach and the right expertise to navigate this complexity. This is where Ciena Services comes into play, says Ciena's Kevin Baranowski.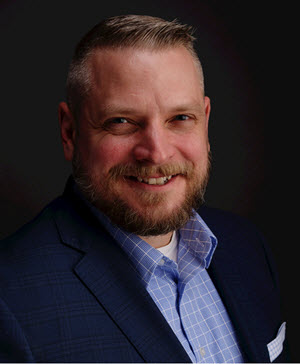 We are moving into a new decade that promises to bring monumental change in how our world connects, both people and machines. As Ciena CTO Steve Alexander recently highlighted in his predictions for 2020 and beyond, this change is coming in the form of 5G connectivity, AR/VR, IoT, streaming everywhere, virtualized services, and more.
This immense impact on both the network and the ecosystem around it has no better example than 5G. The additional bandwidth, lower latency, and guaranteed end-to-end network performance that 5G will bring to the market is vast. Getting bandwidth to your phone at speeds of 1Gbps and beyond will allow you to stream higher def shows and sporting events. Much lower and guaranteed latency will enable AR/VR and mobile esports. These significant improvements in end-to-end 5G network performance will result in a much better customer experience, as well as new revenue-generating opportunities for service providers.
But this also requires a much denser cell site footprint than ever before. Also, it does not mean you no longer have to support 3G or 4G networks, which will be required for many years to come. 5G network planning is critical. How do you pick the proper locations to build your cell site that are not only close to the fiber plants that you have, but also close to the targeted population centers? Put the cell site in the wrong place and you miss the traffic you are looking to capture. Put it too far away from your current fiber plant and you have added expense in hardware required to deliver the service.
Next, let's look at the proliferation of 4K video, and even the early stages of 8K and its ability to make you feel like you are sitting next to a player as they sprint down the field. Again from a network side there is a massive overhaul that has to happen. With 4K at up to 60 frames per second versus standard definition at 24 frames per second – along with higher pixel density and an image that is up to 4 times sharper and more detailed than 1080p HD – we see a significant change from UHD and a massive upgrade from Standard Definition TV. But this requires an incredible amount of bandwidth coming from the content origination hub or the sports venue. Where do you put your fiber? Do you lease fiber or build? If you build how can you monetize that fiber asset when you are not using it directly? How can you increase and decrease the bandwidth on demand for customers that want access only to certain events?
The networks that enable this massive connectivity are growing at a faster rate than ever before. Keeping pace with this change is becoming ever more challenging, and the implications are widespread. Increasingly, these challenges and implications extend past the evolution of the network itself, encompassing a wide array of considerations.
How do you plan infrastructure location and investments? How does it impact Integration to IT systems (OSS/BSS) and your mission critical business process? How do you ensure any change to your network is successfully embraced by internal users and stakeholders alike, so you get maximum ROI?
Through all of this we also cannot forget that Mobile Network Operators (MNOs) must have internal capabilities to look at the evolution of the business and match those requirements with the right technology investments, to have properly trained staff to deliver the lifecycle of the equipment and underlying network. In the planning phase we find a lot of people are so focused on getting the hardware in the network and turned up that they forget about the other areas of on-boarding their internal teams:
Do we have a plan to integrate tech support of the new hardware into the current NOC?
What solution validation are we using to get gear into a customer lab?
What is the training rollout for the team to understand the new hardware and software?
How are we using API's to integrate trouble ticketing systems into the OEM Technical Support team?
All of these things are part of the new product introduction that MNOs have to think about. You need a trusted partner with a consultative approach and the right expertise to navigate this complexity – from determining the right technology to invest in, to overseeing the deployment and integration of that technology, to training internal users, to providing the analytical insight and expertise to help you improve and optimize ongoing network operations.
This is where Ciena Services comes into play. We know your network like nobody else. Our team brings the most experienced field-proven technical personnel, best practices, and processes—along with most effective tools for handling network complexities—and work side-by-side with you every step of the way.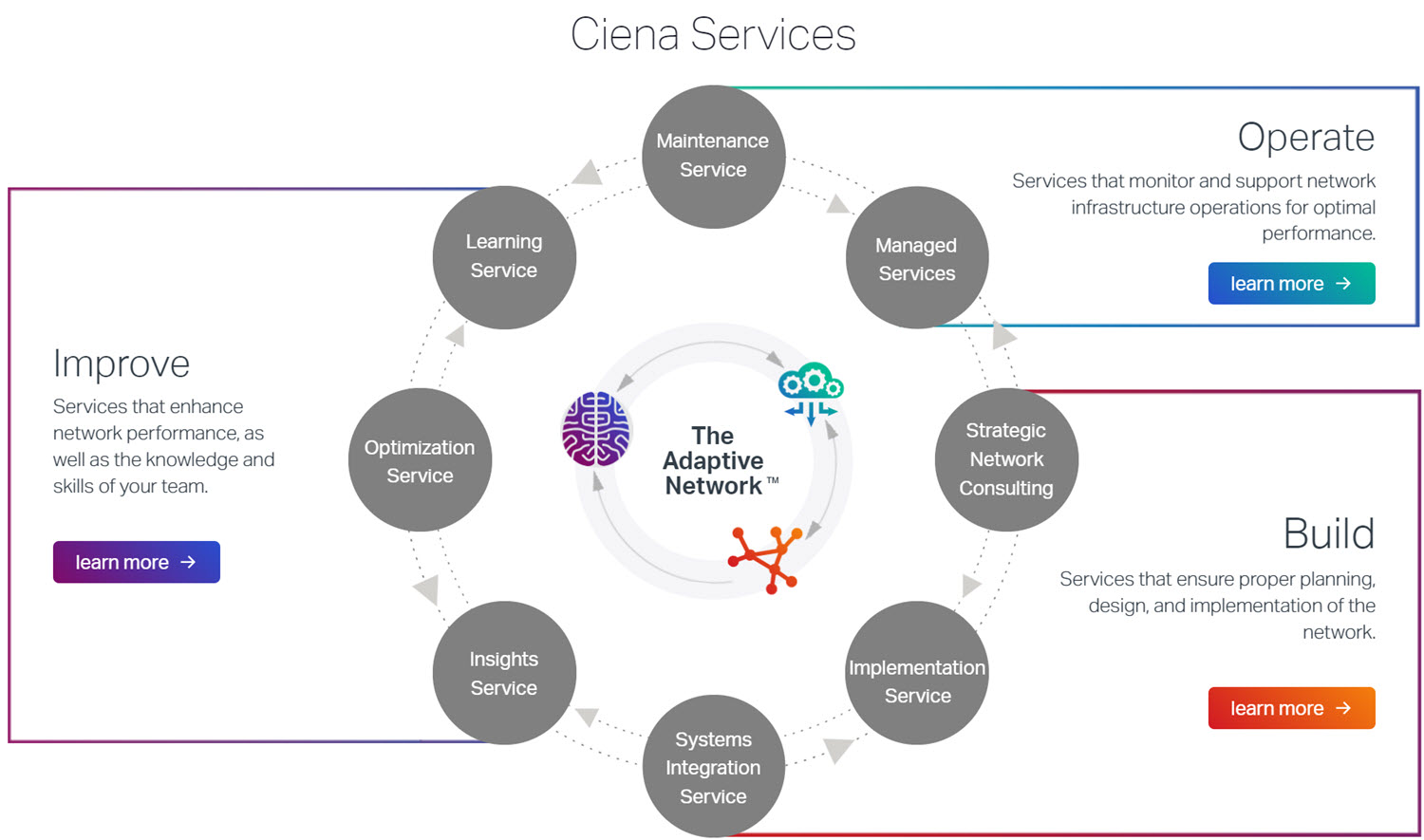 Ciena has invested in a comprehensive services portfolio to ensure your success. Our cutting-edge services such as Strategic Network Consulting, Insights, and Optimization are designed to serve the emerging needs of our customers.
To keep pace with unrelenting business pressures and customer demands, you need to evolve your networks, so they become more intelligent and agile every day. At Ciena, we call this ideal end-state the Adaptive NetworkTM.
Realizing the Adaptive Network doesn't happen overnight—it's a journey. Everyone has a different starting point, investing in technology to address current network needs, market dynamics, and business objectives.
But technology alone isn't enough to ensure success. Having the right trusted partner to take you on the journey is critical to success. Ciena is that partner, we can help.