New contenders join the race for lowest cost and power per bit in DCI networks
With all the buzz around 800G and 400ZR in the market, you might assume only large cloud and content providers see a need for these solutions. Kent Jordan explains how smaller DCI networks are also using these new innovations to stay faster and ahead of customer demands.
It is no surprise that blazing fast speed continues to be a hot topic for data center interconnect (DCI) networks, as the quest for higher capacity is being driven by the ever-growing demand for more content and new applications.
But what may be surprising is that it is not just large Internet Content Providers who are looking to deploy new, highly programmable 800G capable coherent modems and 400ZR coherent pluggable interfaces, like Ciena's WaveLogic 5 Extreme and Nano.
With 800G already being widely deployed and 400ZR planned for deployments this year, DCI networks can benefit from increased capacity and density, as well as lower power and cost per bit. And these technologies bring new levels of performance that can have a wide range of benefits for networks of all sizes.
First a quick refresh. 800G capable modems enable programmable data rates up to 800G per wavelength. They also provide the ability to carry connections for higher speed clients, enabling 400GbE signals to be transported across metro, regional, or even long-haul DCI links. These new modems give the ability to fine-tune capacity for available system margin across any distance from single-span DCI to long-haul or subsea links, so cloud and content providers can maximize spectral efficiency and reduce the cost per bit of their DCI networks.

Applications for 800G capable coherent modems
The race for higher capacity and lower cost per bit doesn't end with 800G, however. Cloud and content providers are also planning to be the first adopters of new 400ZR coherent pluggable interfaces for single-span DCI. 400ZR brings significantly reduced footprint, low power, and 400G DWDM capability to short-distance DCI. 400ZR also enables multi-layer convergence where pluggable optical interfaces can be placed directly into switches and routers for IP over DWDM. Because the plugs are optimized to reduce footprint, power, and heat dissipation, they can be used to increase line interface density on switches and routers without compromising or stranding overall switching capacity.
Do 800G and 400ZR have a fit in smaller DCI networks?
Fear not. Smaller DCI networks aren't being left behind – 800G and 400ZR aren't only for large cloud and content providers. Depending on the network's size and application space, one or both technologies may have a fit. And, compact modular interconnect platforms, like Ciena's Waveserver family, offer programmable 800G coherent interfaces, as well as a migration path to 400ZR, so smaller DCI network operators can deploy a single platform to deliver bandwidth across either type of interface.

Ciena's Waveserver 5 offers 800G and a path to 400ZR for smaller DCI operators
At first glance, 800G capable modems might seem like more capacity than necessary for lower-volume networks, but with pay-as-you-grow deployment models, 800G modems can be used to maximize both capacity and reach while offering cost/bit savings. DCI operators with lower initial traffic volume can grow client capacity to fill the line interface as their demand growth warrants. And by moving to the newest generation of high-performance coherent technology, smaller DCI networks can benefit from the same values that larger networks realize, including better spectral efficiency, higher per wavelength capacity, and longer reach – all of which combine to reduce cost in DCI applications.
Interconnect platforms can also be used in smaller DCI networks to provide a path to realizing power efficiencies associated with 400ZR. Ciena's WaveLogic 5 Nano (WL5n) 400ZR solution enables interconnection of 400GbE as well as muxing of 100GbE with OIF standard FlexE mapping, so DCI networks with either of the client interfaces can make use of 400ZR. Muxponder modules can be used in applications with smaller or legacy routers to map up to four 100GbE interfaces into a single 400ZR for short-distance DCI. Depending on the use case, the signals may be terminated as four separate 100GbE clients or on a single 4x100GbE interface.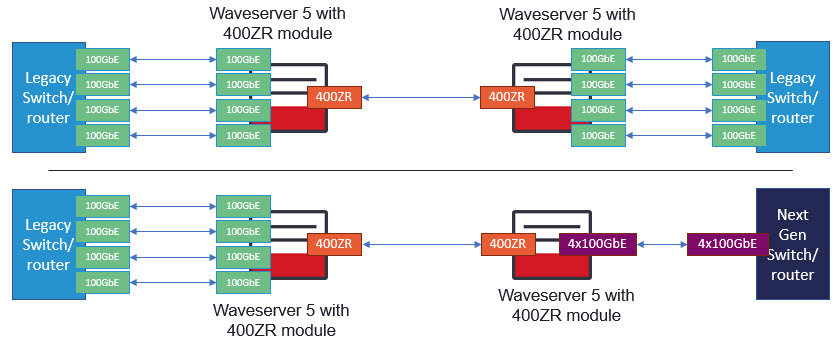 Using Waveserver 5 as a pathway to 400ZR
Then, as routers and switches are migrated to support 400GbE, interconnect platforms can be used as a demarcation point to provide transponder functionality that maps a single 400GbE router interface into a 400ZR coherent plug. This maintains a clear management and service delineation between the optical interconnect and the higher layer routers and switches while decoupling the coherent interface from the router, so network operators can leverage the latest coherent technology developments faster.
A mix of transponder and muxponder functionality can be used at any site to support a variety of routing and switching interface rates and applications. Ciena's Waveserver 5 also supports both 800G coherent interfaces and 400ZR on a single traffic module to provide a short distance 400ZR onramp for high bandwidth efficient DCI connectivity across regional, backbone, or even subsea links.

Waveserver 5 traffic module enables 400ZR on-ramp for Long Haul DCI
Depending on the desired capacity, reach, and power/footprint requirements, smaller DCI operators may optimize their networks with programmable 800G interfaces, coherent plugs, or a combination of the two.
Network operators of all sizes can benefit from the race for higher speed, greater capacity, and reduced cost per bit. With Ciena's next-generation WaveLogic 5 coherent technology, network operators can get ahead of the competition. Whether applications require the highest level of capacity and performance and 400GbE client connectivity across any distance delivered through 800G capable interfaces, or significant power efficiencies with 400ZR pluggable interfaces – Ciena has you covered. With Waveserver deployments in over 240 customers, Ciena is the leader in high-capacity DCI. With access to all the latest coherent technologies, network providers are able to get ahead of growing demands on today's DCI networks.
With Ciena your DCI is always faster. Always ahead.