8 top technologies for modern DCI networks
As the number of data centers has grown and the DCI market has evolved, network operators have had to deploy new capacity rapidly to keep up with the growing demand. Learn how the industry has responded to these challenges with new, highly scalable technologies and products.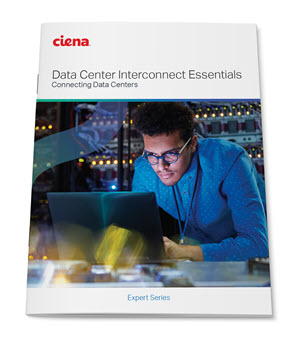 Connections. Content. Efficiency. Three simple reasons for the wide-scale adoption of social media, streaming video, and enterprise cloud services. 1.59 billion active users on Facebook connect with friends and make new ones daily. 151 million people stream popular content on Netflix and 9.7 million daily users watch livestreams of e-gaming on Twitch – consuming content when they want, on any device they prefer. As businesses move applications and processes to the cloud, the public cloud services market is forecast to grow to over $330 billion by 2022 according to Gartner. And it's not just content and cloud. Internet of Things and 5G, connected cars, telemedicine and e-learning are all poised to add more demand to interconnect networks.
There are many, varied market drivers for high-capacity interconnect, and they're all experiencing massive growth. Whether you post a selfie on the beach or a photo of the best dessert you've ever had, the content and information is stored in data centers and transported across the networks that interconnect them. This is driving interconnect bandwidth to grow at double digit rates across a variety of industry segments to over 8,200 Tbps by 2021 according to the Equinix Global Interconnection Index.
But how can network operators keep up with growing demand? Here are eight examples of new technologies that are shaping the future of DCI networks.
Programmable coherent optics

DCI operators can overcome capacity limitations at any distance with advanced coherent optical chipsets and high-speed electro-optics that integrate selectable baud and higher order modulation to open the DCI application space to include any distance from metro to long-haul and subsea. New technologies coming to market include, probabilistic constellation shaping, non-linear compensation, and advanced soft-decision FEC.
These enable a greater degree of programmability and performance, giving operators finer granularity in capacity increments to choose from and the performance to push that capacity farther.
L-band fiber capacity
For networks with a combination of sustained bandwidth growth, high recurring fiber costs, and poor fiber availability, operators can expand into the L-band for additional spectrum to double the traffic carrying capacity of the fiber.
Application optimized platforms

Purpose-built, small form-factor devices that are optimized for DCI can reduce the cost/bit for transporting interconnect traffic. These devices are built for data center environments, with front-to-back airflow and greater chassis depth up to 600mm. They enable high-capacity services while reducing footprint and ongoing power consumption, and they are integrating more and more features to give customers added flexibility to address more applications.

Platform openness
Support for a full suite of industry-standard, open APIs increases platform programmability and automation. Devices can easily integrate into existing operational tools and back-office systems. New operational paradigms can be used, such as streaming telemetry which provides operators with more network health and performance data.

Intelligent network automation
Automation is needed to accelerate time to service, enable scalability, and optimize network resource utilization. New tools and capabilities can eliminate tedious, time-consuming manual steps required to design the network for DCI services.

Service orchestration

Multi-domain service orchestration automates service provisioning across layers and across domains. It simplifies management complexity and service activation in complex networks and improves end-customer experience.
Advanced telemetry and analytics

Real-time network health information can be extracted from the network and analytics apps can provide the intelligence to optimize capacity, increase network visibility, and improve process automation.
Wire-speed encryption

Increasing number of data breaches and security regulations have put a strong emphasis on requirements to ensure data is safe, even when it moves from one data center to another. Security exposure can be reduced with FIPS certified optical layer encryption, offering in-flight, wire-speed encryption for all bandwidth passing between data centers.
Delivering high capacity along with rapid scalability for on-demand content and cloud services isn't easy. It requires proven solutions, and that's where Ciena can help. Ciena is the market leader in global DCI and has the experience to modernize your DCI network without risk. Ciena's platforms combine all these technologies and more to give massive scale and programmability, deployment simplicity, and ease of management.
Read more in the Data Center Interconnect Essentials ebook.