Updated: 800G – nothing but the facts
If you have been following Ciena, you know 800G adoption is underway. With that comes a lot of interest and questions. Ciena's Helen Xenos sat down to share insights from 800G customer deployments to help you understand the facts.
This blog has been updated in February 2021 with the latest stats and facts following the completion of just over nine months of commercial shipments.
800G is a hot topic of discussion in the optical industry today – it's everywhere! And as is customary when a new technology emerges, there are various opinions and speculation as to the value and expected rate of adoption, especially these days when lab access and live trials pose a unique challenge. Who has real product? Is anyone going to deploy 800G in the near term? Are there technological and operational barriers that still need to be overcome?
As the only vendor with commercially available 800G product shipping today (since April 2020), we are in the unique and fortunate position here at Ciena where we don't need to speculate.
Curious to know the facts around 800G deployments?
In just over nine months of commercial availability of WaveLogic 5 Extreme, Ciena has shipped more than 6,000 coherent modems to over 75 customers around the globe, all of whom are actively deploying the technology in their networks. The rate of early technology adoption is impressive - more than twice as fast as the ramp of competitive 600G solutions, as can be seen from the Cignal AI graph below (source: Transport Applications Report).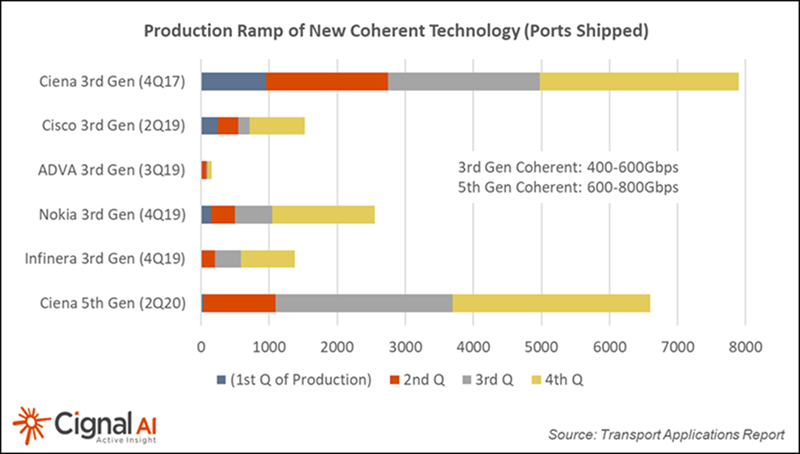 In this blog, I'll share details of these deployments, and insights behind the strong ramp, so you can cut through the hype and get to the facts about 800G.
What is 800G and why is it important?
First, let's cover what we mean by 800G. Here, we are talking about state-of-the-art programmable coherent optical technology that operates at high baud (90-100G symbols/second) and is capable of processing and transporting more capacity than has been previously possible over a single optical channel or wavelength, up to 800 billion bits per second.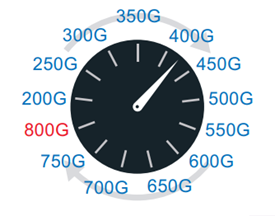 Similar to what we saw several years ago when 400G was first introduced, an important attribute of 800G technology is its ability to increase fiber capacity or extend wavelengths across any path through remotely adjustable line rates. As an example, Ciena's WaveLogic 5 Extreme supports line rates from 200Gb/s to 800Gb/s in 50G steps, enabling operators to achieve maximum capacity for any link in the network with a single technology, from short reach terrestrial links, all the way to Trans-Pacific and >10,000km subsea links.
With an 800G solution, network operators, service and content providers can transport more throughput for every wavelength they deploy or extend wavelengths across longer distances without regeneration.
The bottom line? 800G means significant reduction in footprint, power and transport costs with fewer wavelengths to deploy and manage. And because a 400Gb/s wavelength can now extend ultra-long haul distances (ex. 4,000km) for the first time, 800G networks are ready for new 400G router architectures, with the ability to offer efficient 400GbE connectivity across any link.

Is anyone deploying 800G today?
The short answer is yes. With so many different generations of coherent technology on the market – 400G-capable, 600G-capable – and with 400G coherent pluggables becoming commercially available in the near horizon, you might wonder how many operators are actually deploying WaveLogic 5 Extreme programmable 800G solution today.
In fact, in just over nine months of commercial availability, Ciena has shipped more than 6,000 coherent modems worldwide to over 75 customers who are in various stages of actively deploying WaveLogic 5 Extreme in their networks.
What's exciting to see is that these deployments are truly global – spanning both terrestrial and submarine applications. The map below provides a visualization of the distribution of 800G modems across the various regions. With close to 40% of the shipments, North America dominates as the top region for early adoption. The Asia Pacific region follows at ~30%, with numerous submarine cable upgrades as well as buildouts rolling out in India, New Zealand, Australia, and Japan. One quarter of the early adopters are based in the EMEA region which also accounts for ~25% of shipments, and CALA completes the distribution with ~5%.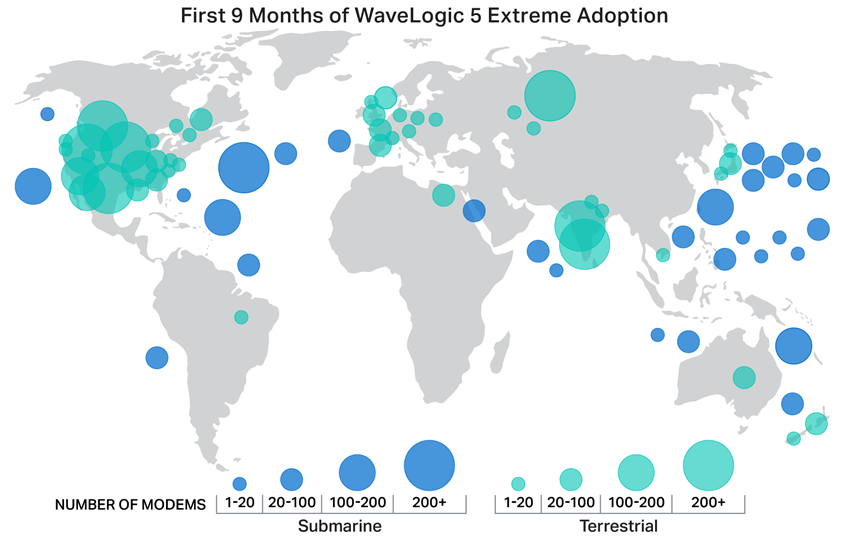 Who are the early adopters?
As I've talked about before, customers are demanding more from their optical networks in different ways, and this is evident in the diversity of network operators deploying WaveLogic 5 Extreme. It isn't just one type of customer, but service, cloud and content providers, subsea operators and research and education network providers. All are operators that require high-capacity connectivity and want to get the most efficiencies out of their deployed fiber.
For which networking applications is WaveLogic 5 Extreme being used for to date?
As a general rule, WaveLogic 5 Extreme is used to reduce transport costs and prepare networks for the transition to 400G routers. New network buildouts are one example, where the programmable line rate of WaveLogic 5 Extreme provides the ability to maximize capacity across any link in the network using a single transponder. Submarine is another popular application, which makes sense as maximizing spectral efficiency over limited cable resources is a key requirement. Depending on previous technology deployed, WaveLogic 5 Extreme provides at least a 30% improvement in fiber capacity, and 50% reduction in footprint and energy consumption. These improved efficiencies directly translate to cost savings from both a CAPEX and OPEX perspective.
What explains the strong ramp in customer adoption of Ciena's 800G solution?
Well, it's not just one factor. The incredibly fast adoption rate of WaveLogic 5 Extreme, which is more than twice as fast as the ramp of competitive 600G solutions, is a strong testament to the following:
Unmatched, demonstrated, industry leading performance offered by the solution;
Trust in Ciena solution performance and reliability, accelerating standardization cycles (trust that each one of us at Ciena take very seriously)
Ability of the Ciena team to execute and deliver all required capabilities for a reliable, robust coherent optical solution
What do I mean by "all required capabilities for a reliable, robust coherent optical solution"? This means:
WaveLogic 5 Extreme coherent optics offered across both our flagship 6500 converged packet-optical platform, as well as the Waveserver 5 compact interconnect platform, to address diverse architecture requirements
Terrestrial-optimized and subsea-optimized variants of WaveLogic 5 Extreme to address diverse application requirements
Support across a wide range of photonic line system configurations including SLTE, CDC, and integrated C&L-band systems
Implementation of open APIs through common data models as well as full feature support in Ciena's domain controller, MCP, to address a wide range of operational requirements
Available network design and planning tools
Ability to manufacture in volume with a mature, predictable multi-sourced supply chain
Basically, WaveLogic 5 Extreme solutions include all the elements end-users require for building robust and reliable, end-to-end networks – and they include them today. We aren't the only ones that think that either – as WaveLogic 5 Extreme has been selected for multiple industry awards.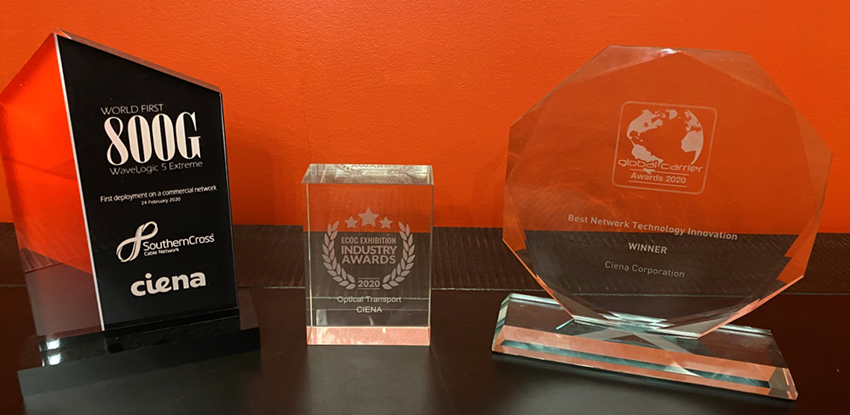 Want to keep up to learn more about how other network operators are using 800G? Check out our library of customer references.