Predictive analytics: the key to optimizing your optical network
How are network providers using analytics and automation to evolve their networks? Ciena's Paulina Gomez explains – and you can hear the details directly from New Zealand service provider Spark. Find out what other key insights you will gain from our upcoming OMDIA webinar that you won't want to miss.
Now, more than ever, having always-on, anywhere,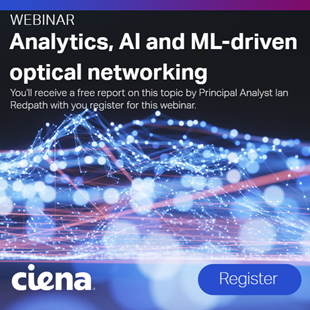 reliable connectivity is essential to everything we do. Across the globe more people are working from home, students are learning remotely, and we are spending more time online for social interactions and entertainment. But how can the network keep pace and continue to meet these "new normal" customer demands?
To stay in the race, network providers are not only modernizing their networks with next-gen technologies to handle these insatiable demands for bandwidth but also increasingly turning to solutions that leverage intelligent software control and automation. This is the key to enabling a smarter network - one that uses predictive analytics and increased automation to drive actionable insights based on the current state of the network. And it starts with the optical layer of the network, that supports all the services running on top of it.
A smarter optical network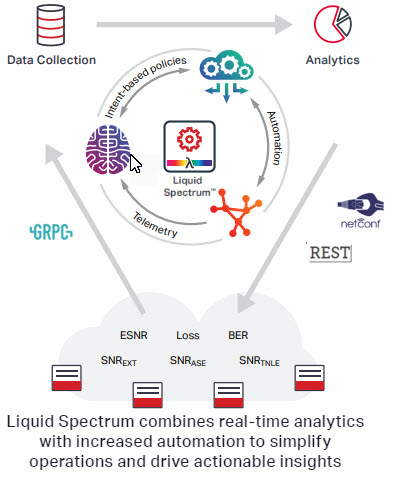 The optical layer is the foundation of the network and over the years it has taken an increasingly important role in networking. One reason for this is that the optical layer has a long life in the network because of signal independence – or the ability to transparently support multiple generations of transponders independent of format, bit rate, symbol rate, etc. However, this transparency comes with a real downside, and that's visibility. You don't really know what's happening to the signals as they go through all the photonic gear.
But that's where intelligent software is changing the game. This approach takes advantage of real-time data generated from next-gen coherent modems and line systems, combined with advanced photonic layer automation, to speed up, automate, and reduce costs across photonic network operations. But perhaps an easier way to think about it, is doing a lot more with less – such as gaining more capacity with fewer modems, more visibility with less complexity, and more flexibility with less intervention in the network.
As providers continue to evolve their networks leveraging the latest innovative technologies, advanced software tools and increased automation are required to fully operationalize and realize the benefits associated with a modernized network.
Real industry use cases
How are service providers realizing these benefits? Well, fortunately, Ciena's Liquid Spectrum Analytics Apps are already helping providers abstract operational complexity and provide unprecedented visibility, making it fast and easy to make intelligent decisions. We recently sat down with Spark New Zealand's Jan Jager, Principal Solution Architect to discuss how they are using intelligent software tools, like Liquid Spectrum, to drive network efficiencies and ensure connectivity - even during unexpected events, fiber cuts or natural disasters.
Are you ready to make your optical network transformation smarter but not sure where to start? Want to learn more about how analytics apps are helping providers efficiently and quickly address the new work, learn, and play-from-home demands? Join us for the upcoming OMDIA webinar: Analytics, AI and ML-driven optical networking, where you will learn more about advanced software applications and gain valuable insights through industry use cases.