Looking back: Life at Ciena in 2020
Ciena's Molly Winans takes a look back at a few bright spots from the Ciena team during a year of virtual connectedness.
As 2020 comes to a close, it's hard to not reflect on all that happened this year. As a company, we're big on culture and embrace a 'family' mentality, so when we shifted to +7,000 remote offices practically overnight, a lot of us felt an overwhelming feeling of being disconnected.
While we've been physically disconnected, the Ciena family found creative ways to come together. Through virtual cooking classes, team happy hours, volunteerism, and fitness competitions—we kept going.
Beyond transforming networks, check out a few bright spots from our 2020 "CienaLife"—a year of virtual connectedness: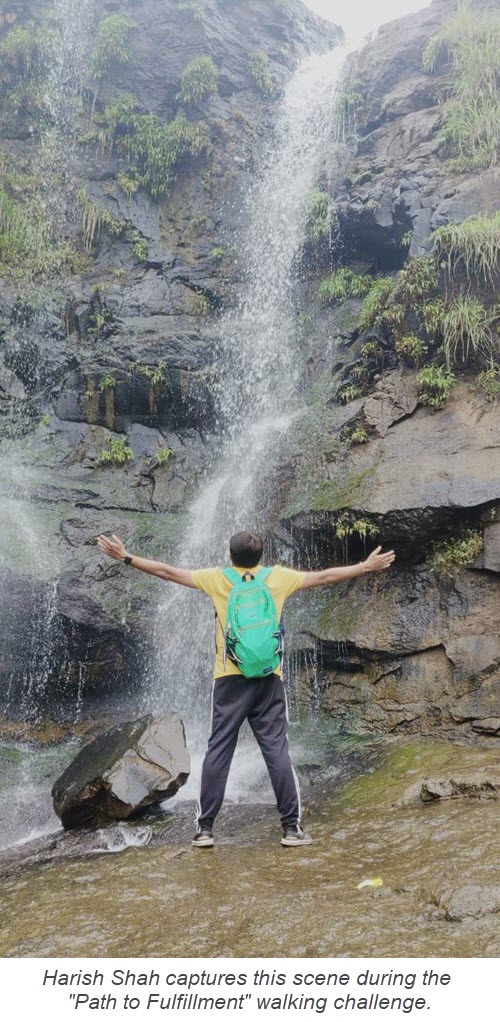 Witness the Fitness
Ciena held a 'Path to Fulfillment' Walking Challenge to build healthy habits, get moving, and create social connections with Ciena colleagues worldwide. During the challenge, we had 146 teams and 641 players, with each participant averaging 191,000 steps. At a time when Zoom could've bound us to our desk chairs, together, we moved a total of 124,716,898 steps—that's approximately two times around the world!
A 'Cause' for Celebration
Our IT department is a tight-knit bunch and big on team challenges. To go all-in together, they set out with a goal of raising $10k for The Leukemia & Lymphoma Society (LSS). LLS is near and dear to this team—as IT colleague Pam celebrated her 10th anniversary of remission from a blood cancer diagnosis in 2010.
To honor her milestone, colleagues started fundraising in some unconventional ways. Ramona, Shankar, Pam, Nicole, and Kory pledged to dye their hair different colors of the rainbow for one week and keep their cameras on during all meetings. The team far exceeded its goal, raising more than $12,000 and sporting some AWESOME hair do's. Who says IT is all tech?!
Planting Seeds
To bring our People Promise to life and celebrate our perseverance as a company, all Ciena employees had the opportunity to virtually plant a tree with our partner, Tree-Nation. Our Ciena team planted more than 7,000 trees, creating over 5.52 hectares (13.7 acres) of new forests, which will capture over 32 tons of Carbon Dioxide (CO2). Check out the Ciena Forest to see what kind of trees we planted!
'Uber' IT
If there's one thing that can make you feel detached from your teammates, it's having a computer or IT issue when you're working remotely. For Ciena's IT team, job one was making sure our Ciena employee base was connected no matter where they were in the world. Once offices closed, IT was challenged with getting devices and remote gear to employees—enter Uber IT. Since March, Ciena's IT team has delivered roughly 1,500 laptops, and office equipment, to employees' front doors.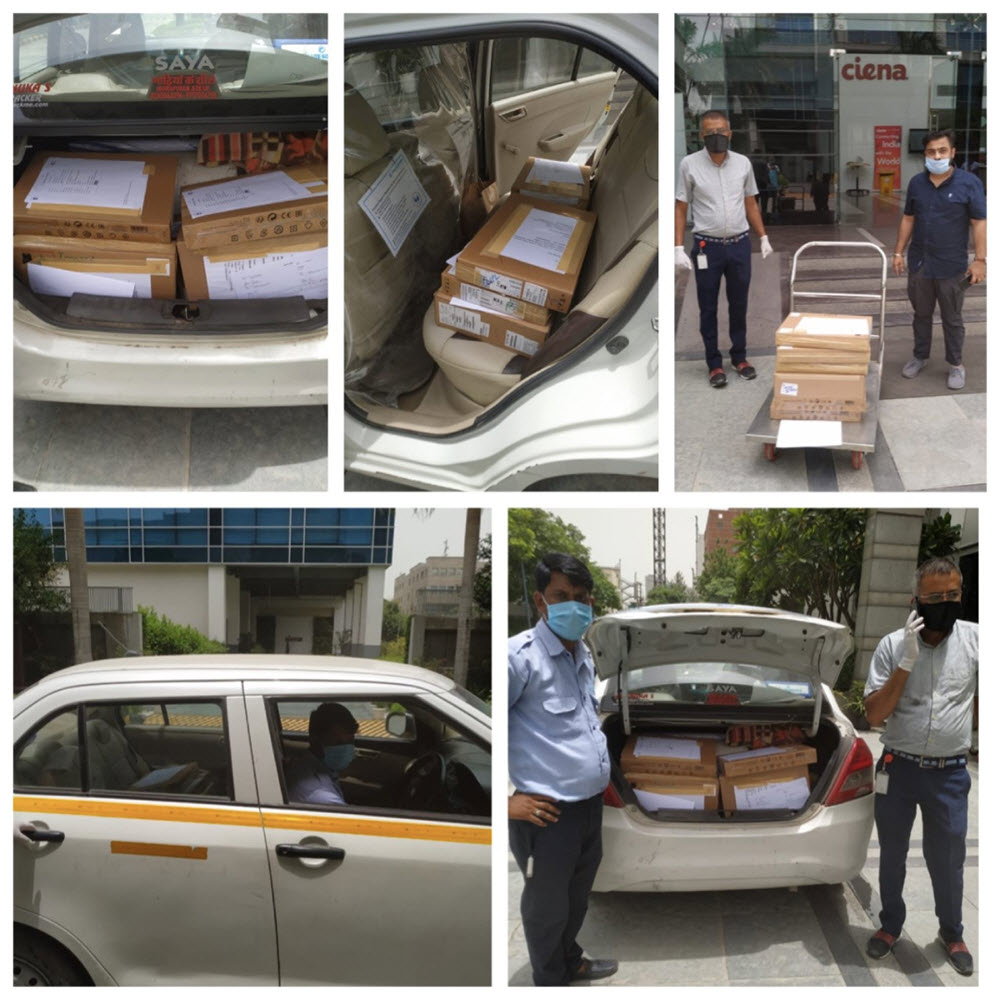 Rohit Kumar and drivers at Ciena's Gurgaon office loading up laptops and equipment to deliver to employees.
Got Talent?
You know the age-old saying, network specialist by day, singer/artist/light show extraordinaire by night. To combat the social disconnect we've experienced this year, Ciena held global talent shows highlighting some of the incredible skills our employees have been hiding. Talents ranged from singing in multiple languages, creating songs about quarantine, cultural dances, painting, yoga, and even a holiday light show. Employees got to vote in real-time for their favorite performances, with winners receiving rewards through our Ciena Cares program that they can gift to a charity of their choice.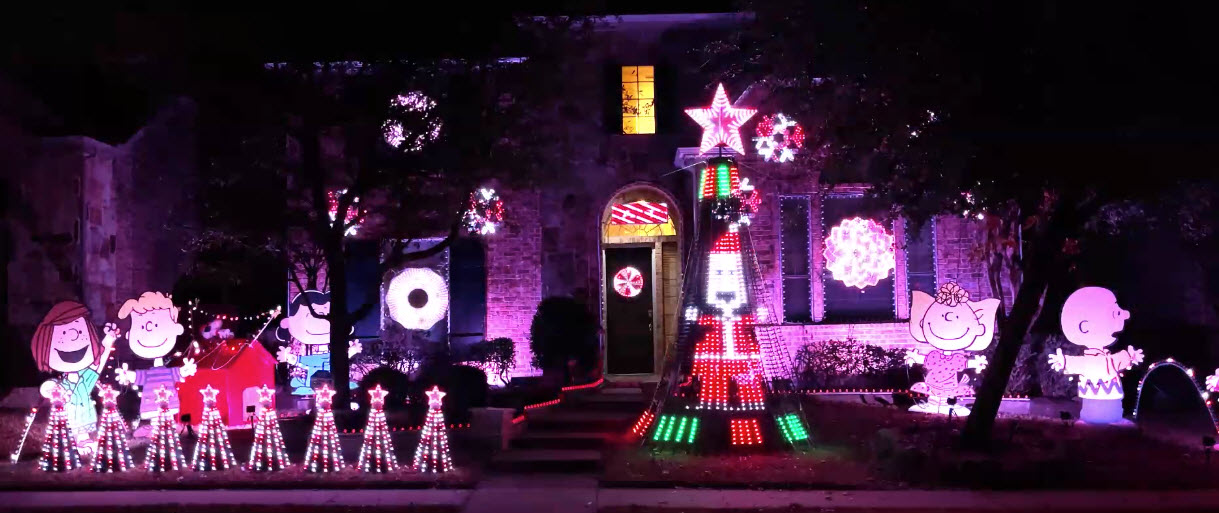 Kent Jordan's holiday light show that was part of the "Ciena's Got Talent" global employee talent show.
In times like these, when it seems all we've done this year is just try to survive, I'm astounded at how we've rallied together as an organization. We kept that 'family' culture thriving even in the midst of a global rollercoaster. It's incredible how resilient we are as people and as a company when we nurture our connections and care for each other.
Whether it was attempting to bake sourdough bread, taking up a new fitness regime, or bingeing Tiger King (why does that feel like four years ago?), we all adapted to a 'new normal.' Kids popping in on Zoom to say hello, dogs barking, household additions to families (honeybees, chickens, and goats have been popular adoptions for Ciena employees)—we got creative in finding new ways to connect and celebrate our CienaLife. And, maybe even appreciating a little more that we're all in this together.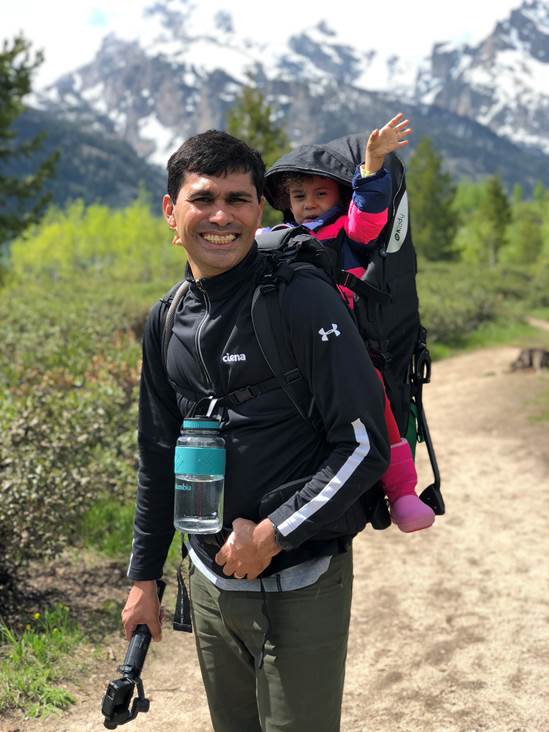 Julio Oliveira hiking with his daughter Alice at Taggart Lake in Grand Teton National Park in Wyoming as part of the "Path to Fulfillment" walking challenge.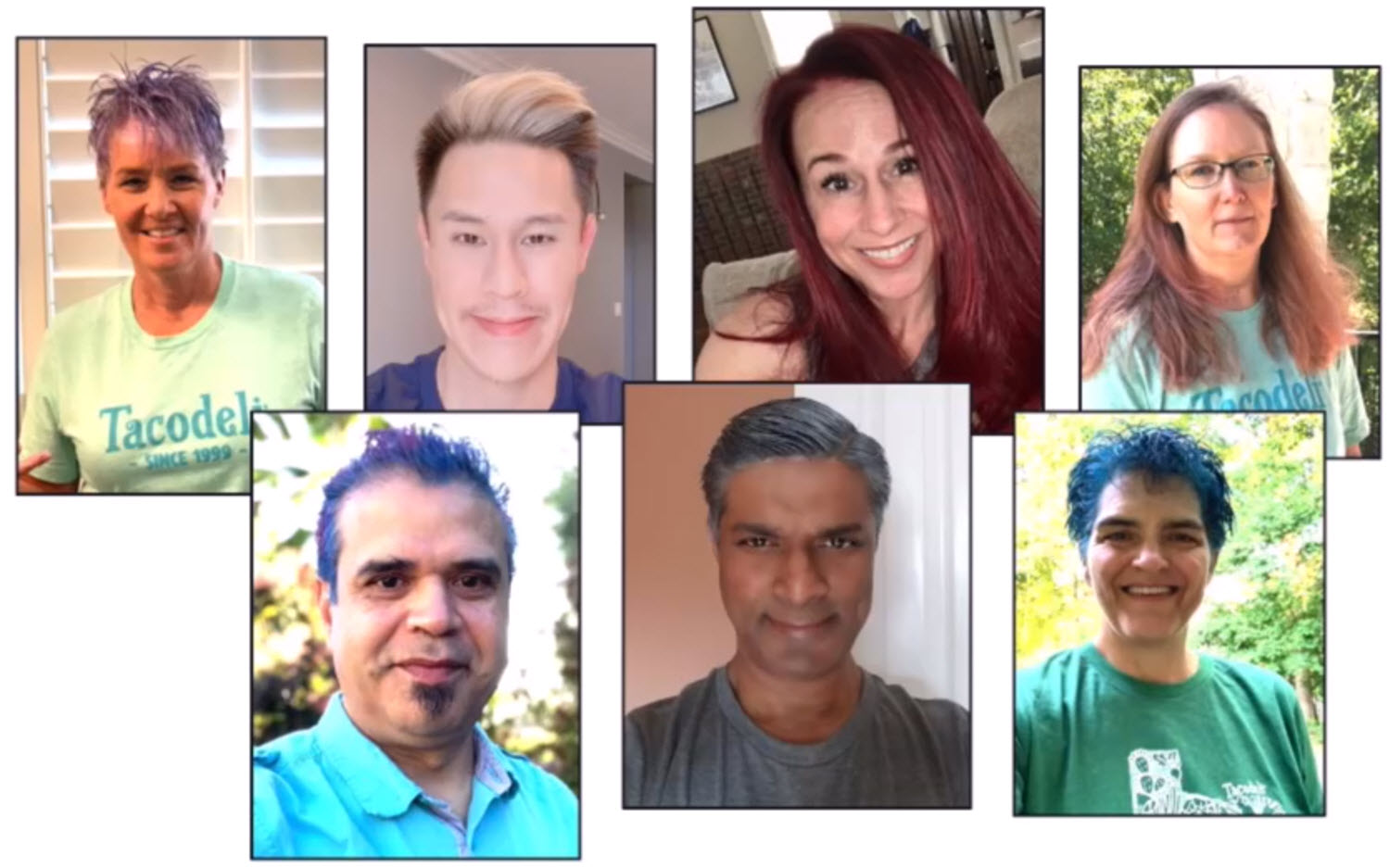 Ciena's IT Strategy, Planning & Employee Services Team sporting hair colors of the rainbow as part of their efforts to raise money for the Leukemia & Lymphoma Society.

Pictures from the Ciena IT team's "Uber IT" program: At left, Ciaran Doherty's home office preparing laptops. At right, Richard Awe's car full of laptops ready for delivery.