Career insights: From intern to leader, Pradap shares his career journey
Pradap Rajagopal began his career as an intern and has grown his experience in engineering and sales over the years. Now, he embarks on a new stage in his career as a people manager.
In the fast-paced world of technology, career journeys can take many twists and turns. For Pradap Rajagopal (seen below left), Leader of Metro/Edge IP Solutions Architects, his 20+ year career journey is a testament to the importance of building relationships, gaining hands-on experience, and being open to new opportunities.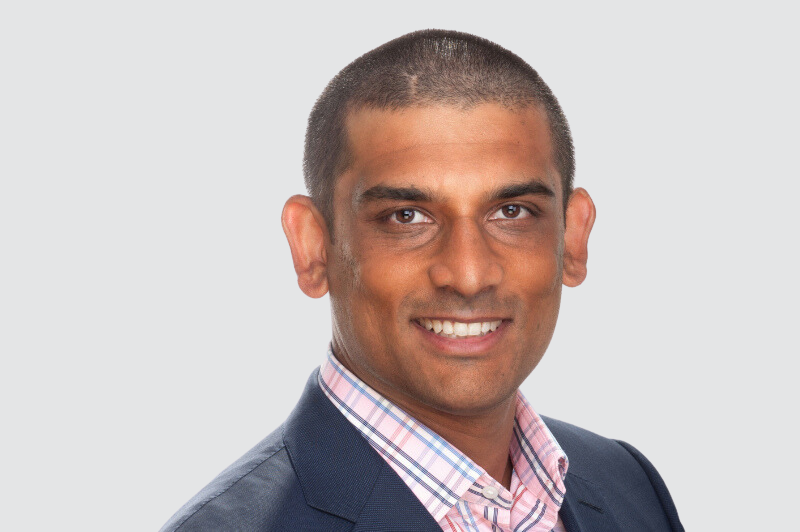 When Pradap started his career as an intern within the services team at Nortel, he learned the importance of building an internal network to help him navigate his early career. This lesson has stayed with him throughout his career as he became a Systems Engineer and later a Solutions Architect at Nortel.
"The key lesson I learned as an intern was the value of building an internal network – no one person can solve all problems by themselves, so you'll need a strong network of people to help you overcome obstacles," said Pradap.
In 2010, Nortel was acquired by Ciena, and Pradap joined the company as a Solutions Architect working in the Asia Pacific region. Pradap later transitioned into a sales role where he focused on creating network solutions for customers.
During this time, Pradap had the opportunity to spend three years working with a customer in Texas, United States. Since Pradap is from Sydney, Australia, this was a new experience that gave him exposure to working in a different part of the world and with people from various cultures.
"This hands-on experience gave me a great practical grounding into the products and technologies and gave me the confidence to take on more pre-sales responsibilities," said Pradap. "It has given me great experiences with a variety of accounts and geographies and enabled me to work with many different people and cultures."
As Ciena's business in the international region grew, Pradap was encouraged by his peers to apply for a leadership role. He applied for a leadership role in Metro/Edge IP Solutions Architects, where he continues to work today.
"This role was the next logical step in my career. It involves people management, which is a new experience for me, but the role also enables and requires me to think more holistically about the business in addition to the technology," said Pradap.
Pradap enjoys the learning opportunities of being a people manager and wants to encourage others to grow in their careers. Ciena's support network for managers helped Pradap transition from being an individual contributor to a people manager. Throughout his transition, things like Manager Huddles, Manager Discussion Forums, and the People and Culture teams were supportive and responsive to any questions or challenges he faced.
"This is the first time I've been a people manager, so the biggest learning – and it's ongoing – is the shift in mindset from being an individual contributor to being a manager, and when and how to get involved in specific activities," said Pradap.
During Pradap's transition from being an individual contributor to becoming a people manager, Ciena's Management Development Program training proved invaluable in fostering connections with peers undergoing a similar journey.
"I had a slow start when I transitioned into the role of a people manager, as it was my first time in such a position. Understanding how to truly add value as a manager and extracting myself from the specifics of being an individual contributor posed initial challenges. However, undertaking Ciena's Management Development Program training in 2022 proved to be immensely helpful. Not only did the program provide valuable content, but it also connected me with fellow Ciena employees who were in a similar position. Having these connections with peers going through a similar journey has been invaluable. We can share our learnings and challenges, supporting each other along the way. After 18 months as a manager, I am still learning and will always have much to learn, but I now have a much better appreciation of the role of a manager", said Pradap.
As Pradap navigates his career as a leader, he shares his advice for others on how to pursue their career growth aspirations.
"Be curious. Don't be limited to the specific part of the business you support – get a better understanding of other parts of the business that may or may not be related to your role as it provides you with more visibility in the organization," said Pradap. "Take risks. This could be taking a role outside of your comfort zone or changing locations. And lastly, there absolutely is no substitute for hard work."
Pradap's story shows that with hard work, dedication, and a willingness to learn, anything is possible. Whether you are an intern or a seasoned professional, his journey teaches us the value of building relationships, taking risks, and continuously learning.
At Ciena, we recognize the importance of continuous learning and support employees in their desire to expand their knowledge. To facilitate this, Ciena offers a variety of resources such as virtual learning platforms, a Career Spotlights series highlighting various internal roles, a Management Development Program, personalized coaching sessions, and a tuition reimbursement program. See how Ciena can support your learning and development - https://ciena.careers/680p
Interested in exploring a career at Ciena and Blue Planet? Browse our open job opportunities.
Not ready to make a change? Join our talent community to stay in touch for future opportunities!