Intelligent automation can help state governments boost performance of current network infrastructure while containing costs
As the need to deliver a higher quality of experience to network customers collides with budget constraints, Ciena's automation solutions may help state governments be more agile, efficient, and cost-effective.
In today's climate of state government revenue and budget uncertainties, CIO's and their network teams juggle two seemingly contradictory priorities. On the one hand, their customers are demanding a higher quality of service to support new digital applications. On the other hand, IT budgets that were supposed to fund required network upgrades are being drastically slashed.
State network challenges
Many state network modernization upgrades are now being pushed into the future. But new bandwidth-intensive, latency sensitive digital technologies are straining current networks. According to a recent GovTech webinar, state networks are experiencing an increase in network congestion and outages, impacting customer application performance.
State CIO's provide network services to a variety of customers. Obviously, these include most state-level agencies. But many state CIO's also provide service to local county and municipal governments. According to a 2019 National Association of State CIO's (NASCIO) survey, services provided to local governments include network services, security, data center hosting and others.

Source: NASCIO
State CIO's also provide network services to K-12 school districts, rural healthcare facilities, universities and non-profits.
Network complexity
While location sizes may vary, each site needs "always-on" access to real-time digital applications that enable them to deliver a higher quality of service experience demanded by their citizens.

Some customers need connectivity for a small number of sites in a metro area, while others have hundreds of locations across the entire state. Networks are tasked with supporting a myriad of connectivity types, transmission speeds, classes of service, peak times and latency-sensitivities. This in turn is pressuring the CIO network team to be more agile, flexible and proactive.
Many state networks are complex, consisting of multiple technologies, domains, protocols and vendors. In addition, network and IT teams are typically siloed. This means that static and fragmented data requires numerous manual processes between the two organizations. It also limits visibility into the real-time state of the network and services riding over it.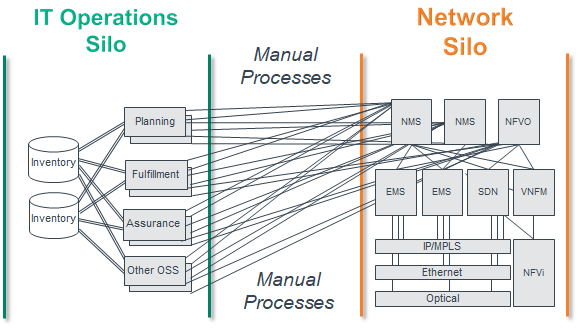 Manual, "swivel chair" operations across the IT and Network teams can decrease agility and increase cost
Intelligent automation can help
Intelligent automation of critical state CIO business processes across IT and Network teams can provide the agility and performance required to improve customer experience while reducing operational costs. Ciena recommends that state CIO's deploy end-to-end intelligent automation that can also evolve with business needs.
Plan-to-Build: Create service-ready network
Order-to-Service: Convert a customer request into an activated service
Trouble-to-Resolve: Proactively monitor to optimize service restoration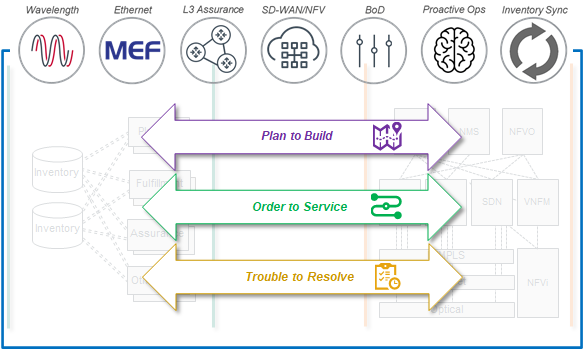 Blue Planet for state government IT needs
Ciena's Blue Planet Intelligent Automation solutions and products are purpose-built to align state government IT and Network teams and accelerate digital transformation. They are built on a common microservices-based architecture that leverages real-time network information to automate state CIO business process across the IT and network teams. Blue Planet solutions include:
Without intelligent automation, state government networks that are already overwhelmed with the needs of today stand little chance of scaling to customers' demands of tomorrow.
Blue Planet's holistic approach to automation allows state CIO's to leverage a dynamic view of network and service resources to derive business insights that shape network control policies and inform IT systems with real-time information. This open, data-driven approach optimally aligns and accelerates mission-critical business processes that span the network and IT to provide a higher quality experience for customers while containing costs.