How governments can solve layer 3 network complexity
What if government agencies could monitor and analyze their IP networks to ensure peak efficiency and service continuity—all while trying to modernize the network, balance cost, performance, and resiliency? Jim Westdorp, Ciena Government Solutions' Chief Technologist, explains how this is possible.
Do you know what your layer 3 network is doing?
The dynamic nature of IP networking makes it virtually impossible to know at any point in time how traffic is traversing your networks. Troubleshooting problems by issuing pings and router CLI commands, scanning log files, and manually correlating the results is imprecise and inefficient. Many government networks disable services like Internet Control Message Protocol (ICMP), which makes these inefficient tasks impossible. The results can impact service delivery, the agility of the network, and mission.
Traditional management tools have several limitations. For example, they can't:
Provide real-time visibility into routing paths across the network
Provide unique alerts for Layer 3 technologies related to: state changes, pathing, performance, and the availability of the network elements to route packets
Show and model how routing errors and changes impact service delivery
Understand the resiliency of the network
Correlate routing events with performance metrics of network services to assure service performance
Compute and provision transport paths to deploy new services
Provide unified visibility and analysis for multi-vendor, multi-layer networks
Think about all the things you'd like to be able to do with your network, and ask yourself a few questions:
What if you could get a graphical view of all the IP flows in your network and gain deeper insights into traffic patterns, flows, and congestion?
What if you could drill deep into specific flows to understand the detailed route and particular pieces of network equipment those flows traversed?
What if you could troubleshoot your network using DVR-like functionality to see the exact state of the network at the time of an event, even if it was days in the past?
What if you had automated analytics to help identify the best paths to route traffic through your network?
What if your cyber team could utilize the same platform to be alerted to conditions indicative of external interference with a government?
The promise of Route Optimization & Analysis (ROA)
Often, "what-ifs" are hypotheticals. Not in this case, with Blue Planet's
Route Optimization and Analysis (ROA)
. This technology has been field-proven for more than a decade with government entities that have strategic imperatives to monitor and analyze their IP Networks to ensure peak efficiency and service continuity—all while trying to modernize the network, balance cost, performance, and resiliency.
ROA holds significant promise for the future of Enterprise/government networks that can be increasingly complex to manage. With critical services more important than ever, government organizations in the U.S. are using ROA to ensure delivery of critical Layer 3 services. As a leader in this sector, Blue Planet's government sector customers deploy ROA to:
Assure service delivery by reducing the time to problem recognition, repair, and mitigation
Mitigate the risk of planned and unplanned changes to the network.

Failure analysis and resilience testing
Understand the impact of planned changes to the network
Provide pathing information for service activation

Optimize CAPEX even during rapid growth, due to greater visibility into routing paths, and transit and peering costs
Improve operational efficiencies by reducing the time spent troubleshooting or improving the closure rate of Layer 3 Service tickets
An example of ROA at work
A government agency was experiencing significant intermittent and hard-to-recreate problems with the deployment of applications in-theater that were sensitive to latency. The replication of large amounts of highly sensitive data to a central repository would not complete. The servers and applications were correctly configured, and the problem seemed to be in the networks. But the SNMP monitoring platform in place was "all green," meaning the network elements were available and underutilized. To complicate the issue, the networks were reconfigured frequently, and ownership was split between multiple groups.
The agency did not have full visibility into the transport network's core, but all indications were that the transport network was available. The network and application engineers were able to troubleshoot the problem, but they could not isolate the root cause. The implementation of Blue Planet's ROA platform provided proof that the network was at fault, and that the software's middleware was not the cause of the application performance issues. ROA identified that a link was flapping (alternating between up and down), causing the traffic to take one of two paths. One path had expected latency, but the other path was experiencing significant latency that was causing the performance issues.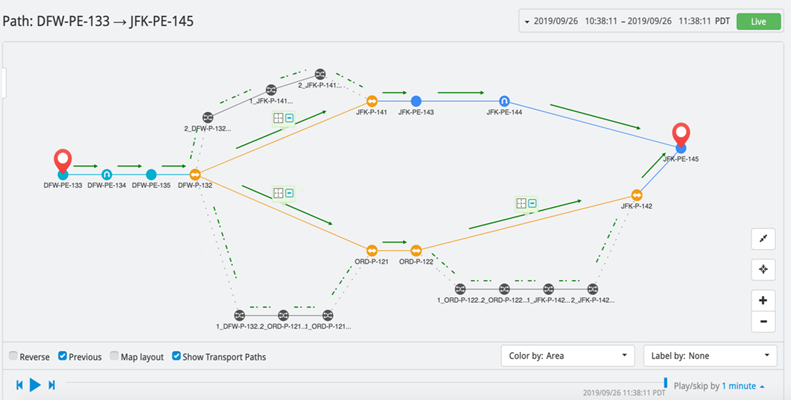 Real-time routing path with optical underlay captured by BP ROA
Blue Planet's ROA platform helped the agency to:
Improve visibility into for all assets
Understand the behavior of the network to resolve issues such as OSPF route flapping
Set alerts to notify operations teams of conditions such as excessive route flapping
The ROA platform also eliminated the need to rewrite the middleware, which enabled the agency to avoid an expensive and time-consuming project. In addition, Blue Planet Route Explorer helped to ensure consistent service delivery to their customers, troubleshoot problems faster, and plan for network changes, which significantly reduced downtime.
See ROA in action
Schedule a demo with a member of Ciena's team of government experts.
Learn more about Blue Planet ROA.