Dive into the Ciena Open Submarine Cables Handbook
What are open submarine cables? What are the benefits of this model and do you know what you need to consider when designing or purchasing a new submarine cable? Brian Lavallée introduces our Submarine Cables Handbook that explains all of this, and much more.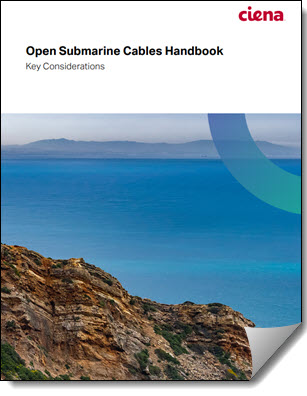 I've blogged in the past about open submarine cables, where Submarine Line Terminal Equipment (SLTE) is separated, or "disaggregated", from wet plants. This differs from the traditional and increasingly legacy approach where SLTE and wet plant was designed, purchased, deployed, and managed from the same single equipment vendor. Although this business model worked well for decades, the advent of coherent modems created a sea change when this optical transmission technology, originally designed for long-haul terrestrial networks, rapidly seeped into submarine networks. Coherent optical modems allowed submarine cable operators to initially leap from 10Gb/s channels to 40Gb/s channels, then to 100Gb/s, and today to as high as 500G transpacific!
As William Wallace would say… FREEDOM!
Although the business benefits of extending lifespans and massively increasing the revenue-generating capabilities of already deployed submarine cables to previously unthinkable information-carrying capacities was an obvious no-brainer, there are other benefits associated with the open submarine cable model, as summarized below.
Freedom to choose best-in-breed vendors with the decision based purely on their wet plant performance
Freedom to choose a best-in-breed SLTE at a later date, taking full advantage of faster innovation cycles
Facilitates point-of-presence to point-of-presence (POP-to-POP) and data center interconnection (DCI) traffic patterns by moving away from traditional Cable Landing Station to Cable Landing Station (CLS-to-CLS) patterns
Elimination of vendor lock-in, resulting in improved competition and project economics alongside a broader and more secure supply chain for cable network operators
Closed Submarine Cable

Open Submarine Cable


Ying and Yang
Life rarely provides new opportunities without new challenges, and the open submarine cable business model is no different. Turnkey systems were designed on an end-to-end basis, typically from CLS-to-CLS – until Ciena's GeoMesh architecture changed this network design – meaning turnkey vendors knew everything they needed to know to properly design and guarantee the end-to-end performance of submarine cable network. Since the open submarine cable business model often means SLTE and wet plant technology come from different equipment vendors, the link modeling and budgeting exercises can be more challenging. However, the numerous business benefits provided open cables is widely recognized and has resulted in key stakeholders collaborating to overcome the challenges.
SubOptic Open Cables Working Group
Submarine cable network experts, from equipment vendors and network operators alike, have come together in the SubOptic Open Cables Working Group with the stated mission to "inclusively and collaboratively converge on key industry ideas around open cable specification and characterization", which is excellent news for the industry in general. Given we've been operating in quasi-open cable model for close to a decade – as the inventors of coherent modems did not offer wet plants – a lot has been learned and a lot still has to be facilitated for the open submarine cable model to reach its full potential to both operators and end-users alike.
Ciena Open Submarine Cables Handbook
To help submarine network industry stakeholders better understand that challenges and opportunities of open submarine cables, we've created the "Open Submarine Cables Handbook – Key Considerations", which outlines key considerations when designing or purchasing a new submarine cable, open or otherwise. It's intended to help ensure the network is upgradeable Day 1, or in the future, to best leverage the significant investment made. After reading through this comprehensive handbook, you'll be better positioned to understand, select, and deploy open cables.
Interested? Download it now!