CienaLife: Dear Young Ramona – Be proud of who you are
Ramona Jackson, an IT leader and member of Ciena's D&I Council and Pride Group, recently presented at a company-wide meeting to share her perspective on why diversity and inclusion are essential in the workplace. As a champion of the LGBT+ community, Ramona openly shared her struggles with her identity when she was younger, her journey to accepting herself, and how she uses her platform to foster an inclusive culture and personal life.

Her story resonated with many colleagues and is something members of the global LGBT+ community identify with. In a survey from The Human Rights Campaign Foundation, 46% of LGBT workers report they remain closeted at work, 36% of LGBT workers say they remain closeted because they don't want to be stereotyped, and 31% fear losing relationships with their coworkers*.

Ciena is a company rooted in people with a commitment to its People Promise, which focuses on cultivating an environment that makes our workforce feel valued, accepted, and included—because of, and not in spite of, our differences. During Pride Month, we asked Ramona to write a letter to her younger self with the hope it would inspire others—both members of the LGBT+ community and allies of the community—to bring their whole and authentic selves to work.
---
Dear Young Ramona,
There are so many things I want to tell you while trying to balance guiding you and letting you stumble through this challenging yet rewarding life. I'll begin with a simple statement—embrace the journey. Because it is a journey—a journey of highs and lows, successes and failures, of love and heartache—learn from it, grow from it, and know that you will be proud of the colorful life you created.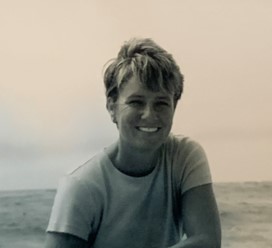 Being attracted to women will make you 'different' in many peoples' eyes. That's ok. Being different is a strength. Embrace your differences. You will meet others who feel 'different' as well—maybe for other reasons, or maybe the same. Listen to them, support them, and show them unconditional love and acceptance. Build an inclusive community that you can lean on and be a pillar for. This community will be crucial when you start to navigate adulthood and start your career.
Early on in your career, you will be scared to show your authentic self, and you will try to hide your true self for fear of being judged or missing out on opportunities because of your sexual orientation. You will opt out of lunch with coworkers for fear of being questioned about your personal life and try to shrink yourself to be less visible to everyone. You may think you are comfortable behind your walls, but I promise you, life is so much better beyond them.
You will love your career and be passionate about it—when you are spending more than half of your life at work, you should love it, and you should be free to be yourself—your whole self.
Imagine how your career will begin when you approach it with openness and freedom. Hiding a piece of your identity in a place that will require so much of your time and focus will only make your days longer, your challenges more difficult, and will eventually limit your growth. It will be hard to share your true self with colleagues at first. But know, they will embrace you, support you and give you strength. And they will appreciate the mutual trust created by such vulnerability and openness.
Later in your tech career, when you are in positions to affect change, you will use your influence to empower those who do not fit the 'traditional' mold. Commit to looking outside of what's comfortable when you grow your team and network and provide opportunities to individuals different than you. As you will find out, diverse opinions and views will make companies, teams, and communities better.
By being true to yourself, you will foster a community of openness and acceptance, which will, in turn, open doors for those in your circle to enter as they are, whether they're a member of the gay community or not.
As you continue to move through the different phases of your life, remember where you started, remember the pain, and remember the challenges. Remembering with purpose will provide perspective to help others that may be struggling to accept themselves. Others will learn from and be inspired by your journey—a journey that will give them confidence to keep moving forward.
I cannot wait to see you flourish through life. You are a strong, confident, beautiful, gay woman. And you will make a difference in our world.
Cheers—
Your future self
Ramona Jackson
Source: *The Human Rights Campaign Foundation, 2018