Ciena's role in recent 400G industry-first milestones
Are you confused about the recent 400G milestones announced and how this is different than what has been discussed for a few years? Helen Xenos provides a closer look at the technology used so you can understand the importance of these announcements.
In recent weeks, we have seen two 400G announcements come out, the first from AT&T followed by a second from Internet2, each speaking of achieving new milestones in the industry. To the casual observer, it may not be clear what is new about these announcements. Haven't we been talking about 400G deployments for several years now? Well, yes and no. To understand the importance of these announcements, you need to take a closer look. With Ciena innovations playing a key role in both cases, here are some insights.
Understanding the context – 400G can mean different things
The first point to understand is that in networking, 400G can mean different things. 400G is a term loosely used to describe a communications link that can carry 400 billion bits per second, or 400 Gigabits per second (400Gb/s). There are two types of 400G connections:
1) 400G wavelength: here, 400Gb/s are carried over a single carrier in a fiber optic cable that can transport a mix of different client traffic rates (ex. 10GbE, 100GbE or 400GbE) across long distances over an optical infrastructure. A coherent optical transponder is used to aggregate client traffic and transport them over a single 400G wavelength.
Apart from Ciena's WaveLogic Ai, coherent optical solutions capable of 400G speeds are relatively new. WaveLogic Ai is the exception, with commercial, volume shipments beginning in the fall of 2017, and the foundation for the majority of 400G deployments in the industry to date. The key value of WaveLogic Ai is that users can double traffic carrying capacity per wavelength versus 100G/200G solutions and reduce footprint, energy consumption and cost per bit. Network providers can select capacity rates from 100G to 400G and transport traffic at 400Gb/s for 300km distances, 200Gb/s for 3000km distances and 100G for ultra-long-haul links.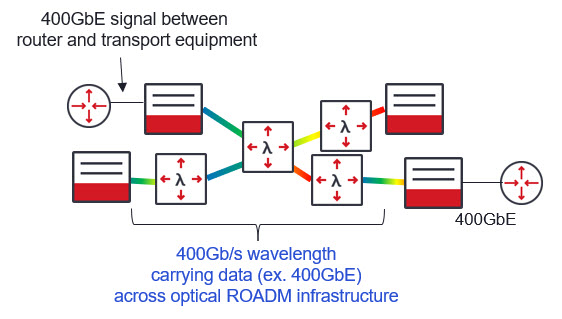 2) 400GbE or 400 Gigabit Ethernet: the highest Ethernet data rate that can connect switches, routers and the client side of transport equipment. 400GbE can extend short distances, up to a maximum of 40km between these devices. 400GbE design specifications are defined by industry standards to drive a robust supply chain and facilitate multi-vendor interoperability. The industry is coalescing around QSFP-DD physical form factor for 400GbE rates; and several technical implementations have been defined to meet specific distance objectives.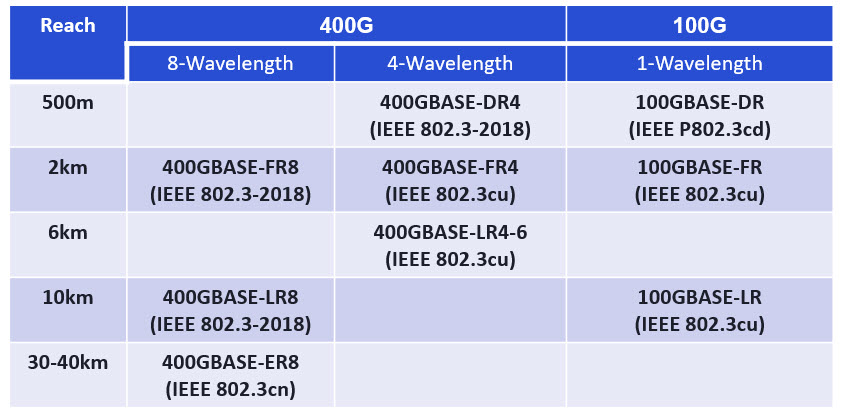 There are several dependencies that need to be realized from a networking industry perspective before providers can offer ubiquitous high bandwidth 400GbE connectivity:
Routers that can support 400GbE QSFP-DD pluggables are required
Reliable 400GbE QSFP-DD pluggables from optical component suppliers are required; these are only now starting to become available in limited quantities.
Transport systems that can efficiently carry 400GbE signals across optical fiber infrastructure are required; this includes both a coherent optical transponder that can efficiently extend the 400GbE signal as well as a photonic line system capable of transporting spectrally wider channels.
The milestones that were achieved in the recent 400G announcements were associated with transport of 400GbE across long haul infrastructure for the first time, using commercially available hardware across the complete ecosystem (400GbE pluggables, routers, transponders, photonic line system). The "commercially available" is an important aspect of the announcements as it marks the start of industry readiness for widescale 400GbE deployments.
Being "commercially available" is an important aspect of the announcements as it marks the start of industry readiness for widescale 400GbE deployments.
Ciena's WaveLogic Ai played a critical role in each of these announcements. It is the only coherent solution available today that can transport 400GbE across long distances to support aggressive 400GbE technology rollout requirements. To do so, WaveLogic Ai mapped the 400GbE signal across two 200G wavelengths to achieve the reach needed.

What was announced – Internet2
Achieving an industry first in research and education networks, Internet2 carried live 400GbE traffic across 1367 miles (2200km) between Chicago and Denver to support the bandwidth demands of the SC19 conference which took place from Nov 17-22. The 400GbE link was used to connect two Juniper PTX routers for the week of the conference. 400GbE was carried without Raman or signal regeneration using WaveLogic Ai coherent optics, over a newly installed Ciena open line system capable of transporting 400G and 800G wavelengths.
The SC conference is well known for pushing the boundaries in communications and showing a glimpse of what the future of networking holds. With this groundbreaking demonstration, Ciena, CenturyLink, Internet2, and Juniper Networks were recognized at the SC19 opening gala celebration with the Spirit of Innovation award for their significant role in advancing networking technologies in support of revolutionary applications and experiments. Congratulations to the team involved in making this happen!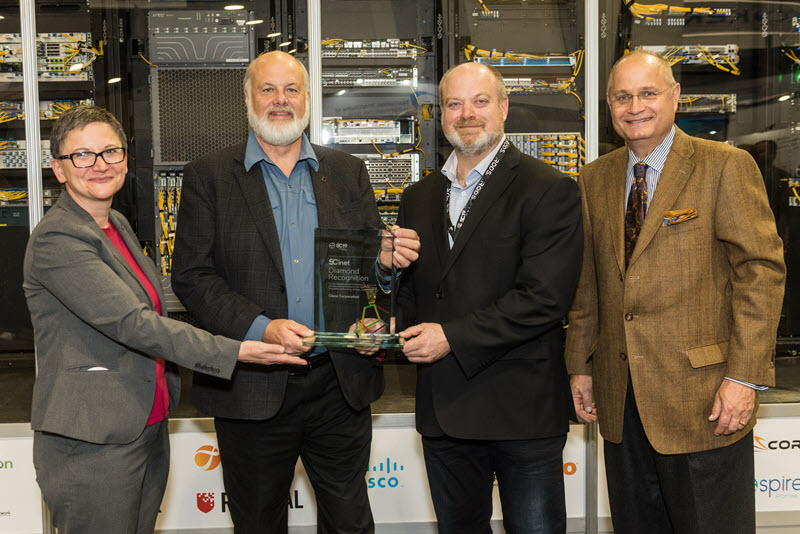 SC Conference Chair Michela Taufer and SCinet Chair Jim Stewart presenting the Spirit of Innovation Award to Ciena's Rod Wilson and Marc Lyonnais.
What was announced – AT&T
The AT&T announcement showed that the future is closer than you may think. AT&T announced that they activated their first 400 Gigabit optical connection across their network. This was not a trial, but the announcement of the industry's first 400G commercial service delivered over AT&T's upgraded infrastructure. AT&T's accomplishment touches on all elements of the 400G ecosystem including the optical transport, white box routers, and pluggable transceivers. AT&T is also driving interoperable and open implementations. The significance of a "commercial service" is that commercially available equipment was used for the end-to-end solution, standardization and verification activities completed, and the operational infrastructure is in place.
The 400GbE link is being carried from Dallas to Atlanta across >1500km without Raman or signal regeneration using WaveLogic Ai coherent optics, traveling over Ciena 6500 SDN-enabled flexible grid ultra-long-haul system. The 400G circuit was routed and configured using Ciena's Manage, Control and Plan (MCP) software. 400G is connecting two white box routers from UfiSpace that are compliant with the Broadcom design that AT&T has submitted to the Open Compute Project. 400GbE pluggable optics from InnoLight are used to connect the routers to the Ciena's 6500 platform. AT&T has also integrated Ciena's MCP controller with AT&T's ONAP-based management and control automation software using an API specified by the Open ROADM MSA. And the ROADMs that AT&T has been installing for the last year-plus are "future-proofed" to support 400G transport via a software upgrade. With the requisite infrastructure in place, AT&T will begin deploying 400G across their network in 2020.
What's next?
At Ciena, we are all incredibly proud of enabling these world-first achievements for our customers and setting new networking benchmarks.
And of course, we are not stopping with WaveLogic Ai. Our innovation engine continues with WaveLogic 5, our next generation coherent optical solution. While WaveLogic Ai enables these deployments today, our soon-to-be-available WaveLogic 5 Extreme can deliver 400GbE signals across equivalent long-haul distances using a single wavelength, providing additional savings in cost, power and footprint.