Digital-First India: Building a future proof and Adaptive Network for Airtel
How did Airtel build a new infrastructure that can dynamically adjust and keep up with ever-changing user demands in India?
Demand for mobile broadband is reaching new levels in India. From WhatsApp to YouTube to Hotstar, consumers today are relying on mobile devices more than ever. According to the Telecom Regulatory Authority of India, wireless broadband subscribers more than doubled in two years, from 200 million in 2016 to 493 million in 2018. Driven by a rise in affordable smartphones and drop in broadband tariffs, which are the lowest in the world, the growth of mobile data puts increased pressure on the network.
Preparing for 5G
5G will drive the need for even more bandwidth capacity in dense urban metro areas and in the less populated rural areas of India. The ability to address stringent requirements for latency and reliability will also be critical for the introduction of new 5G services. India typically sees 50 to 300 times more cuts as compared to an equivalent geographical space in the US so networks in India must be built to operate with minimal downtime and the ability to adjust automatically.
One of our major customers in India is Bharti Airtel (Airtel), the country's largest integrated telecommunications services provider.
Bharti Airtel's innovative approach to optical network design
Airtel has launched Project Leap, a major transformation program that enables a network to quickly respond to simultaneous faults by re-computing and re-routing traffic based on available network resources. Airtel selected Ciena to upgrade its backbone network and add new spectrum and fiber to expand network capacity, improve service quality, and put in place a future-ready network for 5G. Encompassing over 100,000 nodes, Airtel's network is expected to have the world's largest photonic control plane designed specifically to handle the unique challenges of network operations in India.

Together with Ciena, Airtel is leveraging optical technology to enable a smart and agile network that allows for simplified provisioning of end-to-end network wavelengths, speed and capable of handling multiple fiber failures. Airtel's new infrastructure also provides a path to increased automation of network planning, operations, and maintenance.
Making Digital India possible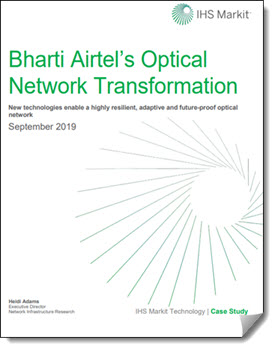 The new network design has dramatically improved the customer experience for Airtel's customers. Overall network reliability has seen a 40 – 60% improvement in cell minute outages in areas where the new architecture has been implemented. In its greenfield deployment areas, total network capex is reduced by 30% and the company also anticipates significant power savings.
By future-proofing its optical network, Airtel has laid the foundation to be future-proof and ready to handle 5G service requirements moving forward. The company is also well positioned to explore the introduction of machine learning and/or AI applications on the road to increasing network and service automation capabilities moving forward. More details on Airtel's work with Ciena can be found in a case study here.
Better together: Ultra-fast data for an ultra-fast nation
Airtel has been known for embracing cutting edge technology early on to have the first mover's advantage and leading innovation in India. We are pleased that Ciena is helping Airtel deliver on its vision for building a highly resilient, scalable, low-cost, and future-proof optical network to meet Airtel's service needs today and into the future. With the rise of video, cloud services, 5G and other emerging technologies, it's now more important than ever that we are equipping our customers with the technology they need to keep up with the dynamic needs of end users.