Adaptive Learning is the Future of Education. Are Education Networks Ready?
Educators are increasingly leaning on EdTech and Adaptive Learning tools that personalize and improve the student learning experience. Ciena's Daniele Loffreda details the critical role the network plays in making these disruptive new learning tools a reality.
As teachers and administrators strive to improve student performance and graduation rates, they're increasingly leveraging new Educational Technology (EdTech) to deliver a higher quality learning experience. Digital applications such as streaming video, mixed-reality, gamification, and online global collaboration enable a "learning beyond the classroom walls" environment.
However, educators are quickly realizing that even with EdTech innovations, the traditional "one-size-fits-all" approach to education fails to make the grade. Student populations are increasingly diverse in terms of culture, location, economic background, and learning styles. Educators are increasingly aware that not everyone can absorb the lesson plan in the same way, and that teaching needs to be more personalized to the individual student. To provide more personalized learning experience to students, while ensuring adherence to government performance standards, educators are turning to Adaptive Learning systems.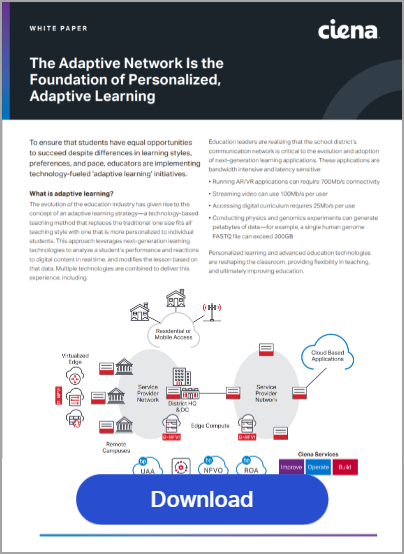 What is Adaptive Learning?
Adaptive Learning uses computer artificial intelligence algorithms that adjust the educational content to the student's learning style and pace. Based upon a student's reaction to content, algorithms detect patterns and respond in real-time with prompts, revisions, and interventions based upon the student's unique needs and abilities. Combining Adaptive Learning platforms with predictive analytics and other EdTech applications helps to transform the learning experience for both the student and the teacher.
Although Adaptive Learning is a departure from traditional teaching methods, educators expect that it will soon become the new norm, with courses adapted around the unique needs of every student. According to Markets and Markets, the global EdTech and smart classroom market size is forecast to reach $181 billion by 2025, with a CAGR of 16.1%.
According to a recent survey by the Consortium of School Networks (CoSN), Adaptive technologies are among the top 5 technologies deployed in 2020:
Digital collaboration platforms
Tools for privacy and safety online
Analytics and adaptive technologies
Cloud infrastructure
Mobile devices
The Critical Role of the Communications Network
Network connectivity and availability is becoming increasingly important to educators and administrators. If students are constantly getting dropped out of an application, if their screens are frozen, or the network goes down, students quickly become frustrated, are unable to complete their assignments, and rapidly fall behind schedule. Disruptions due to technology impact teacher performance, generate complaints to the Superintendent, and cause teachers to avoid using technologies in the future, once they've experienced problems using them.
A Center for Digital Education Digital Schools Survey found that nearly one-third of U.S. school district leaders say the reliability of their networks keeps them up at night. 22% say the combination of reliability, availability, and scalability is a concern.
Adaptive Learning platforms and EdTech digital applications tend to be bandwidth-intensive and latency-sensitive. When combined with other district network demands like online assessments, video surveillance, and student information systems, they can quickly overwhelm the network. As these applications are being accessed from campuses, from student homes, and from students "on the go", the network can suffer from performance degradation or to a complete outage that adversely impacts student and teacher ability to access them.
The State Education Technology Directors Association (SETDA) made the following recommendations for Internet/Cloud access and District Wide Area Network: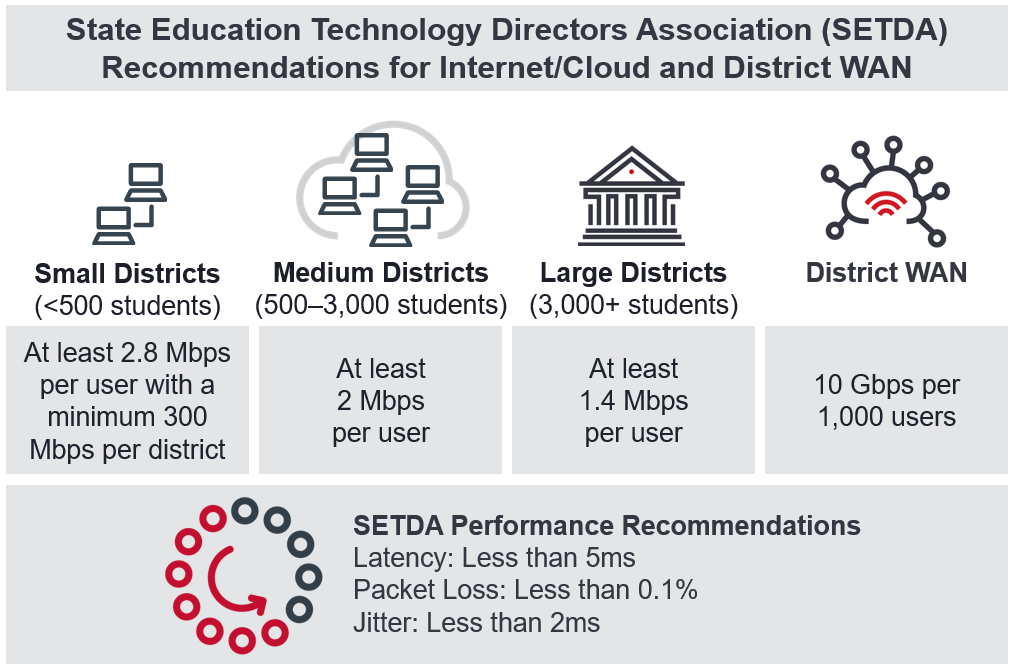 Education Networks Need to Evolve
In order to better support the increasingly digital learning applications, education networks need to evolve in multiple ways:
Education networks still tend to involve fixed, static capacity that requires onerous cycle times to expand or contract as network needs fluctuate.
Network configurations tend to aggregate individual campus internet and cloud connectivity needs through a centralized district data center rather than directly connecting at each campus.
Network management tends to be reactive and involve manual processes requiring human engagement at each step.
Each campus typically has separate devices for switching, routing, firewall, and optimization. Upgrades, replacements, and troubleshooting these devices requires a physical visit to each campus from the centralized district IT or service provider technician.
These issues combine to make education networks static, inflexible, costly, and inefficient. To support new Adaptive Learning and EdTech applications, education networks must evolve to become faster, closer, smarter, and safer:
Faster: both in terms of capacity and data speed
Closer: moving cloud-based compute functions closer to the network edge
Smarter: via automation, analytics, artificial intelligence, and virtualization capabilities.
Safer: with technologies that increase awareness of network health to proactively address issues before they occur
In short, education networks need to become more adaptive.
The Adaptive Network
Ciena has pioneered a new networking approach called the Adaptive NetworkTM, which combines:
Programmable Infrastructure: Highly-instrumented physical and virtual network elements in a multi-domain, multi-vendor environment that provide real-time network telemetry
Analytics & Intelligence: Machine-learning based platform that leverages streaming network telemetry to proactively predict when and where an application performance-impacting event may occur
Software Control & Automation that intelligently orchestrates multi-vendor components, automates manual network processes, and takes action to avoid a negative network situation without needing human intervention
Services: Highly experience technical and professional services with proven methodologies are required to help customers build, operate, and continually improve their networks, accelerating their journey to the Adaptive Network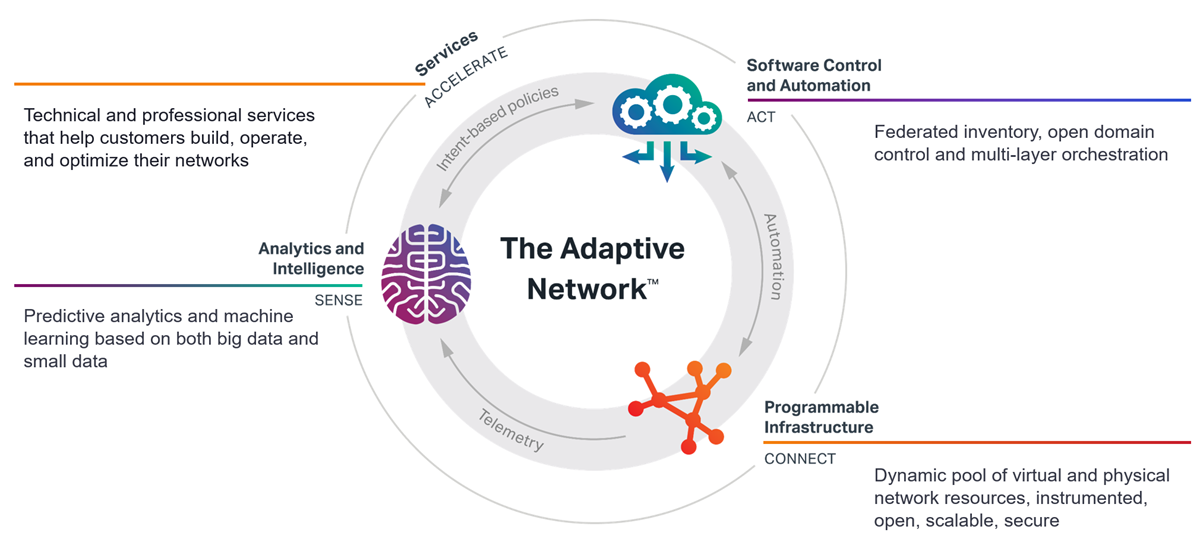 Adaptive Network Benefits for Education
The Adaptive Network enables software-based automation and control in order to deliver more flexible "bandwidth on-demand" services that make it easier to quickly scale bandwidth capacity up and down as needed.
Predictive analytics enable proactive identification of potential sources of congestion and outage, and software-based control helps avoid them without requiring human intervention.
Replacing multiple physical network devices with universal customer premises equipment (uCPE) that hosts virtualized network functions enables remote management and troubleshooting, thereby reducing cost and complexity.
Moving Adaptive Learning and EdTech applications and compute power closer to the edge, where content is created and consumed, to significantly reduce latency and potential sources of congestion, which helps ensure a high-quality of experience for both students and teachers.
Adaptive Learning and EdTech innovations are the future of education. Students and teachers will benefit from being able to personalize learning courses and modules around how students prefer and need to learn. Implementing an Adaptive Network approach will ensure that education networks support all the requirements and applications of today, while having the bandwidth scalability, agility and intelligence to support the innovative applications of the future.