Three ways Ciena's Adaptive Network can help federal leaders increase agility during challenging times
How can government agencies address changes in network demand without heavy capital investment? Jim Westdorp, Ciena's Government Chief Technologist, has the answer and it involves a new approach to networking.
When the COVID-19 pandemic struck in early March, agencies everywhere faced huge spikes in network demand as IT teams worked around the clock to roll out new services and transition to remote operations.
While some agencies managed to adapt initially, it became increasingly clear that agencies need greater visibility and flexibility from their network resources. Unfortunately, many networks were not designed to adjust to such challenging demands. Legacy systems and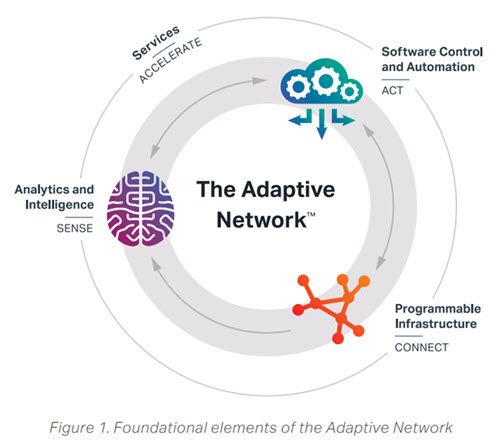 protocols prevent rapid scaling and adjustment of a network's capabilities. Meanwhile, legacy architectures often require IT teams to manually set up, revise, and tear down even the simplest services.
So how can government agencies address changes in network demand without heavy capital investment? The answer involves a new approach to networking.
The Adaptive Network™ is an intelligent closed-loop system comprising programmable infrastructure, analytics and intelligence, as well as software control and automation able to meet complex mission network demands and provide the business of government with greater agility.
Ciena's Adaptive Network enables faster and more efficient delivery of government services, while encouraging greater inter-agency collaboration, with three key elements.
Programmable Infrastructure
Government agencies should no longer rely on fixed-function hardware appliances to meet constituent needs. Reacting to changing network demands requires a programmable infrastructure that can both provide advanced network telemetry and adjust to meet changing capacity needs.
Ciena's Adaptive Network accomplishes this in a few ways. First, IT teams can adapt quickly to changing bandwidth requirements by using variable bit-rate optics to tune the network to different speeds, depending on current needs. Secondly, software can dynamically route wavelengths across different paths, depending on network conditions and the needed SLAs.
Because programmable infrastructure is highly instrumented, with the ability to stream real-time network performance telemetry data, agencies can get an excellent indication of not only the health of their network equipment, but the health of the fiber-optic cable infrastructure as well. Essentially, the network acts as a sensor that informs operators about its current state and what future service capabilities remain.
Together, these capabilities allow agencies to change and reconfigure the network on the fly, allowing it to be run at higher levels of efficiency and minimizing the need to add new equipment.
Software Control and Automation
Robust automation capabilities can reduce operational complexities and improve efficiencies at scale. Accelerating the speed of service delivery, however, requires more than simple automation. For this reason, Ciena's Adaptive Network integrates software-defined control and orchestration driven by data analytics, allowing agencies to use deep knowledge about the network to automate services and operations more intelligently. This powerful combination of technologies achieves three primary goals:
Simplifies the end-to-end management and automation of network services across physical and virtual networks, freeing IT teams to focus on core competencies
Automates the delivery and lifecycle management of Network Functions Virtualization (NFV)-based services so they can be scaled without additional appliances
Automates the complete service delivery lifecycle across packet-optical networks
The result is a network that not only automatically reacts to change, but also adapts to events as they occur in real time.
Today's networks must take advantage of automation and become more responsive, especially during these times of uncertainty.
Analytics and Intelligence
Although today's vast volumes of data can add complexity to infrastructure, they can also provide agencies with treasure troves of information that, when harnessed correctly, can improve network performance.
For example, Ciena's Insights Service monitors the state of the network and the demands placed on it. It then collects this information to predict network problems before they cause customer issues.
If the Insights software detects a pattern trending over time that might lead to a network failure, it will flag the item, allowing an operator to make critical changes proactively before the network fails.
In addition to accurately predicting potential network problems and anticipating trends, analytics allow the network to become more reliable and more available, which is important for the critical infrastructure that modern networks provide.
Today's networks must take advantage of automation and become more responsive, especially during these times of uncertainty. But automation is only one piece of the puzzle. Yesteryear's static network must evolve into a dynamic, programmable environment driven by analytics and intelligence for agencies to securely, and in real time, adapt to emerging constituent and mission needs.
Learn more about how Ciena can help your agency craft and maintain a holistic end-to-end networking approach.