The Reality of Applying SDN WAN in R&E Networks
Many R&E network operators are actively exploring software defined networking (SDN) to optimize network resources and enable dynamic scale of network resources, allowing applications and users to program the network as a virtual resource, independent of the physical confirmation. For example, Internet2 has been at the forefront of SDN testing and adoption for the last several years. However, the reality is that although the vendor community is working hard to create SDN controllers, some based on
ODL
, others based on
ONOS
, a multi-vendor network often results in a multi-SDN controller environment. Have we made things simpler or simply added a layer of complexity? Ciena's Renee Reinke talks about how we can avoid creating software silos.
From the university campus network to the regional or national level, Research & Education (R&E) networks are facing the challenge of new applications and an escalation of network bandwidth demands. These networks, which connect faculty, students and researchers across the campus and across the world, must accommodate the increasing access of streaming video and proliferation of mobile devices by students on campus, as well as the massive growth in global collaboration and the increasing sophistication of research techniques. Fom genomics to climate research, materials discovery, humanities and the social sciences, big data from the global research community is driving the need for larger and larger file transfers between data centers and users across the network and the world.
But meeting the diverse and growing needs of academic users is increasingly about more than just adding capacity. While increasing bandwidth is one facet of the solution, relying on fixed design and configuration, traditional networks simply can't support the unpredictable and dynamic flexibility required for emerging types of applications, advanced levels of collaboration and increasing speeds of data flow.
Many R&E network operators are actively exploring software defined networking (SDN) to optimize network resources and enable dynamic scale of network resources, allowing applications and users to program the network as a virtual resource, independent of the physical confirmation. For example, Internet2 has been at the forefront of SDN testing and adoption for the last several years.

The Reality of Applying SDN WAN in R&E Networks
The introduction of the SDN WAN controller holds the promise of network virtualization and the ability to finally realize multi-layer, multi-vendor infrastructure control. However, the reality is that although the vendor community is working hard to create SDN controllers, some based on ODL, others based on ONOS, a multi-vendor network often results in a multi-SDN controller environment.
Furthermore, orchestration of Network Function Virtualization (NFV) and Data Center resources are separate domains all together. In order to fully orchestrate services from end-to-end, across both the physical and virtual domains, network operators will now have to select vendors for each and then engage in a complex process of stitching this all together in order to create services.
Have we made things simpler or simply added a layer of complexity?
There is a solution: Multi-Domain Service Orchestration (MDSO). For example, Ciena's Blue Planet's MDSO sits on top of each domain and orchestrates services from end-to-end. It interfaces with NMSs and/or SDN controllers, the NFV orchestrator, and the DC SDN controller and understands available resources, both physical and virtual, that need to be managed.
The end result is the successful orchestration of those resources and the delivery of services across a multi-vendor, multi-domain infrastructure. With MSDO, you can eliminate the traditional network technology silos by converging software functions, enabling seamless service delivery across both the physical and virtual domains.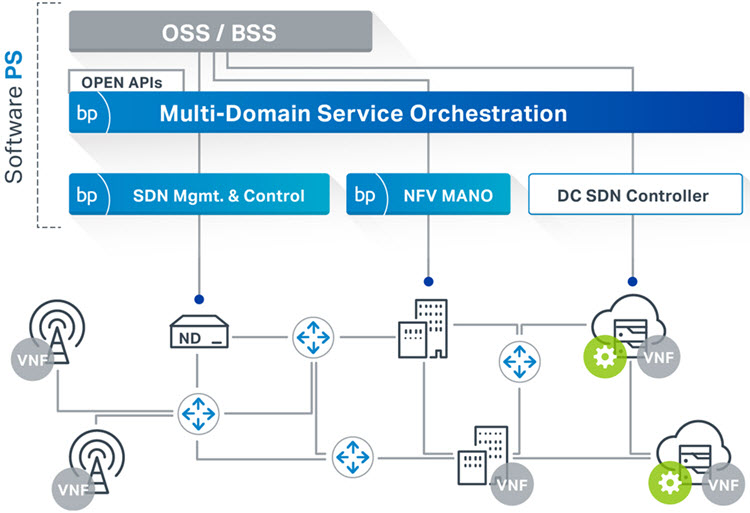 With Ciena's Blue Planet, customers now have a solution to:
Orchestrate existing SDN Controllers (Openflow, OpenDaylight, ..etc) and management platforms (cloud managers, network managers, element managers…) as one environment
Deploy end-to-end services across hardware and software domains combining NFV with traditional hardware based appliances
Achieve the "single pane-of-glass" view to help break down management silos and enables network operators to provision and manage services across networks comprised of both legacy and new SDN/NFV-enabled components.
Want to learn more? If you're at the Internet2 Tech Exchange this week, come by and visit our booth or listen to Dr. Recep Ozdag's SDN session in the Community Showcase area on Monday at 3:20pm. You can also read more on our Blue Planet solution here.