Sometimes it's the 'baby steps' that make the biggest impact!
Ciena's new Global Family Leave Policy dramatically improves upon current leave benefits by considerably enhancing paid leave, absence duration, and return to work schedules for new parents (maternal, paternal, and adoptive), as well as increasing time off for caretakers assisting a spouse, child, or parent with a serious health condition. Jane Hobbs, Ciena's SVP of Human Resources, talks about what the new Global Family Leave Policy means for Ciena's people and its larger context in our industry.
Here at Ciena, we put tremendous value on our people and giving them a positive environment in which to innovate and develop professionally. That's why today we've announced considerable enhancements to our leave benefits for all new parents—maternal, paternal, and adoptive. We've also included time off for caretakers assisting a spouse, child, or parent with a serious health condition. The Global Family Leave Policy applies to all 5,200 Ciena employees— exempt and non-exempt—across the globe.
I talked with Jane Hobbs, the Senior Vice President of Human Resources for Ciena, about the value this new policy has for our people and how it fits in the bigger picture of our industry.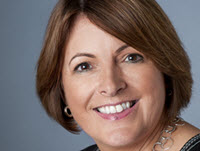 Why did Ciena decide to implement this new Global Family Leave Policy?
Jane: This policy illustrates Ciena's corporate values and the culture we foster toward treating individuals who work for us with trust and respect—attributes they hold in the highest regard. We have a tremendous workforce comprised of people who are extremely flexible on when, where, and how they work to deliver a world-class customer experience. We felt compelled to reciprocate that commitment with the same kind of flexibility they need for their families and personal responsibilities. And the truth is that everyone benefits from a team who feels their emotional and mental well-being is supported and facilitated.
We're also focused on attracting and retaining the best talent in the industry, and we want to be sure that we're reaching into the widest pool of that talent that we can—men and women alike. Offering an inclusive policy like this makes us highly appealing and helps us achieve a level of diversity that not many in our space share.
Not to mention, we're thrilled to bring this program to life at the same time as National Work and Family Month, which is aimed at raising employer awareness about the business benefits of more flexible work environments. Our new Global Family Leave policy is a perfect example of what that initiative is all about.
When you first started exploring a new policy, were there other companies or trends that you looked to for inspiration?
Jane: Absolutely—this was a key part of our process. We used external research as well as insights from some of our customers who recently announced progressive policies as well. We investigated both why they had done it and what they had learned. What we found was that most of the focus was on expanding maternity benefits, and we learned that easing the transition period of returning to work for new mothers was essential, so we incorporated that element into our policy.
But, I didn't want this to just be about women. It's about recognizing that women and men both have responsibilities outside of work with children and other family members. So, we took a broader, more inclusive approach that recognizes that equality by way of offering paternity, adoption, and caregiver benefits as well. Our policy is also inclusive of everyone, regardless of role or position, gender, location, etc., which minimizes divisiveness amongst those who work here.

What has been the reaction from individuals so far?
Jane: We launched the new policy just a few weeks ago during a company town hall meeting, and it was met with nothing short of enthusiasm and immense pride to work for Ciena. I personally received a number of notes expressing gratitude for recognizing how important flexibility is to morale and motivation—both from individuals to whom the policy applies today and in the near future, and from those who may never have a need to take advantage of it.
One note read,
"I can't express how proud I am to work for Ciena. Yesterday's announcement by CEO Gary Smith is indeed a cutting edge benefits package. Particularly when other companies in the same industry are working feverishly to strip employees of the benefits they currently have. I don't have a need for any of these benefits at the moment, but I know that I may in the future and to have my company behind me means the world."
A comment like that reinforces for me that we have done the right thing, and we have put our employees first as we continue to strengthen Ciena's leadership position in the industry.
Is there much precedent in the telecom/technology space for leave policies of this scope?
Jane: In our research, we found that roughly 50% of technology/telecom companies do something beyond the statutory requirements related to family leave. What puts us on the leading edge of that group, which includes some of the most reputable names in tech like Google and Netflix who have also expanded their policies, is that we've not only gone well above standard requirements, we've broadened our policy beyond maternity to include paternity, adoption, and caregiving.
And, importantly, everyone who works here is eligible. While I don't have the numbers in front of me, I can say with confidence that very few companies in our space offer such an inclusive set of benefits with respect to family leave.
What advice would you give to leaders of other large global organizations that are considering making the leap to an expanded family leave policy like this one?
Jane: I would start by telling them that implementing such a progressive program takes time—it doesn't happen overnight and it can require quite a bit of tenacity. Beyond that, I have three specific pieces of guidance:
First, take the time to truly understand what it is that individuals value about the company.
For us, it was flexibility, respect, and trust. Knowing what matters to them most about working at the company forms the foundation for a program of this nature. We reached out to our people in a variety of ways—focus groups, Employee Value Proposition survey, and others—to inform how we would shape our policy to best align with their views.
Second, be sure to go out and talk in detail with other companies who have pursued similar paths.
Learning from them what worked and what didn't not only helps design a meaningful program, but can also accelerate its implementation and effectiveness by minimizing the need to adjust on the fly as you discover gaps.
And, finally, have the confidence to do it.
That may sound trivial, but it is easy for a notion like this to get caught in the analysis spiral of finding reasons to question or be concerned about the value and impact. Questions like: What is the true ROI? Will we see an influx of people taking advantage of the policy when we launch it?
The truth is that if you know it is the right thing to do—have the courage to do it. The reward will become obvious.