Regional service providers must evolve to deliver the digital experience users demand
The digital experience users enjoy with cloud-based services is becoming a prerequisite for any technology service offering. Regional providers will need to evolve to deliver more in the areas of visibility, control, and flexibility in order to be considered by customers.
In a recent
article
, I discussed how market forces are disrupting the business of regional service providers. Most of these drivers originate in technology innovations that are hard to be overlooked. However, a powerful force, which is commonly neglected, is the smooth evolution of customer behavior and expectations. Users are embracing the advanced digital experience they enjoy with OTT content providers and IT services as their new standard, and they increasingly expect a similar level of automation, information and flexibility in all of their technology services, including their network. To be in position to deliver on these expectations, Tier-1 service providers are heavily investing in their digital transformation. Regional providers deal with slightly different variables, but they need to prepare to meet the exact same requirements in order to thrive in the market.
To better understand the movement to a digital consumption model, let's analyze the typical behavior of providers' business customers. Over the last few years, enterprises have started procuring IT infrastructure-as-a-service, as well as progressively adopting cloud applications. If you have not yet used the services portal of a global cloud provider, I would highly encourage you to do so. It offers an impressive level of flexibility allowing the user to set or change all kinds of service parameters in real time, providing rich analytics and insights on the usage, and enabling the programming of dynamic policies. As users are more and more exposed to this new digital reality, they become less and less tolerant of the rigidity of old fixed services.
Even residential users have begun adopting the digital paradigm as their reference model for service consumption. As their routines get ever more supported by flexible digital experiences (entertainment, ridesharing, food ordering, online shopping), they assume these interactions are a part of all the other services they consume, and even carry these expectations to their professional lives.
The next CIO of your business customer will likely be a millennial. Would she or he be comfortable waiting for someone to dig into performance or network issues, or having to wait days for network changes, or not being able to program policies for their services? You'd better be ready to deliver the experience your customers expect from you.
How can regional providers be in a position to meet the expectations of digital users?
Preparing to meet the expectations and minimum requirements of digital users is not a simple task. The leading global carriers have been spending billions of dollars in the last few years trying to undertake the painful but necessary path of digital transformation, and there is still a lot of work to be done. While the largest Tier-2 providers might have to follow a similar path, smaller players may benefit from less legacy and complexity, shortcutting the creation of a leaner digital experience. Though we should never minimize the effort required for BSS and process transformation, Tier-3 or smaller Tier-2 providers usually have a simpler IT architecture, with fewer systems to integrate and a smaller number of customers to migrate, which allows for a more manageable transition to digital.
A fully digital experience involves self-service portals where users can change bandwidth and other network parameters without human interaction. It offers dashboards where users are granted full visibility into their network statistics and performance. It encompasses the ability to add or change value-added services on the go. And all these capabilities translate into three comprehensive requirements for the network: i) a Programmable Infrastructure; ii) Analytics and Intelligence; and iii) Software Control and Automation.
At Ciena, our vision for such infrastructure, capable of delivering a full digital experience to users, is summarized in three words – Connect, Sense and Act - the basic components of the Adaptive NetworkTM from Ciena.
Connect – the Programmable Infrastructure: hardware accessible and configurable via open interfaces, highly instrumented, able to export real-time network performance data and adjust its resources as needed by the applications running on top of it.
Sense – Analytics and Intelligence: network data collection and analysis using machine learning and AI, predicting potential network problems and anticipating trends by turning data into actionable insights. These insights can generate recommendations and dynamic offers to customers, delivering a much richer digital experience.
Act - Software Control and Automation: Multi-Domain Service Orchestration (MDSO), federated inventory, and centralized, software-defined control allowing end-to-end management and automation of network services across multi-vendor, hybrid networks.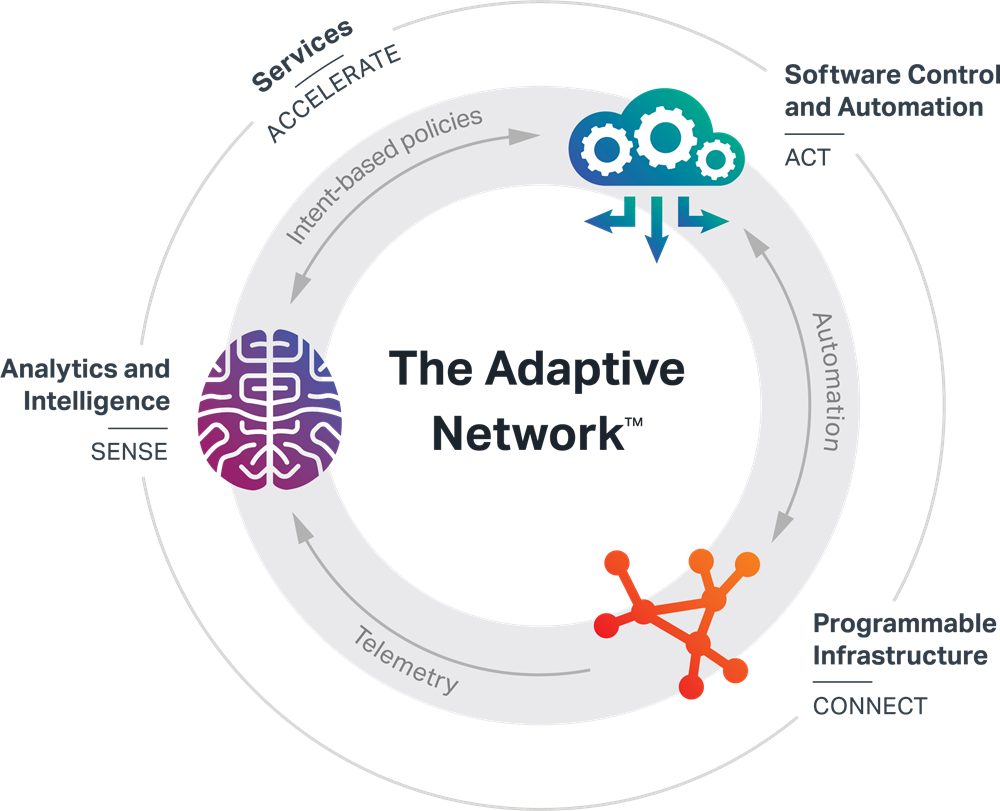 By investing in building new capabilities on these three pillars, regional service providers can evolve their infrastructure to become more and more dynamic and responsive, empowering their customers to be in full control of their services, and building a rich digital experience that fosters loyalty and differentiation.
Delivering a digital experience is not an option nor a strategy, it is a minimum qualifying condition that users will demand in a few years, and that any service provider will need to succeed, or even survive. Many regional providers have not yet begun their digital journeys, but being faster and nimbler, they can evolve more quickly, claiming a growing piece of the market. This digital transformation begins by aligning every new investment with the vision of a network that can adapt and using Ciena's Adaptive Network framework to build new digital capabilities and attract new customers.