OTN Speedwagon: America's best corporate band
Ciena is the proud home of America's best corporate band:
OTN Speedwagon
. That distinction was won at the 2013 FORTUNE Battle of the Corporate Bands, where the band gave the performance of their lives at the Rock and Roll Hall of Fame in Cleveland (see the videos below). The fact that these 12 band members from ten different cities and three countries could come together to win a national competition is quite an achievement.
When we first profiled the band (see Behind the scenes with Ciena's corporate rock band), OTN Speedwagon was prepping for the finals competition. Since then, the band has been on a victory tour of sorts, celebrating their win with two recent performances. The band was the featured entertainment at a recent customer event in Louisiana, and then last week they brought the house down at Ciena's annual sales conference, an event they've been playing at since 2008.
I took the opportunity at the sales conference to see how the group was doing and how they felt about being named the best corporate band in America. With just minutes until the performance was about to begin, I wondered if the group felt "extra pressure to be awesome" now that they had such a lofty title.
"Yes, but that's OK because we are awesome," said percussionist Steve Santana with a grin. "But seriously, we've been able to perform together so much recently that we're significantly more prepared than in past years."
"We're having so much fun I don't think I notice the pressure," added Paul Knudsen, the band's rhythm guitarist. "From the time we hit our first note until we finish, this goes by in a blink. You don't have time to be nervous."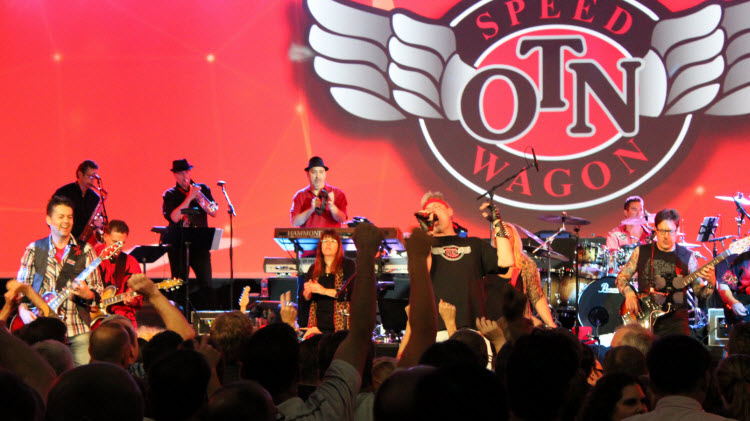 OTN Speedwagon plays to a full house at Ciena's annual sales conference
Steve Darflinger was one of two band members to win individual honors at the FORTUNE competition. Steve was named 'Best Horn Player' (he plays the Sax), and Paul Bullock was named 'Best Guitarist'.
"During the awards ceremony, we thought they were spreading out the awards a little bit," said Steve. "So after we got the two individual honors we thought best case we'd get second or third place."
But as the winners for third and second place were named without OTN Speedwagon being mentioned, excitement began to grow in the group.
"When we weren't second, I said to my wife 'we've got a shot', because I thought we'd played really well." said Paul.
"My thought at that point was 'do we dare believe?'" added guitarist Chuck Kaplan. "We'd been through this before [the regional competition in Nashville], where we went through the same countdown process and we were left shattered."
But this time the band wasn't left shattered, they were left speechless as the judges called out OTN Speedwagon for first place. Below are videos of OTN Speedwagon's performance at the Battle of the Corporate Bands, as well as a band interview and the awards ceremony. You can also see band bios and pictures on this great new OTN Speedwagon band page.
And how did the sales conference gig go? Let's just say the house was jumpin'. "We were created to entertain at this sales conference, not to compete in the Battle of the Bands," said Chuck. "This is really our big gig."