Life's tough in the great outdoors, especially for packet-optical network gear
Most of us spend a lot of our time indoors, and it's a pretty comfortable way to live. But spare a thought for those who work in extreme conditions, whether they're out on oil rigs in the North Sea, fishing off Newfoundland, farming in North Wales, or dealing with winter flooding. Sometimes you have to be super-tough to survive – and the same's true for any packet-optical network equipment, especially if you're planning to put it in street cabinets in the great outdoors.
This is the second in a series of blog posts focusing on Fiber Deep and outdoor networking requirements. Other posts in the series:
Packet-optical network gear gets pretty pampered in the data center, with regulated temperatures and a whole team of techs on hand to fix any problems. But what happens if you want to put your equipment outside, closer to your customers? How do you know your switches and other gear will be tough enough to survive?
It's a jungle out there
The answer's simple: regular data center infrastructure won't be up to surviving in the great outdoors. Instead, you'll need equipment that's street-tough, temperature-hardened, and always available – come snow, rain or shine.

So let's take a moment and think about some of the biggest challenges that could impact your network equipment in the great outdoors…
Temperature
In mainland Europe, the temperature differentials between summer and winter can be extreme, requiring all network equipment in street cabinets to be temperature hardened. In Germany, for example, many areas experience daily averages of 0°C in the winter, with summer daily averages of around 24°C. In Russia, the swing is even greater, with winter temperatures of -25°C in many regions and summer averages of 30+°C.

Weather, weather, and more weather
In the UK, weather is equally challenging, with constantly changing conditions caused by the intersection of five weather fronts. With the possibility of rain, sunshine, high winds and even lightning (all on the same day), your equipment needs to take both temperature and humidity swings in its stride.
And then there's the fact that outdoor equipment needs to survive all kinds of extreme weather events. In the US, it's tornadoes and hurricanes swirling in from the Atlantic Ocean, Pacific Ocean and the Gulf of Mexico. In Europe and the UK, it's usually lightning storms and flash floods you have to worry about.
The wrong kind of leaves (and other threats . . .)
Train operator Network Rail in the UK has famously blamed late trains on both "the wrong kind of leaves" and the "wrong kind of snow" falling on the tracks. It goes without saying that your street cabinets and outdoor network equipment must be protected against these threats, along with many others, including:
Alligator and python attacks
Earthquakes
Vandalism and graffiti
Ciena's outdoor-hardened gear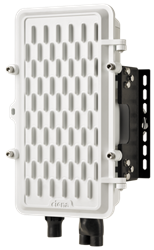 At Ciena, we are pioneering distributed network architectures that bring equipment closer to your customers using street-based cabinets. To support this approach, our leading-edge packet-optical technologies are able to adapt; making them tough enough to work outside, wherever they are needed.
Temperature and humidity hardened versions of our service delivery switches are ideal for smaller street-based installations, and hardened versions of our service aggregation switches are hardened for outdoor aggregation. And, in the future, hardened coherent networking platforms, enabling high-capacity at the outdoor-edge will come into play.
Why Ciena for outdoor networking?
As well as being truly street-tough, our hardened network equipment delivers a range of other important benefits for your business. These include:
Optical/coherent leadership means you can scale for high-capacity 10GbE, 40GbE, 40GbE, and 100GbE applications (400GbE future), and programmatically scale with the industry's highest, most spectrally efficient, and coherent technology to maximize capacity for all applications from 100G to 400G to meet your customers' growing bandwidth demands.
A wide choice of outdoor-hardened packet infrastructure including our leading 3000-series and 5000-series switches that are already used by tier-1 carriers outdoors to bring high-bandwidth connectivity closer to subscribers.
Industry leading reliability keeps your network up and running to reduce truck rolls and minimize your operating costs long term.
Simple, centralized network management based on our Blue Planet Manage, Control, Plan capabilities.
Find out more about our outdoor-hardened kit
Contact us to find out more about our outdoor-hardened range and how it can help you deliver even better customer experiences and increase your competitive edge – in all conditions, all the time.
For more please visit: