Check your Fiber Deep boxes with Ciena
Getting high-bandwidth closer to customers at the network edge needs an adaptive network infrastructure, and the right network partner. Ciena checks all the boxes; with packet-optical leadership for Fiber Deep architecture, street-tough kit, intelligent automation and orchestration software, and scalability on demand. Take future technology changes in stride with us, says Ciena's John Coyle.
This is the third in a series of blog posts focusing on Fiber Deep and outdoor networking requirements. Other posts in the series:
If you think pushing fiber closer to customers is a great way to keep pace with bandwidth demands and the explosion in Over-The-Top (OTT) video traffic, you're not alone. A "Fiber Deep" approach will enable you to deploy digital fiber technologies, complement your existing Hybrid Fiber Coax (HFC) architectures, and transform performance and scalability.

But, building out this kind of distributed network requires support from the right network partner. You'll need:
A company that can provide street-tough equipment
Equipment that can scale programmatically without forklift upgrades
Intelligent infrastructure that can automate service provisioning and handle differentiated QoS for a wide range of applications
Simple tools to manage your network and address issues remotely
By providing these benefits and more, Ciena has become the go-to partner for Fiber Deep applications.

Future-proof your network with scalability on demand
Ciena pioneered coherent optical technology, and were the first network company to deliver 40G, 100G, and 400G integrated coherent optic solutions. We have also broken new ground with our Carrier Ethernet aggregation portfolio, which includes ruggedized products that are hardened to operate in a wide range of temperatures and air-humidity of up to 90%.

Automate your network to maximize performance and lower OPEX
With Ciena Blue Planet™ software, you can automate a wide range of manual processes, helping to reduce operating costs. With network automation you can deploy new services that require differentiated QoS at scale, taking advantage of dynamic bandwidth capabilities, network slicing, and automated service provisioning across multi-vendor domains. This can even extend to creating new revenue-generating services over network functions virtualization (NFV) infrastructure.
In addition, Ciena Blue Planet Analytics helps with network planning – using machine learning and predictive analytics of massive volumes of mined, real-time, and historical data. It also allows for health monitoring of your fiber deep assets, so you can proactively take action on technical issues that could impact service quality for subscribers, before incidents even arise.
Other great reasons to partner with Ciena for your Fiber Deep deployment
In addition to our packet-optical leadership and intelligent network automation and orchestration software, Ciena provides a range of other benefits that put us top of the list of potential Fiber Deep partners. These include: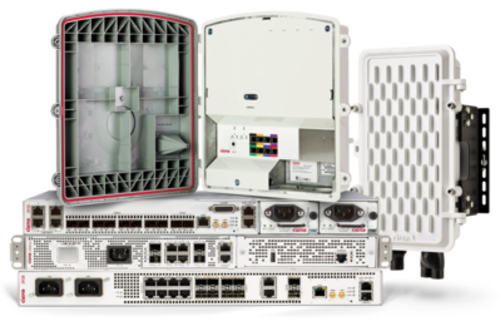 Field proven, temperature-hardened kit - with proven performance based on a large installed base in a range of climates and use cases.
Lower power requirements - which deliver significant OPEX savings across your distributed Fiber Deep infrastructure.
Scalability on demand, with minimal truck-rolls required - with software-based programmability that minimizes the need for costly site visits and manual interventions in your distributed Fiber Deep network.
Increased network efficiency for lower transport costs - based on the extremely high percentage of network utilization you can achieve with our coherent packet-optical solutions.
Reduced network footprint, real-estate, and power - with less equipment and fewer sites needed at the network edge enabling site consolidation, lower power requirements, and real-estate optimization – resulting in significant OPEX reductions.
We hope this Fiber Deep and outdoor networking blog series has inspired you to push fiber closer to your customers and prepare your network for the super-high-bandwidth future. Remember, Ciena can check all your Fiber Deep boxes with our industry leading packet-optical and Carrier Ethernet portfolios, coupled with intelligent Blue Planet software. And with street-tough, temperature hardened options, you can get started with outdoor networking today.

For more please visit: