Ciena takes home 2019 Leading Lights' Company of the Year Award
It was a momentous night for the Ciena team at Light Reading's annual Leading Lights Awards gala this week. Ciena was recognized as Company of the Year (Public) and a beloved member of our history was inducted into the Light Reading Hall of Fame. Ciena's Joe Cumello reflects on this accomplishment.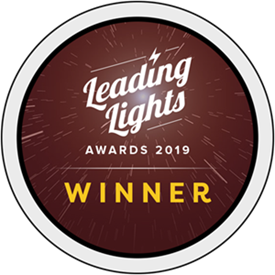 It continues to be an exciting time in networking and telecom, and definitely at Ciena. We are thrilled to have been selected as Company of the Year (Public) by Light Reading in its annual Leading Lights Awards. This coveted honor is given to the publicly listed firm that stands out from its competitors, innovates constantly, makes investors proud and employees happy.
Commenting on the accolade, Ray Le Maistre, Editor-in-Chief at Light Reading said, "Ciena can be very proud of its achievements – it is pushing the boundaries of the industry and setting a great example for what is possible in an unprecedented era of communications technology evolution. It has had a great year in every respect and was the clear winner in the Company of the Year (Public) category in this year's Leading Lights."

"Ciena has had an outstanding year in terms of product development, market strategy and financial performance." - Light Reading
Awards like this give me reason to reflect on all that we have accomplished and what we have become. More than a year ago we introduced the Adaptive NetworkTM vision and investment strategy to the industry. On the back of that, we've been consistently delivering industry-leading innovation and faster-than-market growth as customers adopt this vision and the Ciena products and services behind it. We made substantial, calculated moves by expanding Blue Planet with key acquisitions, addressing evolving IP/packet requirements and, of course, continuing our undeniable optical leadership – with WaveLogic 5 (a 2019 Leading Lights Finalist) still to hit the stage.
As our CEO Gary Smith (a previous Leading Lights Hall of Fame inductee – more on that later) recently said, "We are seeing network operators increasingly seek vendors who offer leading innovation, global scale, financial strength and sustainability, and world-class customer engagement models." This Light Reading award is a testament to the fact that we are intensely focused on these critical attributes. The results speak for themselves.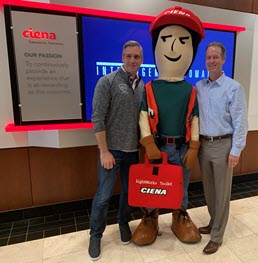 The fun didn't stop there at the ceremony, though, as Light Reading inducted one of the more memorable members of the Ciena team to its Hall of Fame…Ciena's former mascot Lightworks Lou! If you've been around telecom for a while, you may remember Lou as the wiry, fibery, mitten-wearing Ciena mascot who burst onto the scene in the early 2000s with his stylish orange utility vest and official Ciena hard hat. And this is not the first member of the Ciena team to be inducted into this very prestigious and exclusive club; CEO Gary Smith was inducted in 2011. Check out the link to the video below (he makes his appearance around the 6:25 mark) to fully understand the impact he has had.

"What we've learned from Lightworks Lou's saga is the story of all of us. If all of us were giant marketing mascots with huge, punchable heads. Also, we've learned that 18 years is not too long to keep a joke going."- Phil Harvey, US Bureau Chief, Light Reading
A big congratulations and thank you to all our employees whose dedication to our customers and company makes us better every day.