Ciena Cares: Supporting volunteerism isn't just a 9 to 5 job
Mark Stevens, Ciena's Director of Corporate Social Responsibility, shares his thoughts around the community matching program that underpins our Ciena Cares program.

Gary Smith, our President and CEO, has spoken previously about the evolution of the Ciena Cares program and what it is bringing to community engagement, with a key pillar of this framework being flexible volunteering during working hours.
Today, I want to shine a light on the difference that our people are making outside of working hours too. We know that the passion of our people is not constrained to the working environment, with large numbers of our people volunteering in their personal time and making a difference in the community, often unseen by others at work. We wanted to celebrate everyone that gives their time helping non-profits that support the underserved (Ciena's corporate focus) and other non-profits that speak to other personal passions, by Ciena financially matching their time too, we call it 'Matching Time with Treasure.'
We have two great examples below, where we have translated this new capability into action:
Women's Bean Project
The Ciena Denver team gave their time to help decorate the WBP headquarters in Denver and not only gave the paintwork a lift, but also lifted the spirits of those supported by this vital project, giving a combined 64 hours ($640 matching), across two events:
Community Day with Amp the Cause - distributing financial aid to local non-profits inc.WBP.
Dress for Success – gathering accessories to support Dress For Success, a partner organization to WBP, that provides professional attire to make a good impression at job interviews and graduation.
Ryan Maio from our Denver team summarised it well: "Matching Time with Treasure provides an easy way to add even more value to our existing efforts in supporting the community – I'm proud to work for a company that continues to expand on the ways in which our employees can give back."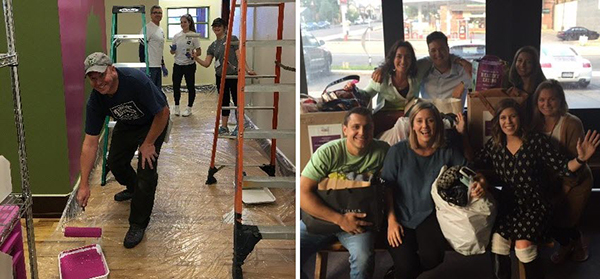 Pictured above, our Denver Ciena Cares team giving their time to support the Women's Bean Project (WBP), committed to providing a safe and accepting work environment, where impoverished women can learn the skills required for gainful employment.
Ottawa Food Bank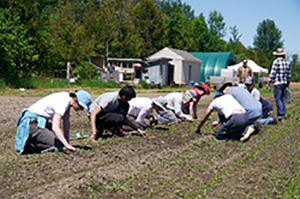 A team from our Ottawa site recently traded their computers for hoes to help-out on a farm as part of the Community Harvest Program, in partnership with the Ottawa Food Bank, committed to helping the underserved and 'helping people to get beyond hunger'. Ciena folks gave 150 hours ($1400+ matching) weeding, laying down hay and planting produce.
Ciena's Christine Handfield shared her thoughts: "participating in the Community Harvest was an enriching experience for me. It makes me appreciate what I have, and opens my mind to the struggles of people in my own community. When you add to the volunteer hours the contribution that Ciena makes to "match time with treasure", I believe that this sends a strong message that we are a contributing member of our community and that we care."
I have seen a huge level of energy building across Ciena in the way we engage with the communities where we work and live, reflecting the passion of our people. I know that, with 'Matching Time with Treasure', we can further boost the difference we make to those around us.
Here's what our featured charities said about the difference 'Matching Time with Treasure' makes:
Luanne Hill, Development Director of the Women's Bean Project
"Through our Corporate Partner Program, matching volunteers with onsite opportunities benefits everyone. Our partners are able to come onsite and make that emotional connection that fuels the soul. Seeing first-hand how their efforts make all kinds of change happen, from cleaning the grounds to a fresh coat of paint to offering guidance to a woman in need. Financial assistance is always needed, however, the offering of time is what feeds all of us. Knowing a helping hand or a kind word made a difference – for even one person – changes you. Women's Bean Project is very grateful to Ciena as they have jumped in…both feet! Your employee engagement has been amazing!"
Jason Gray - Community Harvest Manager, Ottawa Food Bank
"We at the Ottawa Food Bank - Community Harvest program are profoundly grateful to our friends and volunteers at Ciena, not only for the enormous amount of work that you have provided to the program through our farm, but also the financial donations that your organization matches for each hour of volunteer time. Both time donated and funding are critical to the success and evolution of the program. Financial support enables program staffing, new farm infrastructure and helps to meet our equipment needs that make our farming operation ever more efficient and productive. Financial support also enables our Ottawa Food Bank to purchase fresh produce through the winter months when the monthly volume of produce donations typically declines. Thank you so much for your support and we look forward to hosting more volunteers from Ciena in the months and years to come."
If you'd like to learn about the projects that our Ciena Cares Champions are leading in their respective communities, take a look at our Ciena Cares Instagram or our Ciena Facebook page, and we'll have future updates throughout the year on the impact we're making here on our Ciena Insights blog.