A packet networking blueprint, designed for 2020 and beyond
Supporting new and emerging high-growth applications requires rethinking how to modernize existing networks, according to Ciena's Anup Changaroth.
As I meet with customers throughout the Asia Pacific & Japan region, I keep hearing about the complexity they face when modernizing their packet networks.
We hear that our customers struggle with TDM and Packet (Ethernet/IP/MPLS) complexity, which makes their operations costly, ultimately resulting in a slower time-to-market and growing inflexibility to successfully address changing customer demands. Many networks still lack the automation and agility to rapidly deploy new services.
Consider these findings from We Are Social:
Asia-Pacific in aggregate has 104% smartphone penetration
48% of APAC's population is urbanized, making dense networks with strong edges crucial
45% of the region's population are active mobile social users – and social media is becoming increasingly visual, real-time and mobile
As new service providers in this region create their mobile networks from the ground up, they are purpose-building them from the get-go to serve these demands on the network. By comparison, existing providers tell me they are feeling the pain of needing to compete with these new entrants, while maintaining a network that was originally built for communication behaviors ranging from fax machines to landlines to pagers – even though today this region is clearly smartphone-led.
In this competitive playing field, existing service providers who will succeed in 2020 and beyond are making changes now.
A new way of scaling and simplifying IP-based access to metro networks is required – one that is streamlined, virtualized, automated, and far less operationally complex. A way to look forward while not losing critical features.
Architectural blueprints for today's reality
The way forward is to adapt: evolving your packet network toward a more virtual, modular, and automated design.
This way, you can support the region's growth areas such as:
Increased utilization of cloud-based applications across business and consumer applications
Increased virtualization – for both business infrastructure and consumer services
Increased availability and utilization of rich media applications such as video conferencing, video streaming, and AR/VR applications
IoT applications such as sensor networks, industrialization, self-driving cars, and smart cities
Expanding your 4G network while preparing for a smooth transition to 5G

You can do just that, with Ciena's Packet Networking portfolio including our latest enhancements – Adaptive IP™, support for coherent optics, and several hardware platforms purpose-built for pressing packet use cases.
So, what are the latest developments?
Ciena Adaptive IP to future-proof your business
Traditional, rigid IP-based solutions were designed for how we used to use networks, not for how we use them today. A new way of scaling and simplifying IP-based access to metro networks is required – one that is streamlined, virtualized, automated, and far less operationally complex. A way to look forward while not losing critical features.
We call this new approach Adaptive IP.
Adaptive IP applies our Adaptive Network™ vision to Layer 3 networks, with an architectural design comprising of:
Programmable infrastructure
Software control and automation
Analytics and intelligence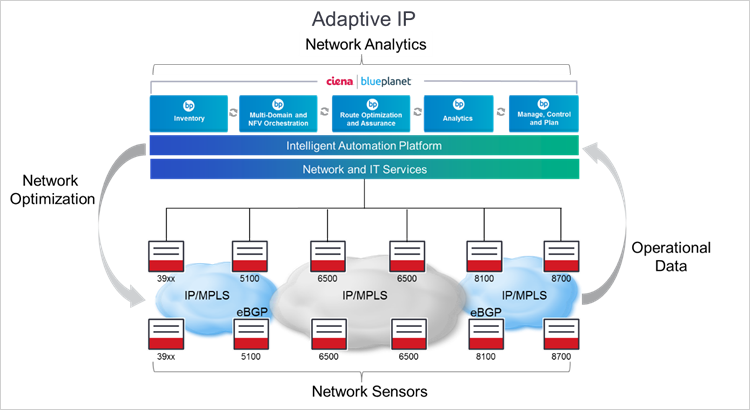 With Adaptive IP, we're helping operators and enterprises improve service velocity with faster deployments, updates, and changes to reduce the total cost of network ownership. How is this achieved? By removing operational complexity, while eliminating the overhead of power, space, memory, and processing capacity required to support traditional (legacy) IP implementations. Our IP implementation allows for automated network configuration, performance management, and optimization with near real-time telemetry information generated to assess network health.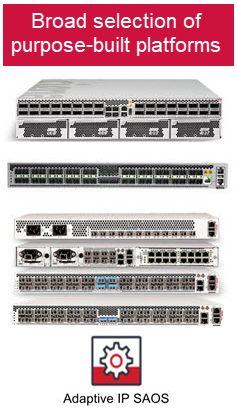 Adaptive IP is enabled at the programmable infrastructure layer by our Service Aware Operating System (SAOS) packet software. It is implemented via a modular and disaggregated microservices-based architecture offering an intelligent automation operating system (OS) that incorporates programmable cloud-based technology and open interfaces. This streamlined architecture allows operators to differentiate with new and innovative services by enabling a DevOps-based development cycle that can be adapted to specific use cases.
In addition to Adaptive IP, Ciena has added the following to our packet networking portfolio in the past year:
Layer 3 Route Optimization & Assurance capabilities, for improved network designs, operation, and management, from end-to-end and from Layer 0 to Layer 3
Support for coherent optics to several of our Packet Networking platforms. This means you can boost rapid, cost-effective scaling to address ongoing bandwidth growth, specifically toward the network edge. You can also simplify network designs with notable reductions in power, space, cost, and overall operational complexity.
Making the case to modernize
End-to-end TDM (SDH/PDH) networks are prohibitively expensive to support and lack the required capabilities to address current, emerging, and future applications. Service providers who have started modernizing their network, even by tackling a small-scale project at first, are in a better position to remain competitive in 2020 and beyond.
While Adaptive IP is our recommended vision for an entire IP network, you can start modernizing from anywhere using Ciena's packet networking solutions. And Ciena's professional services team is available to help at any stage: plan and design, deploy, manage and maintain, and training throughout.
For more resources on how to modernize your network visit www.ciena.com/metro-network-evolution/.