Remember the big picture when scaling your network
Today's customers are truly asking for a change, putting new demands on the network. The service provider that is able to evolve their infrastructure in order to embrace these demands is likely to reap the rewards.
The daily challenges of Internet service providers (ISPs) are increasing: the rapid growth in subscriber numbers, the search for more bandwidth, constant changes in service configurations, the need for fast provisioning and the increasing restrictions of customer Service Level Agreements (SLAs). Today's end-users are empowered – and asking for change.
To support this highly complex environment, the workloads and operational costs of ISPs are increasing as well as the risk of negatively impacting customer quality of experience. In the face of this scenario, the natural path for ISPs is to seek new investments to deploy additional infrastructure to scale their network capacity. The goal of this is often focused on meeting immediate needs, while minimalizing capital expenditure which can result in a lack of consideration of the broader view of the network's evolution and the impact on the total cost of the service.
This approach creates a non-scalable and very complex network to manage and maintain, with a very high cost to deliver services. Conclusion: either the ISP invests heavily in expanding its capacity and harms the margin or invests conservatively and negatively impacts customer satisfaction.
There is, however, a third way that providers can consider when facing the challenge of growing the network in a sustainable way, optimizing costs and ensuring service delivery agility: a gradual evolution to an open and programmable network architecture, which guarantees ISP's capacity can grow without making the operations a nightmare. An approach that enables the network to evolve to an architecture that makes it possible to lower the current cost of services while preparing the network for future services.
Mastering complexity
At Ciena, our vision for making this possible is a network infrastructure capable of dealing with the new demands for everything to be "dynamic" and "faster". As a worldwide leader in optical networking, carrier-ethernet access, and data-center interconnection, we offer ISPs the ability to have a network that grows smarter, more agile, and more responsive every day – through the Adaptive NetworkTM from Ciena.
Already deployed in several of the largest international carriers and Internet providers globally, including in Latin America, the architecture involves three different pillars that can be implemented together or independently driving the ISP networks to become much more open, scalable, and cost-efficient.
The first of these pillars is the programmable infrastructure, or also thought of as "connect", consisting of a portfolio of open, programmable, Software Defined Network (SDN) enabled purpose-build platforms supporting the implementation of Ethernet, TDM and IP services with capacities ranging from 1Gbps to 100Gbps in different form-facts. These platforms have a high port density, the lowest power consumption on the market, and an optimized footprint. Ciena solutions also have a set of functions that simplify the service deployment like "Zero Touch Provisioning (ZTP)" that eliminates the need for specialized technicians, reducing the implementation time and errors. Ciena Packet Platforms also have a large set of standard-based service assurance tools already integrated, allowing remotely testing latency, throughput, frame loss, delay testing, among others, without needing specialized filed equipment and teams.
Ciena also has platforms that support high-capacity coherent optical interfaces, allowing ISPs to expand their reach by leasing spectrum from other providers, without the need to invest in their own long-distance optical line systems. This model opens new business opportunities and the possibility to interconnect with different capacity vendors and network operators, reducing the cost of capacity.
The second pillar is software control and automation, or "act", which comprises the control and automation part of the network. As openness is in the center of all Ciena platforms design, operators and ISPs can adopt solutions offered by Ciena's Blue Planet division, develop in-house or adopt software from other vendors taking advantage of automation. It is imperative that ISPs and operators stop investing in legacy, rigid, and closed (proprietary) technologies to ensure the evolution, and adoption of automation. Betting on legacy technology can reduce investment a little in the short term, but will negatively impact operating cost, growth capacity and certainly competitiveness many times more than the initial economy.
The third pillar, analytics and intelligence, also called "sense". Ciena's platforms export real-time telemetry that gathers network performance. This information can be processed by big data and machine learning platforms such as those available in the Ciena Blue Planet family or another operator-defined solution. This information then exported using open, standardized protocols and allows ISPs and operators to optimize the configuration of networks for different applications.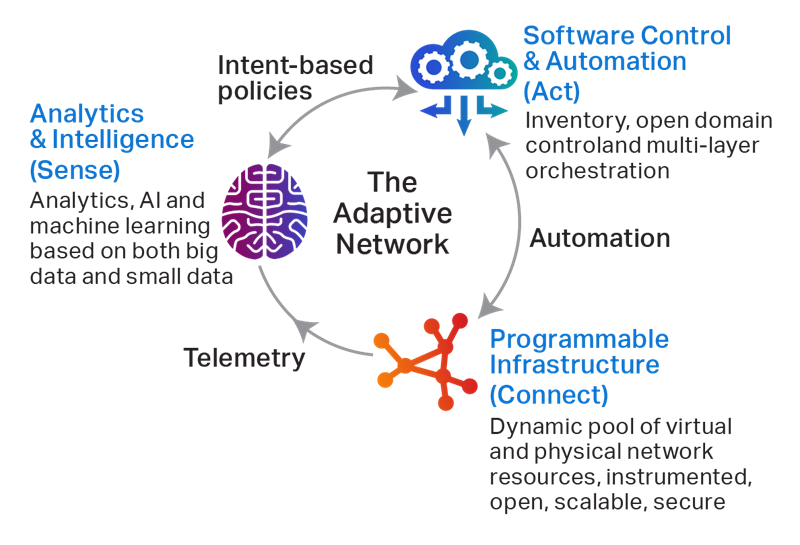 With the three pillars working together, it is possible to create an ecosystem that makes the network adaptive for different use cases. This approach allows ISPs to have an infrastructure that is scalable, flexible, optimized, and programmable and ready for service automation aligned with the needs of different applications. In addition, with the analytical platform, the provider will have a preventive understanding of what needs to be done to optimize the network. This evolution translates into reduced operational cost, investment protection, and much more agility to serve customers.
At Ciena, we clearly understand that each ISP will start their journey at a different point and follow their own unique path and timeline to reach the Adaptive Network. We are ready to support them on this journey and discuss the best ways to evolve their infrastructure based on short, medium and long-term goals, taking into account the characteristics of each provider and its market.
Demands on networks will only continue to grow and change, and the service provider that embraces this fact and starts evaluating their plans to address these needs – will have a head start to success.