500G transpacific. Yep, we did that!
The news from SubOptic? Let's start with our successful single-wavelength 500G field trial over a 9,000km transpacific cable. Ciena's Brian Lavallee explains more about this milestone as well as other highlights from this important technical conference.
SubOptic 2019 has recently come to a close, and as the locals say, "laissez les bon temps rouler", or let the good times roll – and they did. The triennial submarine networking industry event, proudly hosted by Ciena for the first time, stimulated several discussions and debates, as to how the submarine networking industry will evolve in the coming years. This, of course, was the prime objective of this unique technical conference, and it didn't disappoint.
GeoMesh Extreme Enhanced with WaveLogic 5 Extreme
We shared the news of a successful single-wavelength 500G field trial over a 9,000km transpacific cable, which was completed just before the event. Of course, this means we can also do 500G single-wavelength transmission across much shorter transatlantic distances too. The transpacific field trial leveraged our very latest
WaveLogic 5 Extreme
coherent optical technology, which truly takes our pioneering submarine networking solution,
GeoMesh Extreme
, to the
extreme
. In just under a decade, we've leaped from 10G to 500G transpacific – a truly impressive feat. How did we achieve such performance? By leveraging advanced Digital Signal Processing (DSP) capabilities, 95Gbaud operation, Probabilistic Constellation Shaping (PCS), throughput-optimized FEC, and nonlinear mitigation techniques.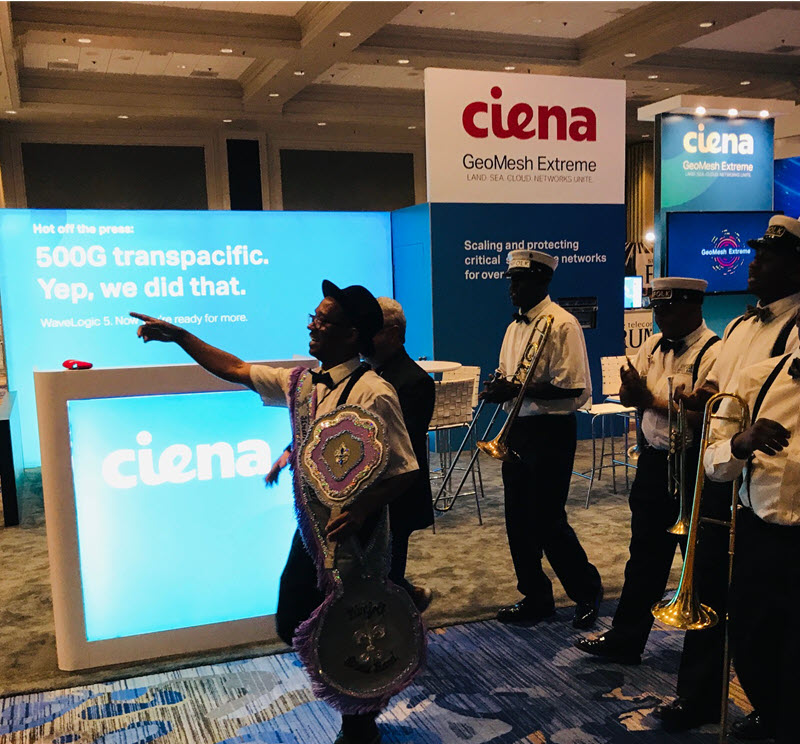 Figure 1: Serendipitous passing of the band at the opening of the SubOptic exhibition hall
Ciena Participation at SubOptic
Ciena subject matter experts, spanning business and technology expertise and experience, actively participated at SubOptic, starting off with Gary Smith, President and CEO of Ciena, who gave an inspiring keynote entitled "
Digital Revolution
". Other Ciena attendees contributed across a masterclass, presentations, technical papers and posters, Open Cables Working Group, roundtables, and panel discussions. For a detailed list of participation and content created, please check out the end of this
blog
.

Figure 2: Gary Smith, President & CEO of Ciena, giving an inspiring keynote presentation
Ciena Wins Best Conference Technical Paper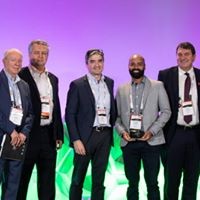 For the second SubOptic event in a row, Ciena won the best technical paper. This year's paper was entitled "High Capacity Optical Link Budgeting for Next Generation Modems" written by lead author Priyanth Mehta, with contribution from his colleagues Sandra Feldman, Colin Meaklim, and Andrew Sinclair. This paper deconstructs the conventional approach to optical power budgeting and introduces the Signal-to-Noise Ratio (SNR) as a fundamental metric for budgeting with next generation modems. It explains how SNR-based budgeting simplifies noise segregation, improves performance margin estimation, and demonstrates a vendor-agnostic approach to measurable performance indicators of a submarine cable. In short, a must-read technical paper.
Hot Topics of Discussion at SubOptic
As expected, popular discussion topics included Spatial Division Multiplexing (SDM) submarine cables, explained in the recent joint Ciena/TeleGeography webinar, Open Cables, and of course, the ever-popular Shannon's Limit. Based on several sessions, presentations, and panel discussions covering machine learning, artificial intelligence, Application Programming Interfaces (APIs), software innovation now has a beach head in the subsea networking. Other topics covered a variety of technologies from using aluminum instead of copper to deliver electrical power to subsea repeaters to manufacturing submarine optical fibers in space. Yes, you read that correctly – outer space.

Technology Innovation at a Feverish Pace
As I've stated multiple times, there's also no Plan B for submarine cable networks, meaning as an industry, we must continue innovating at a furious pace, and this was exactly the focus of SubOptic. With ongoing bandwidth growth exceeding 40% annually on all subsea telecommunications corridors around the world, according to TeleGeography, the need for constant and ongoing technology innovation will continue across the submarine networking industry.