Bridging the digital divide with Weatherized PON
Introducing Ciena's Weatherized PON approach, bringing direct outdoor devices to converged access and enabling deployments in some of the harshest environments. Wayne Hickey discusses the fundamentals of direct deployment and how Weatherized PON can eliminate cost, reduce deployment time, and help bridge the digital gap.
A key problem facing our communities is that building FTTx and broadband's last-mile fiber access is expensive and very time-consuming, even for high-density urban areas. Even more challenging and expensive is building fiber access to bridge the digital divide for underserved and rural areas.

Access infrastructure challenges
One reason is that as the edge network advances, both physically and technologically, the right hub site may not exist. There are challenges associated with rolling out new hubs on a vast scale, such as varying mechanical installations, regulatory concerns, mounting rights, and the desire for unobtrusive aesthetics. Additionally, traditional Optical Line Terminals (OLT's) must be backhauled to an Ethernet switch and/or router. Efficient use of real estate is a growing concern for network operators, who either host their own network equipment or lease power and space in street cabinets and colocation facilities. Ciena understands operators need to accelerate permitting, avoid deployment delays, and reduce costly site infrastructure.
Optical Distribution Link (ODL) Challenges
In addition to business and operational concerns, the Passive Optical Network (PON) is limited by distance or optical reach, splits, and the number of homes passed. The OLT has a limit of 20 km where 64, or fewer, Optical Network Units (ONUs) can be connected.

New tools to equip all operators bringing broadband, 5G and cloud for digital equity and inclusion
One reason for the disparity in digital access is a lack of cost-effective fiber-based infrastructure to bridge gaps. A key driver of these gaps is that the Present Mode of Operation (PMO) is network silo builds. Ciena understands this, which is why our Universal Aggregation solution is helping many operators converge their access infrastructures on a single cost-effective router to the outdoor cabinet, including this year with our introduction of a broadband and 5G on a pole 5131 router.
While this goes a long way to extend high-speed connection to many customers, even more is needed to reach and ease deployments for those in underserved areas. To help, Ciena is introducing new Weatherized PON outdoor tools to equip all operators to bring broadband to more places while eliminating costs and deployment time.
What is Weatherized PON?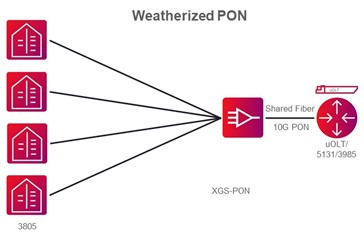 Weatherized PON is engineered to accommodate direct outdoor deployments and avoid the associated costs of street cabinet and colocation facilities. Mountable on a pole, strand, wall H-frame, and residential dwellings, Weatherized PON can be easily deployed where needed for residential broadband or Fiber to The Home (FTTH) and other applications, including Small Office, Home Office (SOHO).
In addition to Ciena's 5131 routers, our Weatherized PON approach includes another ruggedized router the 3985, an industrial temperature micro-OLT (uOLT) or XCVR-SGPL04, and the 3806 ONU.
Both routers are purpose-built to address the needs of broadband providers and access infrastructure convergence in the most challenging outdoor and uncontrolled environments. The 5131 and 3985 also converge mobile, business, and residential broadband service infrastructures.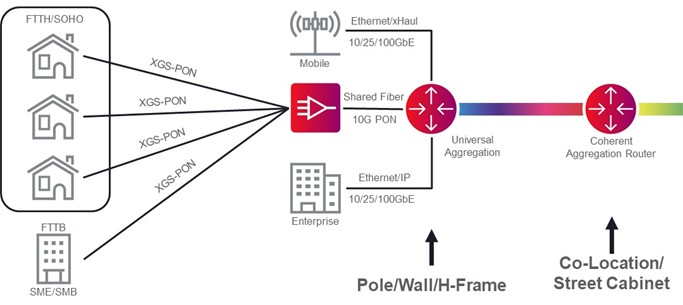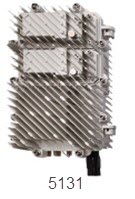 The 5131 addresses the need for wireline and 10G PON services with 12 ports of 1/10/25GbE and PON, along with two ports of 100GbE. The weatherproof design reduces deployment and infrastructure costs while accelerating deployment for 4G and 5G applications, including FlexEthernet service isolation and hard slicing for ultra-low latency service isolation.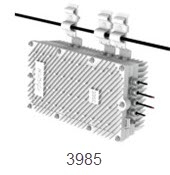 The even more compact 6 port 1/10/25G and PON 3985 supports wholesale mobile backhaul (MBH) and Cell Site Router (CSR) applications.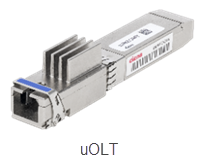 Weatherized PON brings clear demarcation and converged access closer to the customer. For your broadband shared fiber customers, simply pick a pole draw a 20Km circle around the pole, then connect 64 Ciena or 3rd party XGS-PON ONUs to start filling in those digital gaps.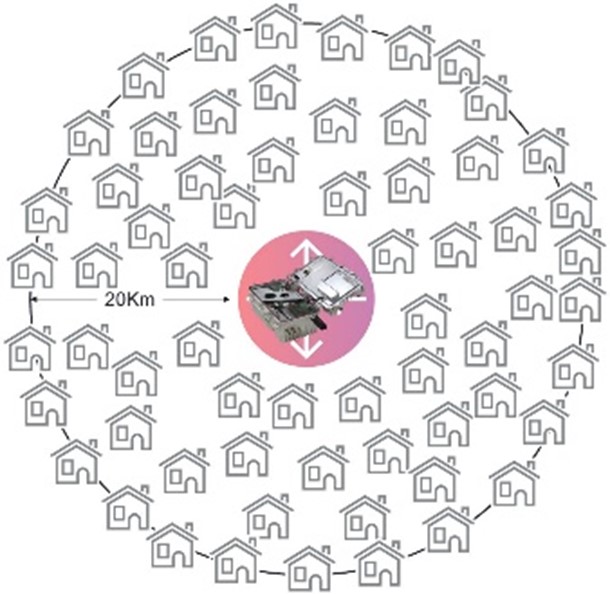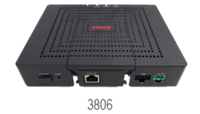 Ciena's versatile 3806 is an outdoor, weatherproof ONU with a fully compliant with XGS-PON transceiver. The Power over Ethernet (PoE) 2500Mb/s port goes far beyond table stakes 1GbE ports for SOHO or residential applications but can be software provisioned to the desired rate whenever needed.
Whether you live in a frigid harsh cold environment, a sunny hot environment, or any environment in between, weatherized PON has your customers covered! Bridge your digital divide gaps and eliminate cost and time by accelerating the ability to turn-up services on a pole near you. To find out today how to customize your edge and ask us how Ciena helps Own the Edge.