With big edge densification comes big metro responsibility: Meet Ciena's new 8190 Coherent Aggregation Router
Ciena's 8100 family is expanding in a big way by adding the 8190 for higher capacity aggregation. Ivana Lemos explains how you can reimagine the architecture and economics of your metro and aggregation networks.
The need to meet increased bandwidth demands is still one of the defining challenges for today's networks. Bandwidth is what we want. It is what we, as consumers, are paying for. While the demand for bandwidth isn't changing, the digital age means a different world – and different networks.
Next-gen networks do not share the same architectural underpinnings as traditional ones, while they have many similar components as those designs, providers are now asking themselves:
Can I compete on sustainability? Is my converged IP/Optical design secure? Will my management framework be programmable? Can I cost-effectively support the bandwidth demands on already taxed networks?
These aspects have also been shaping the evolution of Ciena's Routing and Switching (RSP) portfolio, and the journey we started a few years ago with our customers to reimagine the architecture and economics of metro and aggregation networks. Since then, we've been very busy.
Today, I'm excited to share Ciena's latest addition for high-capacity next-gen metro architectures: the 14.4Tb/s, 400G optimized 8190 Coherent Aggregation Router.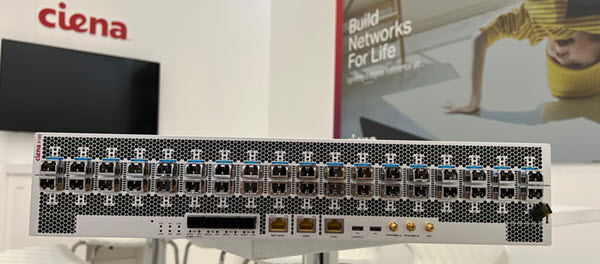 The 8190 at Broadband World Forum 2022
The family is getting "6 times" bigger
Simply put, the 8190 is our most scalable router to date. At 14.4Tb/s, it enables customers to build 36 ports of 400G in 2RU. Yes, you did the math correctly. It adds six times more bandwidth with no extra footprint to the 8100 family.
It joins our three 2.4 Tb/s coherent aggregation routers – the 8110, 8112, and 8114 which were brought to market over the last couple of years.

400G economics pushes the bounds of capacity
The 8190 further expands coherent capabilities by supporting 400G coherent pluggables on all 36 ports simultaneously.

6 times more capacity, 9 times increase on coherent ports over a comparable footprint
While this offers an impressive nine times increase on the number of 400G coherent ports, some designs also need to balance capacity from 100Gb/s to 400Gb/s rates.
In fact, the 8190 supports Ciena's industry-leading WaveLogic™ 5 Nano (WL5n) 100G-400G coherent pluggables, supporting 400ZR, 400ZR+ as well as enhanced performance modes for extended reach to address the full gamut of application requirements.
With big edge densification comes big metro responsibility
Beyond the near-term 400G economics, the 8190 comes prepared for the long-term age of converged IP/Optical metro architectures.
It is widely acknowledged the edge is conditioned upon a densified wireline and wireless infrastructure. Tomorrow's edge is built on 5G mobility, broadband, and cloud. To serve this edge, the number of Tier-1 Points of Presence (PoPs) to core networks and cloud at edge facilities continues to grow exponentially.
So, providers at all levels are looking to act as tenuous intermediaries on metropolitan or wide area networks (WAN) – adding high-traffic coherent routes between diverse routers – to serve these numerous third parties or their very own connectivity hubs.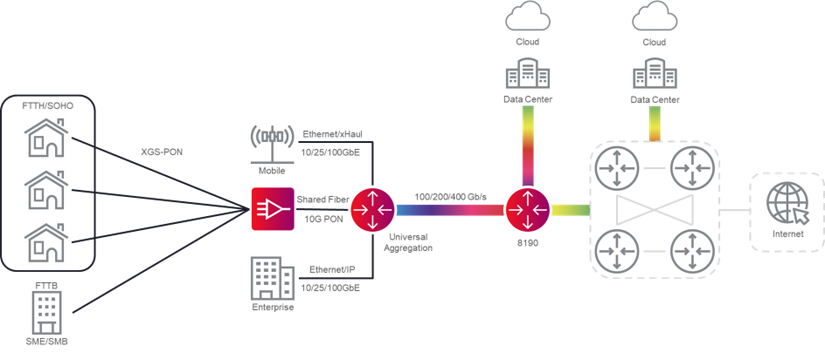 Any-to-any 100/200/400G Metro and WAN Connectivity
So, whether you are a multiple system operator (MSO), mobile network operator (MNO), enterprise provider or wholesaler, the 8190 addresses the need for dense any-to-any high-capacity routing and switching metro applications.
Born secured
The business imperative for converging IP and optical is impossible to ignore – but security concerns cannot threaten your well-laid designs to innovate.
So, with the integration of coherent optics into routers, hardened security infrastructure becomes a fundamental operating characteristic. Considering these facts, the 8190 can support integrated MACsec at line rate and IPSec on all ports.
Sustainable "sustained" innovation
As we thrive with technology innovation, sustainability has also always been one of Ciena's core design principles. And the improved network efficiencies our customers are seeing, reflect that.
The 8190, for example, uses state-of-the-art technology to deliver a 70% improvement in power efficiency and 75% improvement in footprint compared to previous-generation products.
Converged architectures require converged operations
Successful IP/Optical convergence requires more than just collapsing layers of the network — programmable API-driven management driven by multi-layer operations is needed for scalability.
Don't worry! Ciena's Manage, Control and Plan (MCP) domain controller provides integrated planning and powerful analytics that span network layers for the entire Ciena portfolio, 8190 surely included. So, you won't be flying solo.
Bringing it all together
The network of the future is less about what to remove, but rather about what to focus on. Providers are looking for an architecture that can provide step-level design improvements instead of incremental advancements without adding complexity to the person tasked with managing them. The 8190 gives them that.
While the 8190 marks multiple firsts for the RSP portfolio, it, more importantly, embraces providers' key architectural underpinnings of the digital age.